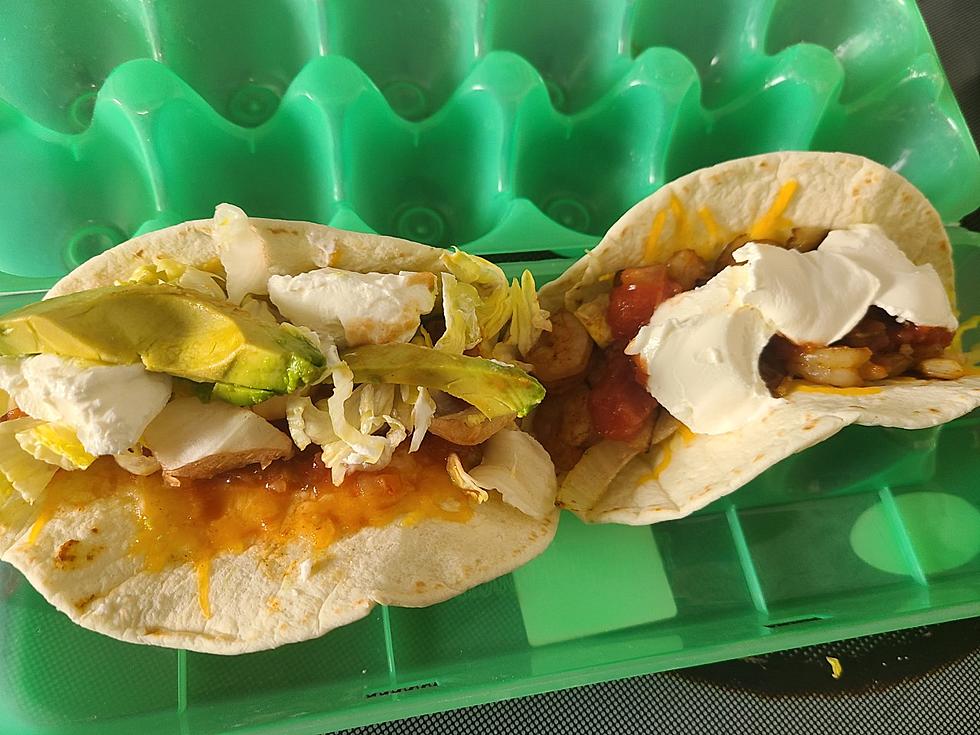 Foodie Friday Shrimp Tacos With Homemade Taco Seasoning
Kathy Whyte/WNBF News
Here's something a little more fun and appealing to kids of all ages when looking for a seafood main dish. The big take-away is the homemade taco seasoning which can be used on seafood, chicken, beef and made as spicy or mild as you like.
Shrimp Tacos with Homemade Taco Seasoning (prep. time 15 minutes or less. Makes 4 tacos)
½ tsp. garlic powder
1 Tb. Chili powder
½ tsp. Cayenne pepper powder (or more to taste for spicy tacos)
2 tsp. smoked paprika
Cracked black pepper
Large pinch of Kosher salt
1 package cooked frozen salad shrimp, thawed and drained (about 16 ounces)
Soft flour tortillas (soft-taco size or burrito size. Not the really big ones)
1 Tb. Vegetable oil
1 small onion thinly sliced (optional)
1 ripe avocado, thinly sliced (optional)
Shredded iceberg lettuce
Shredded Mexican cheese blend (and/or Pepper Jack)(about 1/3 C. shredded cheese per medium-size tortilla)
Salsa (from a jar or homemade)
Sour cream (optional)
Hot sauce (optional)
Combine the garlic powder, chili powder, paprika, cayenne, salt and pepper in a bowl ahead of time. (store in an airtight container or jar for future use)
Have all your sliced ingredients ready to go before you start so everything can be assembled right off the stove. Preheat oven or toaster oven if only making a couple tacos at a time to about 350. Evenly top each tortilla slice with a handful of cheese or one slice of Pepper Jack. Heat oil in saute pan over medium-high heat. Stir in onions. Put cheese-topped tortillas in the oven to warm and soften and melt the cheese.  When the onions start to soften in the pan, add in the shrimp and sprinkle with taco seasoning to coat. (Add more or less depending on taste)  When cheese is melted on the tortillas, remove from the oven and assemble tacos.
*Some tips: use something like egg cartons to hold the tacos in shape while you fill. Think about the order of assembly to keep the goodies from sliding out, that's why the cheese is on the bottom and melted.  I put lettuce on top of the cheese then avocado, which is slippery, under the warm shrimp and onions, then finish with salsa, hot sauce, sour cream, whatever you like.  They're still messy but not so bad.  They say you also should never over-stuff the tortilla.. yeah, right!
What Are the Signature Drinks From Every State?