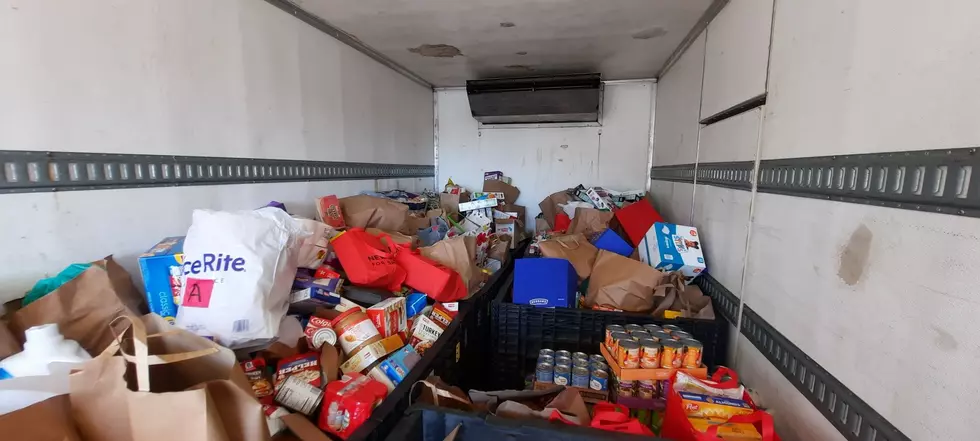 (UPDATE) Food-A-Bago Food Drive Final Recap ,Totals and Photos
Don Morgan
UPDATE 11-15-22: Broome County CHOW informed us that our community (you!) donated 6,426 pounds of food during the 2022 Food-A_Bago Food Drive. That's about 3 and a half tons of food! We can't thank you enough, and families in our community will be better off thanks to you!
Every year, (22 years and counting) it's hard to describe the emotions we go through during our annual Food-A-ABago Food Drive for Broome County CHOW. So many people stop by not just to drop off a food item or monetary donation, but to tell us how much it means to them.
Community Support Is Strong
Some struggle to donate due to hardships they have going on in their lives but donate what they can anyway. Some tell stories of when they needed help from Broome County CHOW, and now that they are in a better place, they can give to help others in need.
It just goes to show you how compassionate and giving our community is when it comes to helping their Broome County neighbors. For those of us from the Townsquare Media Binghamton group, we never cease to be amazed by the generosity every year during our food drive.
The Results Are In!
And the result is a truck full of food and a good amount of monetary donations which by the way goes far since every dollar donated is equal to five meals. This year, you donated enough food to once again overfill 10 huge bins inside a large Broome County CHOW truck. The number of monetary donations came to $9,870 dollars. That equals enough money for CHOW to put together 49,350 meals. Five meals per dollar. Wow, that's mind-boggling.
We say it every year, and we'll continue to say it because it's true, this food drive can be successful without the generosity of people like you. So, thank you from all of us at Townsquare Media Binghamton, Broome County CHOW, and our partners, Music For The Mission, GHS, 21st Century Pools& Spas and Gary's U Pull It.
Broome County CHOW Food Needs Continue
Even though our food drive is over, Broome County CHOW needs help all year. You never know when something comes up in a person's life that puts a major strain on finances. And that's where Broome County CHOW comes in. For more information on how you can help, visit their website here.
Photos and Many Thanks!
Check out the many pictures we took over the eight-day food drive beginning with the final day, and back to day one. These are just a few of the many people, businesses, and organizations who stopped by with donations of all sizes. They (and you) are our heroes.