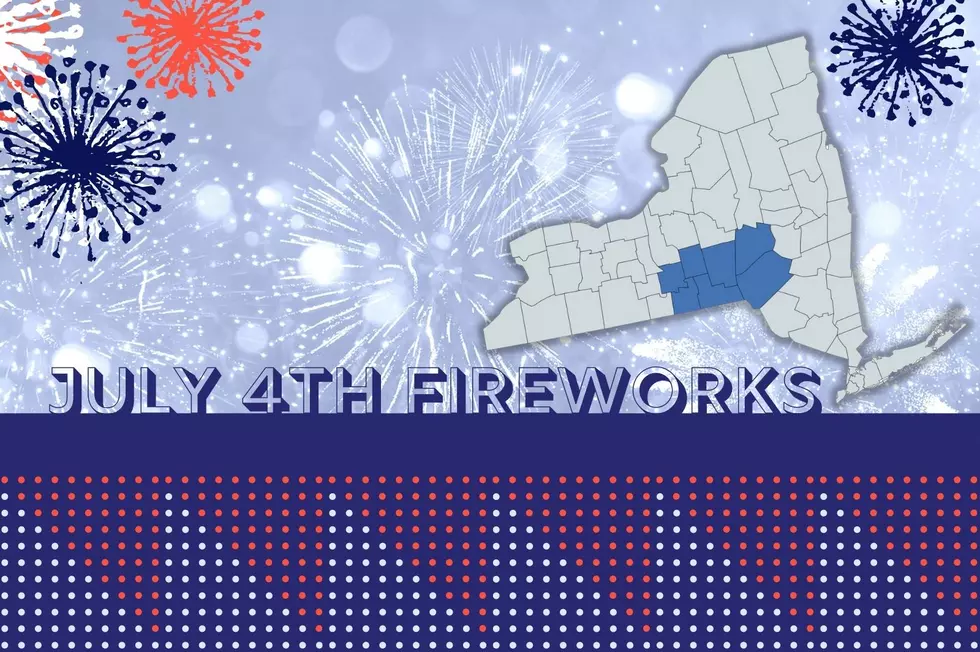 Where You Can See July 4th Fireworks Displays In The Southern Tier
MapChart/Canva
July 4th and Independence Day celebrations will be here before you know it. You want to impress your friends with your AWESOME fireworks display at your residence in New York State.
However, you're not sure what fireworks are allowed where you live. In 2014, New York changed the fireworks law so that "Sparkling Devices" would be legal. What are Sparkling Devices?
Sparkling Devices In New York State
According to New York State Homeland Security and Emergency Services, Sparkling Devices are ground-based or handheld devices that produce a shower of colored sparks and/or a colored flame, audible crackling or whistling noise, and smoke.
So where do you go to get your "Sparkling Devices?" Do you know those temporary firework stands that "pop up" around our area this time of year? You can buy them there from June 1st to July 5th.
New York state allows these temporary stands to be open during that time frame along with December 26th to January 1st, just in time for your after-Christmas shopping needs.
I have a better idea. Instead of lighting your own fireworks, why not find a safer place to go to watch and enjoy without breaking any laws. Here are some locations in the Southern Tier.
Candor July 4th Celebration
Candor is having its annual July 4th celebration and the fireworks will be going off on Friday, July 1st at dusk.
July 4th Extravaganza At Highland Park in Endwell
It's a day full of fun festivities for the family and a spectacular firework display.at night.
Fireworks With the Binghamton Rumble Ponies
Enjoy a Binghamton Rumble Ponies game on Monday, July 4th against the Portland Sea Dogs. True story, I was asked if the fireworks were before or after the game. Since the first pitch is at 6:35 p.m., there will be too much light to see the fireworks show before the game.
Montrose 4th of July Celebration
On Monday, July 4th, it'll be a  whole day of parades and celebrations. The fireworks will go off at dusk from Montrose Lake.
4th of July Celebration At The Chenango County Fairgrounds In Norwich
It'll be a 4th of July Celebration at the Chenango County Fairgrounds. Gates open at 3:30 p.m. with musical entertainment, vendors, and more. The fireworks show at dusk will end the night.
Sherburne's 4th of July Bash
It's a day featuring food, entertainment, and family fun at 55 Chapel Street in Sherburne. The night will end with a bang with a fireworks show.
July 4th Celebration At Davenport Center (On July 3rd)
Looking for some fireworks on Sunday, July 3rd? Then take the trip to Gerster's Towing for fireworks beginning at dusk.
Ways To Keep Your Dog Calm During Fireworks
Six Strange New York State Laws