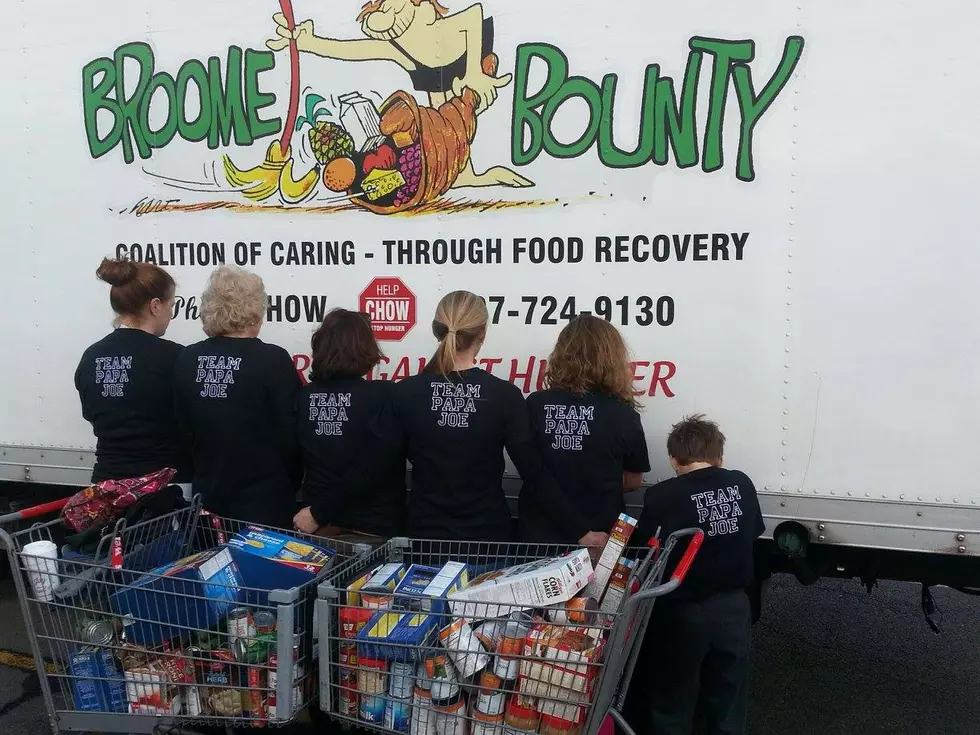 FAQ ANSWERED: Food-a-Bago Food Drive to Benefit Broome County CHOW
Traci Taylor
It's a sad but true fact that the issue of hunger is a much bigger problem in our area than most people realize. To put it into perspective for you, one in four children you see and one in seven adults probably have no idea where their next meal is going to come from.
What is CHOW's Goal For Broome County and Beyond?
CHOW, the Community Hunger Outreach Warehouse, has a goal to stop hunger by distributing over 2.2 million meals to people in our community each year so that none of our neighbors have to go to bed hungry. It's worth mentioning that although CHOW is a Broome County based non-profit if someone shows up at the warehouse looking for food, they won't be turned away, no matter where they're from.
Why is Food-a-Bago Held in November?
The severity of food insecurity in our community is what drives Townsquare Media to host our annual Food-a-Bago Food Drive each and every November, ahead of the holiday season and winter months when donations sometimes lag and the CHOW Warehouse is left wondering how they're going to come up with the food so desperately needed.
Where is the Food-a-Bago Food Drive?
Townsquare Media radio stations (98.1 The Hawk, Kiss 104.1, 99.1 The Whale, 1290 WNBF, and CBS Sports Radio 1360) will be stationed inside an RV in the parking lot of Weis Markets, 1290 Upper Front Street in Binghamton until the early morning hours of Monday, November 8 to collect your non-perishable food donations as well as cash or check donations.
Are Cash/Check Donations to CHOW Tax Deductible?
For every $1.00 you donate, CHOW is able to work with partnering agencies to turn that into five complete meals, so a dollar definitely stretches. Cash donations are accepted at the Food-a-Bago food drive but checks are as well and if you plan to write a check, we ask you to make it payable to Music For The Mission, our partnering non-profit. 100 percent of donations will be given to CHOW. All donations are also tax-deductible, so if you would like a receipt, please let us know.
What Should I Buy to Donate to Food-a-Bago?
If you're looking for what sorts of items to pick up to donate to CHOW, you'll find some ideas here.
Are You Still Doing the Shopping Cart Challenge?
Absolutely! If you're interested in learning about the super fun shopping cart challenge and how you can get involved, everything you could want to know can be found here.
What Dates and Times Will Donations Be Accepted?
The Food-a-Bago Food Drive will be accepting non-perishable food items as well as cash and check donations on the following dates and times:
→ Monday, November 1 through Friday, November 5 from 6 a.m. to 6 p.m.
→ Saturday and Sunday, November 6 and 7 from 8 a.m. to 6 p.m.
→ Monday, November 8 from 6 a.m. to 9 a.m.
Can I Make An Online Donation?
You sure can! If you're not able to make it in person to our Food-a-Bago Food Drive, you make a secure donation through PayPal. Please make sure that if you're donating through PayPal that you note that your donation is for "FOOD-A-BAGO."
How Much Was Raised For CHOW in the 2020 Food-a-Bago Food Drive?
In 2020, our community donated 6,835 pounds of food, which equals 5,696 meals, and 16,500 dollars which equals over 83,000 complete meals. Added together, our community donated just over 89,000 complete meals in 2020 through the Food-a-Bago Food Drive and we can't wait to see how much is raised in 2021!
2021 Food-a-Bago Food Drive
11 Non-Food Items the Chow Warehouse Wishes It Had More Of
HELP THE HUNGRY: Facts About Child Hunger In The Southern Tier
Kids often times are the ones who suffer the most from food insecurity. Don't believe us? Take a look at some startling stats from the Food Bank Of The Southern Tier