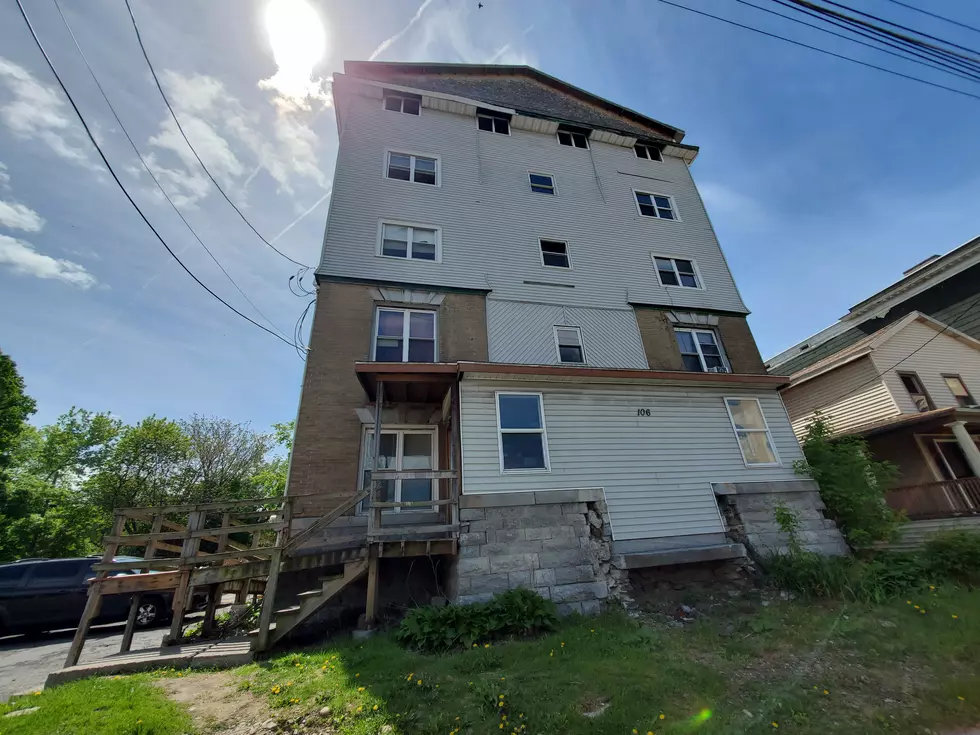 "Dixie Hotel" Still Occupied Three Months After City Condemnation
Photo: Bob Joseph/WNBF News
People are still living in the old Dixie Hotel in downtown Binghamton several weeks after the city code enforcement determined the building is unfit for human habitation.
The five-story building on Henry Street is across the street from the main post office.
In an email, Deputy Mayor Megan Heiman said the property "was condemned Feb. 14, 2022 for inoperable and/or missing smoke detectors and insect infestation." A notice currently posted at the building is dated April 22, 2022.
Responding to an inquiry from WNBF News, Heiman wrote that the property remained condemned at the city was not aware anyone was residing there. She said the city does not have the authority to remove occupants.
Heiman wrote: "Once a building is declared unsafe for habitation, it is posted and the owner has the responsibility to evict."
According to the condemnation notice, it is unlawful for anyone to inhabit the building without written permission from the city code enforcement director.
People still living in the building told a reporter several unmarked police cars showed up at the place Wednesday morning as officers unsuccessfully searched for someone.
The residents said they haven't been told to leave. The building's office was unoccupied.
One man estimated at least 15 people are still living in the building. He said some come and go as they please because no one has been supervising the place.
Property records show the building is owned by Faisal Afify. A sign inside what's now branded as "Dixie 2000" indicates it's overseen by Pharoah Group.
A recorded message on the Pharoah Group's phone line said: "We are no longer in operation." It indicated the business is "in the process of closing our doors permanently."
Meanwhile on Friday, people remained in the building and garbage remained piled up on the property.
A real estate agent in March said the Dixie and two nearby Henry Street properties were being acquired by a downstate developer. She declined to identify the prospective buyer.
There are about 50 rooms in the Dixie 2000 building. In recent decades, it's been a place where people who've been recently released from prison have lived.
One resident who has lived there for the past couple of years said "I don't want to live here anymore." But, he said, with a monthly $400 rent payment from the Department of Social Services, he has been unable to find another place to reside.
Enter your number to get our free mobile app
Contact WNBF News reporter Bob Joseph: bob@wnbf.com. For breaking news and updates on developing stories, follow @BinghamtonNow on Twitter.
KEEP READING: Here are the best places to retire in America
LOOK: TV Locations in Every State
LET'S GO: The most popular historic sites in America