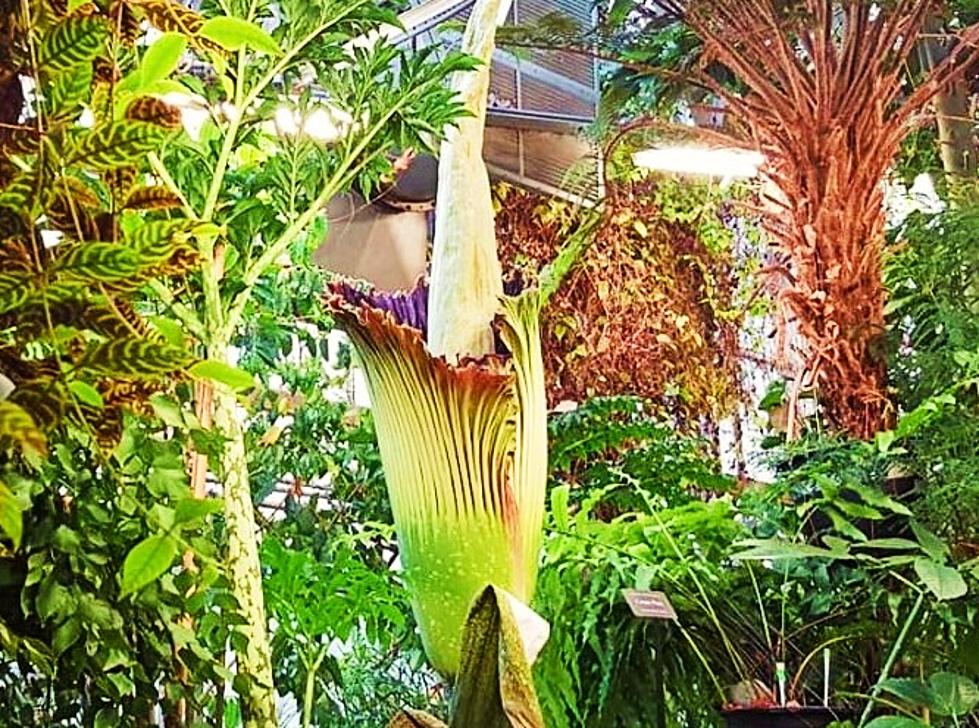 Watch As the Incredible (but Very Smelly) Corpse Flower Blooms at Binghamton University
Traci Taylor
I'd just gotten my six-month-old son dressed for bed when my husband rushed into the nursery and said we had to hurry. We had to get to Binghamton University and quickly.
On Sunday, August 30, 2015, my husband, son, and I were able to witness something very cool and very smelly - the blooming of the largest plant in the world, the corpse flower and it is something that I'll remember for the rest of my life.
The International Union for Conservation of Nature has listed the corpse flower as being endangered with less than 1,000 of these flowers in existence in the wild. Remember the plant in Dennis the Menace that Mr. Wilson was so proud to show off to his neighbors? Mr. Wilson had waited his entire life to see his rare plant bloom (it only bloomed for a few seconds) and he missed it because Dennis shouted to him that his house was being robbed.
The plant in the 'Dennis the Menace' movie was based on the Corpse Flower, a plant that smells exceptionally putrid when it blooms. Some have compared the smell to rotting flesh while others say it smells more like a mass number of dead mice. Either way, the smell is not pleasant but the rarety of the plant coupled with its size and the beauty of its flower is something really special.
While the corpse flower that my family witnessed bloom died in 2018, there is another corpse plant at Binghamton University and it is expected to bloom at any time. According to Reddit user Zyrlup4ever, the corpse flower ready to bloom at BU is "the offspring of a Bing plant and a Cornell plant, bred in 2012."
Binghamton University announced through a press release that anyone wanting to witness the corpse flower bloom is invited to visit the E.W. Heier Teaching Greenhouse, however, occupancy may be limited. The hours the public can visit the Greenhouse are from 8:30 a.m. to 2:00 p.m. on Wednesday, August 4, and Thursday, August 5. You might want to wear a mask. For many reasons.
If you'd rather watch the corpse flower bloom without all of the stench and gagging, you can do so from the comfort of wherever you are right here:
35 Famous People With Ties to the Binghamton Area
LOOK: 20 tips to help your houseplants survive the winter