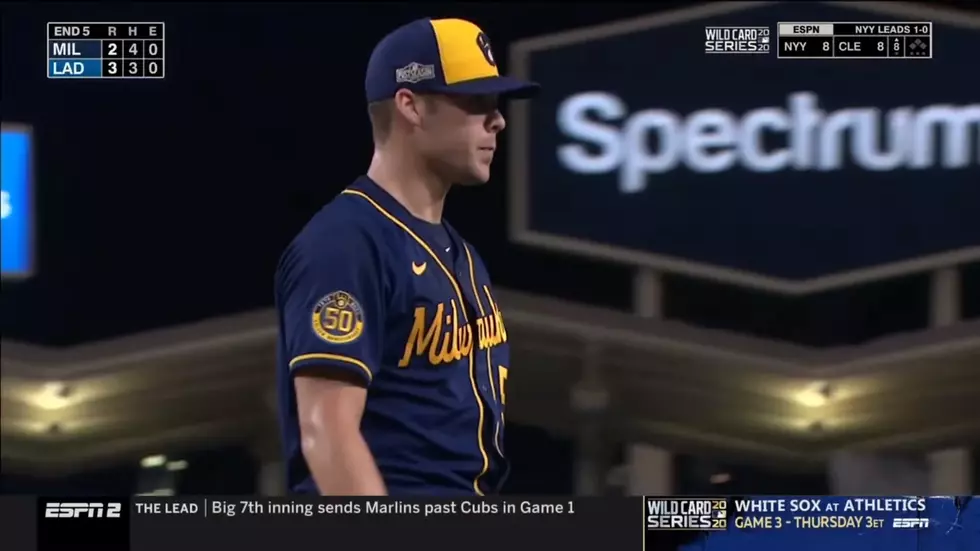 Chenango Valley Grad Plays in His First MLB Playoff Game [WATCH]
Photo YouTube / DN Highlights
At the end of August, I told you the story of Justin Topa, the former Chenango Valley pitcher who got called up to the Major Leagues by the Milwaukee Brewers. Last night, Topa entered the Brewers playoff game against the Los Angeles Dodgers midway through the game.
Topa did pretty well. He pitched two scoreless innings and gave up only one hit and he walked one. Topa entered the game in the bottom of the fifth inning with his team trailing 3-2 and pitched a 1-2-3 inning.
In the bottom of the sixth, Topa surrendered a single to Cody Bellinger and then had to face A. J. Pollock with a runner on first and no one out. Topa got Pollock to ground into a double play. He then walked Edwin Rios. Topa then got Chris Taylor to line out to center to end the inning. That play also ended Topa's night. See his video highlights below.
The Dodgers went on to win the game 4 to 2. Game 2 of that best-of-three series is tonight at 10 pm. The game is scheduled to air on ESPN.
Enter your number to get our free mobile app
Topa was drafted by the Pittsburgh Pirates 7 years ago, and was picked up by Milwaukee this year. With the minor league baseball season being canceled this year due to Covid-19, Topa spent the summer at the Milwaukee Brewers alternate training site. He was called up to the show on September 1st.
According to the Milwaukee Brewers website, entering last night's game, Topa has pitched 7 and 2/3 Innings over 6 games surrendering seven hits, three runs, one home run and has struck out 12 batters.
18 Greatest Binghamton Mets