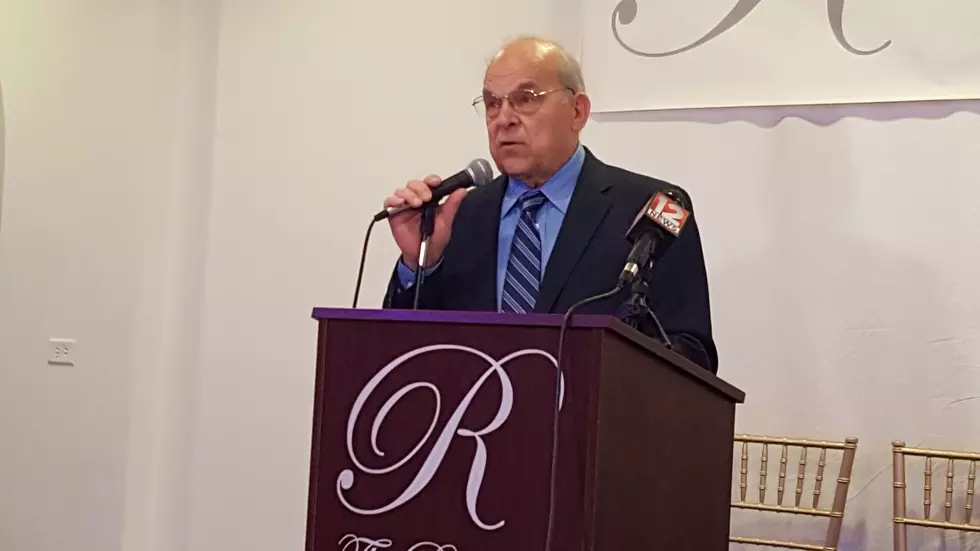 Broadway Diner Owner, Radio Host, Steve Anastos Remembered
WNBF News/Roger Neel Photo
A well-known member of the local Greek community, restauranteur and one-time host of a Greek music program on the former WKOP radio station has passed away.   
According to a paid obituary placed by the family, Steve Anastos, owner of the Broadway Diner in Endwell, passed away Saturday, October 15.  He was 84.
Anastos was a driving force behind the annual Grecian Festival in Vestal and often made the rounds of the local media stations to promote the event. 
He hosted the Grecian Hour radio program for a number of years into the 1980s on A.M. 1360 WKOP radio in Binghamton and enthusiastically played the traditional Greek music over the air in the 1980s.
According to the obituary, Steve Anastos was born Eustratios Anatasaskos in a small village outside of Sparti, Greece in 1938.  
His iconic Broadway Diner, built in the style and tradition of old-school railroad car diners on Watson Boulevard, opened in 1999, offering a variety of Greek and American food. 
The family also expanded to the former Brothers Two restaurant nearby when that business closed, opening the RiverDale Banquet Hall, offering catering and banquet facilities for weddings, meetings and other gatherings. 
The Anastos family will receive guests at the Greek Orthodox Church of the Annunciation at 4121 O'Hara Drive Vestal on Thursday, October 20 from 3 to 8 p.m.  
The funeral service will be held at the church on Friday, October 21 at 10 a.m. 
According to the family, donations in lieu of flowers can be made to the Greek Orthodox Church of the Annunciation in memory of Steve Anastos.   
Binghamton Area Diners Guy Fieri Should Visit On 'Triple D'
Then and Now of Businesses Around the Southern Tier
Troupes, Groups and Stages: Performing Arts Gems of the Twin Tiers
Twenty-five of our favorite performing arts groups and venues in the Twin Tiers.