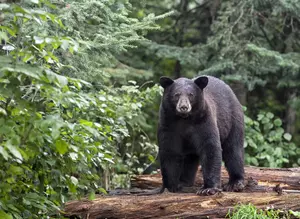 Black Bears Are Out Of Hibernation & Roaming New York State
ThinkStock
Question: When are Black Bears active? Answer: Between October and May. Well, the Binghamton Black Bears hockey team, that is. Sorry, I'm just being a bit silly.
Black Bears, the animal, are normally dormant for up to five months in the winter. And most are active just before sunrise through an hour or so after sunset. According to the New York State Department of Environmental Conservation, Black Bears are rarely seen by most New Yorkers. They are the 2nd largest mammal in New York State, behind the Moose.
They are found mostly in the Adirondack region (50 to 60%), followed by the Catskill region (30 to 35%), the central & western regions (10 to 15%), and are now found in the Southern Tier along with the Hudson Valley according to the NYS DEC. Their tracks will show five toes, claw marks, and a large heel pad.
This spring, my mom has been dealing with her bird feeders being demolished, and while she hasn't seen the guilty party, there's a possibility it may be a Black Bear. The NYS DEC website recommends removing bird feeders by April 1st in areas where bears may frequent. Black Bears are attracted to birdseed and suet. Also, make sure your outside garbage cans are secure.
The NYS DEC notes that male Black Bears can weigh up to 300 pounds the female Black Bears average around 170 pounds. They spend a lot of their time searching for food. They will eat nearly anything, are very curious, and are intelligent.
If you encounter a Black Bear, the NYS DEC recommends you use noise to scare the bear away, walk slowly and speak in a loud and calm voice, and cautiously back away from the bear and leave the area. Do not run from a Black Bear. They may chase after you, and you can guess who runs faster. they are known to run as fast as 25 miles per hour.
And if you encounter a Black Bear in a building, provide an exit for the bear and leave the doors open.
For more information about Black Bears, and how to reduce human-bear conflicts, visit the New York State Department of Environmental Conservation website.
via New York State Department of Environmental Conservation 
OUT AND ABOUT: Why We Love To Camp
The 12 Best Broome County Hiking Trails