If You Were Scrooge What Ghost Would You Choose to Visit You? [POLL]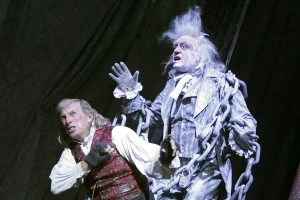 As I was watching Scrooged the other night, I got to thinking about the 3 ghosts and how it would be to have  them visit me. I'm not Scrooge, so would it be so terrible?
Ok, the creepy looks of the Ghost of Christmas Future would have him crossed of my list. Christmas Present is the most happy looking and Christmas Past would let me look at some favorite memories. Decisions, decisions.
If you aren't a Scrooge, you should be safe from traumatic images, so…