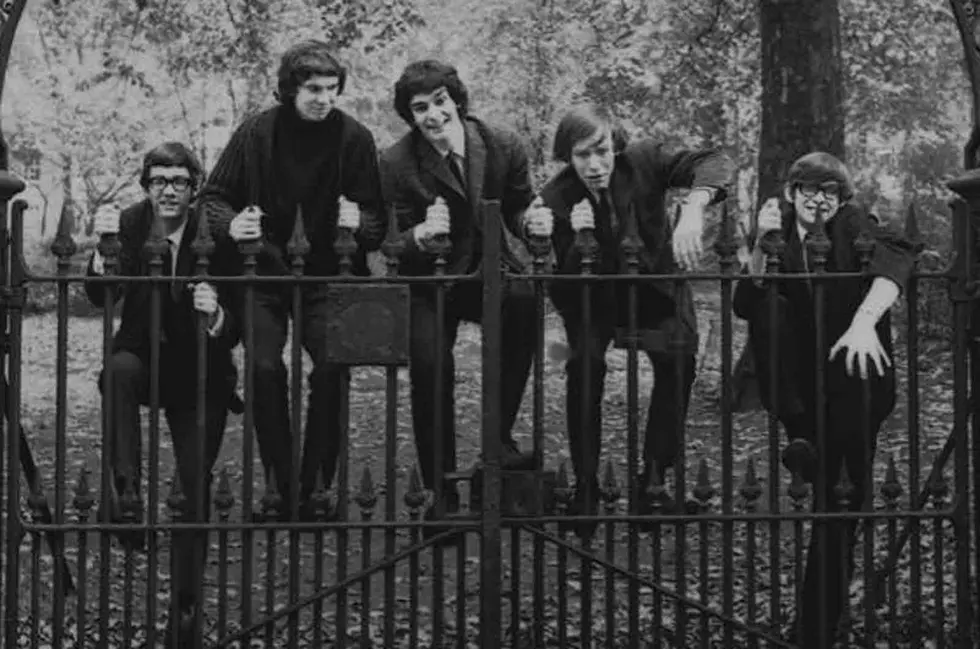 Zombies Announce 'Complete Studio Recordings' Vinyl Box Set
Varese Sarabande
The Zombies will collect all of their early records on a new vinyl box set.
The five-LP The Complete Studio Recordings is set for release on Feb. 22 and includes their first U.S. album, She's Not There/Tell Her No; its follow-up, Odessey and Oracle, an album called I Love You, which was released in the U.K. and Japan; R.I.P., which was supposed to come out after Odessey but was never released; and Oddities & Extras, a compilation of singles and U.K.-only album tracks.
You can see the track listing below.
The set is due a little more than a month before the British Invasion group will be inducted into the Rock & Roll Hall of Fame on March 29. "There's been lots of ups and downs in this 50-year career," singer Colin Blunstone told Rolling Stone. "This is the pinnacle, to be inducted into the Rock & Roll Hall of Fame. What a reward for all of the ups and downs over the years."
The Zombies formed in 1962 and scored their first hit two years later in their native U.K. and in the U.S. with "She's Not There." They placed a few more songs on the chart before splitting up in 1967. A project they were working on, Odessey and Oracle, was released a year later and a single from it, "Time of the Season," eventually climbed into the Top 3.
Over the years, that album became one of rock's most legendary cult records, influencing artists and entire genres in the decades since its release. The Zombies reunited several times, including a recent get-together that included tour dates and a new album, Still Got That Hunger. Singer Blunstone and keyboardist Rod Argent continue to lead the band and will be in New York next month when the Zombies are inducted into the Rock & Roll Hall of Fame.
The Zombies, 'The Complete Studio Recordings' Track Listing
'She's Not There / Tell Her No'
Side One
1. She's Not There
2. Summertime
3. It's Alright With Me
4. You've Really Got a Hold On Me / Bring It On Home to Me
5. Sometimes
6. Woman
Side Two
1. Tell Her No
2. I Don't Want to Know
3. Work 'n' Play
4. Can't Nobody Love You
5. What More Can I Do
6. Got My Mojo Working
'I Love You'
Side One
1. The Way I Feel Inside
2. How We Were Before
3. Is This the Dream
4. Whenever You're Ready
5. Woman
6. You Make Me Feel Good
Side Two
1. Gotta Get a Hold Of Myself
2. Indication
3. Don't Go Away
4. I Love You
5. Leave Me Be
6. She's Not There
'Odessey & Oracle'
Side One
1. Care of Cell 44
2. A Rose for Emily
3. Maybe After He's Gone
4. Beechwood Park
5. Brief Candles
6. Hung Up On a Dream
Side Two
1. Changes
2. I Want Her She Wants Me
3. This Will Be Our Year
4. Butcher's Tale (Western Front 1914)
5. Friends of Mine
6. Time of the Season
'R.I.P.'
Side One
1. She Loves the Way
They Love Her
2. Imagine the Swan
3. Smokey Day
4. Girl Help Me
5. I Could Spend The Day
6. Conversation Off Floral Street
Side Two
1. If It Don't Work Out
2. I'll Call You Mine
3. I'll Keep Trying
4. I Know She Will
5. Don't Cry For Me
6. Walking In the Sun
'Oddities & Extras'
Side One
1. Kind Of Girl
2. She's Coming Home
3. I Must Move
4. I Want You Back Again
5. I Can't Make Up My Mind
6. I Remember When I Loved Her
7. I'm Going Home
Side Two
1. Remember You
2. Just Out of Reach
3. Nothing's Changed
4. Goin' Out of My Head
5. She Does Everything For Me
6. A Love That Never Was