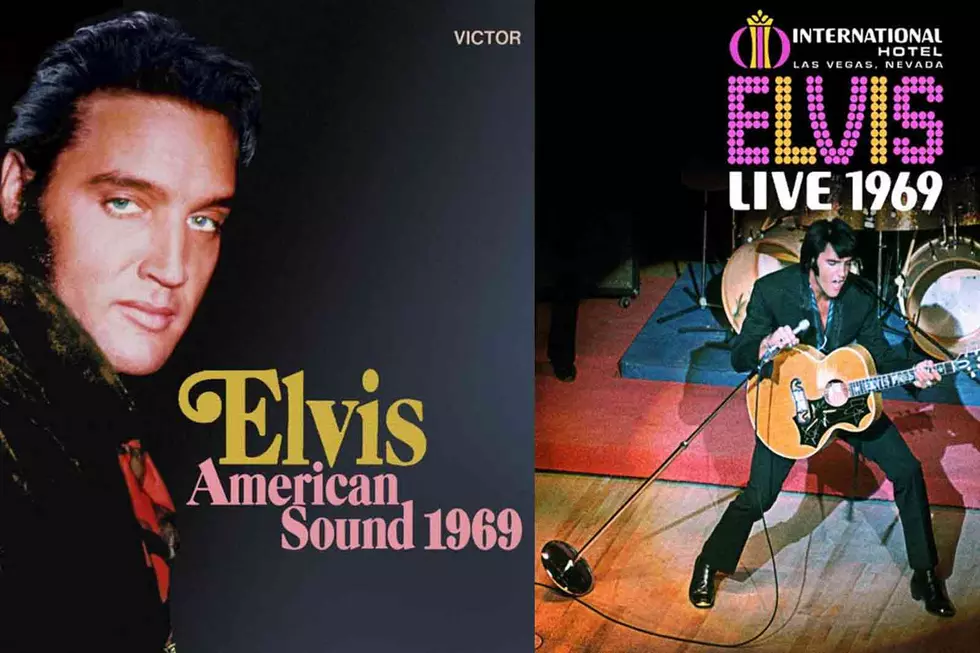 Two New Elvis Presley Sets Celebrate Banner 1969 Year
RCA / Legacy Recordings
Two new collections will mark the 50th anniversary of Elvis Presley's comeback year of 1969.
Live 1969 gathers his performances at the International Hotel in Las Vegas in an 11-CD box; American Sound 1969 includes 90 previously unreleased outtakes from the celebrated sessions that yielded hits like "Suspicious Minds" and "In the Ghetto."
Live 1969 will be available physically and digitally on Aug. 9; American Sound 1969 comes out only digitally on Aug. 23. You can see the sets' track listings at their respective pre-order sites here and here.
Following Presley's 1968 comeback with a TV special that helped him reclaim his King of Rock 'n' Roll crown, he recorded sessions at American Sound Studio in Memphis that resulted in hit singles and the album From Elvis in Memphis. The music is among the best Presley ever recorded, and is arguably just as good, if not better, than his acclaimed '50s material.
The new American Sound 1969 collection compiles more than 90 rare recordings from these famed sessions.
The live box collects performances from Presley's comeback concerts in Las Vegas from 1969. He played 57 sold-out shows at the International Hotel, with some of the tracks showing up on past sets like The International Hotel, Las Vegas, Nevada, August 23, 1969, From Memphis to Vegas/From Vegas to Memphis and Elvis in Person at the International Hotel, Las Vegas, Nevada over the years.
Live 1969 includes 11 full concerts, four of them never before released. The shows included early hits like "Jailhouse Rock" and "All Shook Up," as well as newer material like "Suspicious Minds" and covers of the Beatles' "Yesterday" and "Hey Jude." There's also plenty of stage banter included throughout the performances.
In addition to the new box, a vinyl edition of the double LP Live at the International Hotel, Las Vegas, NV, August 26, 1969, will be released on Aug. 9 that features a complete show from that date.
1969's Best Rock Albums