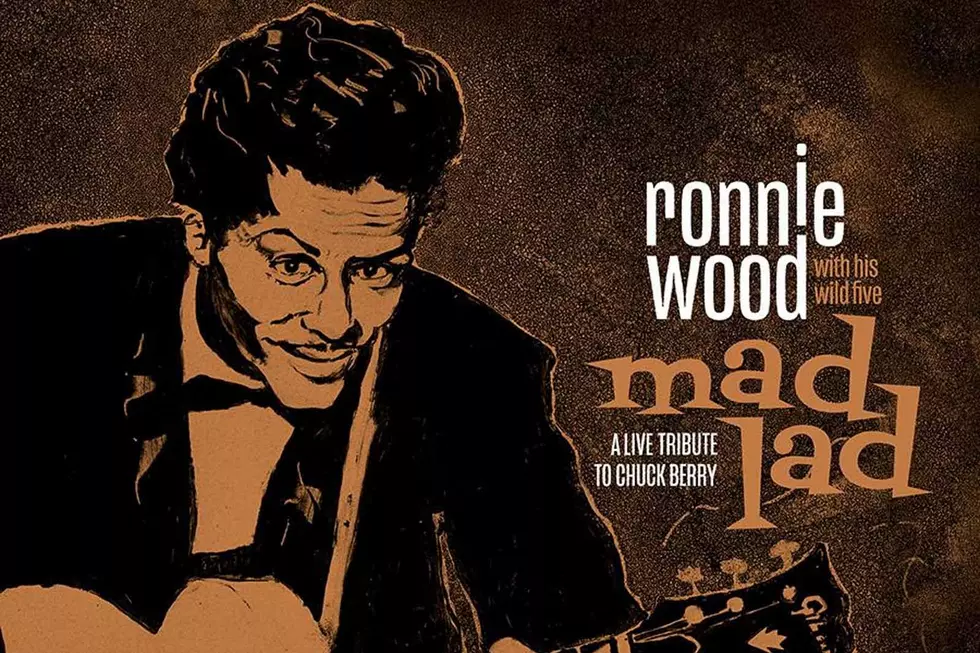 Ronnie Wood Pays Tribute to Chuck Berry on 'Mad Lad' Live Album
BMG
The album, due on Nov. 15, is the first installment of a series of three albums Wood plans to record that pays tribute to those who influenced him.
Recorded in 2018 at the Tivoli Theatre in Wimborne, England, Mad Lad finds Wood and His Wild Five interpreting nine Berry classics, including "Johnny B. Goode," "Back in the U.S.A."and "Little Queenie," with Irish singer Imelda May guesting on three other tracks.
The album also features the Wood-penned "Tribute to Chuck Berry" and "Worried Life Blues," a Maceo Merriweather song that Berry released as the B-side to "Bye Bye Johnny." You can see the track listing below.
Wood is also releasing a Deluxe Edition, which combines the CD and LP versions with a 12" x 12" reproduction of Wood's cover painting, and a limited-edition Super Deluxe Edition that adds a numbered set list and a T-shirt.
A documentary about Wood, Somebody Up There Likes Me, will premiere at the London Film Festival next month in advance of a general release in 2020. The Mike Figgis film, which was announced in July, is described as "an in-depth documentary about Ronnie's life and careers both in the Rolling Stones and in the art studio."
Ronnie Wood, 'Mad Lad: A Live Tribute to Chuck Berry' Track Listing
1. "Tribute to Chuck Berry"
2. "Talking About You"
3. "Mad Lad"
4. "Wee Wee Hours" (feat. Imelda May)
5. "Almost Grown" (feat. Imelda May)
6. "Back in the U.S.A."
7. "Blue Feeling"
8. "Worried Life Blues"
9. "Little Queenie"
10. "Rock 'N' Roll Music" (feat. Imelda May)
11. "Johnny B Goode"
Ronnie Wood Year by Year