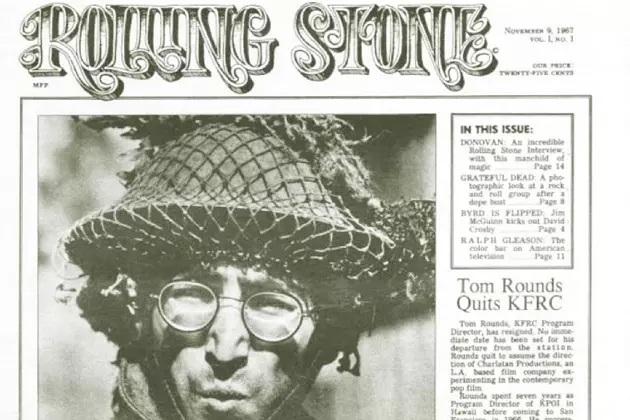 50 Years Ago: 'Rolling Stone' Magazine Prints Its First Issue
Rolling Stone
In 1967, rock 'n' roll was flourishing, the hippie movement was happening and pop sensations (such as the Beatles) had gone from being perceived as teen heartthrobs to experimental artists. But the old guard that controlled and wrote for newspapers and magazines still appeared to regard rock music as an inconvenient fad.
Trade papers, like Billboard, covered younger band's sales and popularity, but rarely dug deeper into the significance of the music. Self-published fanzines were lovingly devoted to their favorite musicians, but rarely lasted more than a handful of issues. Aspiring journalist Jann Wenner saw an opportunity.
The New York native had moved west to attend the University of California, Berkeley, where he wrote for the student newspaper. While writing for The Daily Californian in 1965, he struck up a friendship with Ralph J. Gleason, the San Francisco Chronicle's jazz writer who was nearly 30 years his senior. Unlike many other jazz aficionados, Gleason appreciated rock, Bob Dylan and soul singers. He soon became Wenner's mentor.
"He loved Lenny Bruce and politics. He had an open mind and an open ear," Wenner recalled. "He revered the rock poets, but he always had perspective, which was the name of his column: 'Perspectives.' I'd be like, 'Jerry Garcia is the greatest guitarist in the world!' He'd say, 'But, Jann, have you heard of Wes Montgomery?'"
A couple of years after their first meeting, during which time Wenner had dropped out of college, the 21-year-old rock fan told Gleason about his big idea: a rock 'n' roll magazine that would explore all aspects of the music, but also hold itself to high journalistic standards. Gleason was intrigued and they started to think about magazine names – the Electric Typewriter, the New Times and, eventually, Rolling Stone. Although Wenner would later write in the first issue that the name was a reference to the Muddy Waters tune and the famous rock band and the Dylan song, the latter was the real inspiration.
The pair had an idea, a name and two writers (themselves), but no money or staff to begin. Wenner borrowed money from family, as well as his future wife's parents, and enlisted the help of volunteers. Those who wouldn't work for free, such as photographer Baron Wolman, received stock and retained the rights to their contributions.
In the fall of 1967, Rolling Stone began operating out of a loft at 746 Brannan Street in San Francisco, a space Wenner had secured by promising to use the owner's downstairs printing press. A staff that included Wenner's girlfriend Jane Schindelheim, her roommate Angie Kucherenko, art director John Williams and professional journalist Michael Lydon was small, but dedicated. Many early articles would be credited to RS Editors or not carry a byline at all. "We didn't put our names on everything," Lydon said, "because that would have showed how few people were working for the paper."
However, Lydon did have his name on the first issue's big page-one story, a piece investigating some missing profits from that year's Monterey International Pop Music Festival. The cover, which looked more like a newspaper in the early going, also featured pieces about local band Jefferson Airplane and local pop/rock radio station KFRC. It was a very California-centric first issue.
That is, with the exception of the element that everyone remembers about the first Rolling Stone cover. Just a couple days before printing, Wenner selected a photo of John Lennon, a promotional shot from the Richard Lester film How I Won the War, which was hitting U.S. theaters at the same time the magazine was introducing itself.
"It was the last piece of the puzzle for the issue," Wenner said at a Rock and Roll Hall of Fame Exhibit highlighting 50 years of Rolling Stone. "It was a defining cover, because it encompassed music, movies and politics ... And John was on the cover so many times after that."
There was plenty more inside the first edition. Rock critic (and future Bruce Springsteen manager) Jon Landau wrote about power trios, specifically comparing the Jimi Hendrix Experience to Cream. The magazine interviewed Donovan, who spoke about the Haight-Ashbury hippie scene. There were pieces about David Crosby getting kicked out of the Byrds and what was happening with the Who and Pink Floyd in London. And Gleason wrote his first Rolling Stone column, focusing on media discrimination against black R&B singers.
On the issue's second page, Wenner wrote a statement of purpose: "The trade papers have become so inaccurate and irrelevant, and the fan magazines are an anachronism. Rolling Stone is not just about music, but also about the things and attitudes that the music embraces. We've been working quite hard on it and we hope you can dig it. To describe it any further would be difficult without sounding like bulls---, and bulls--- is like gathering moss."
By mid-October, the first issue was ready to hit the presses. All the entire Rolling Stone staff had to do was walk downstairs to see fresh copies of their new publication appear. They celebrated with champagne. With a publication date of Nov. 9 (magazine dates are more like "sell-by" dates then "on-sale" dates), the magazine's first edition began to hit newsstands on Oct. 18. Readers could pick up a copy for 25 cents (about $1.80 in today's money).
Decades and decades later, Rolling Stone remains in operation, still containing articles about music, movies and politics in its pages and, now, on the internet. Although co-founder and columnist Gleason died in 1975, his name is there in the publication's masthead – a symbol of his importance to the magazine's first steps and to Wenner.
Rolling Stone's prime mover is still the magazine's publisher, not to mention a force in the music industry. Reflecting on his project's humble beginnings on the occasion of Rolling Stone's 50th anniversary, Wenner appeared to carry fond memories of those early days.
"As kind of amateurish as it was," Wenner said, "the fundamental bones of the magazines were there."
Masterpieces: The Very Best Albums From More Than 100 Classic Rock Acts