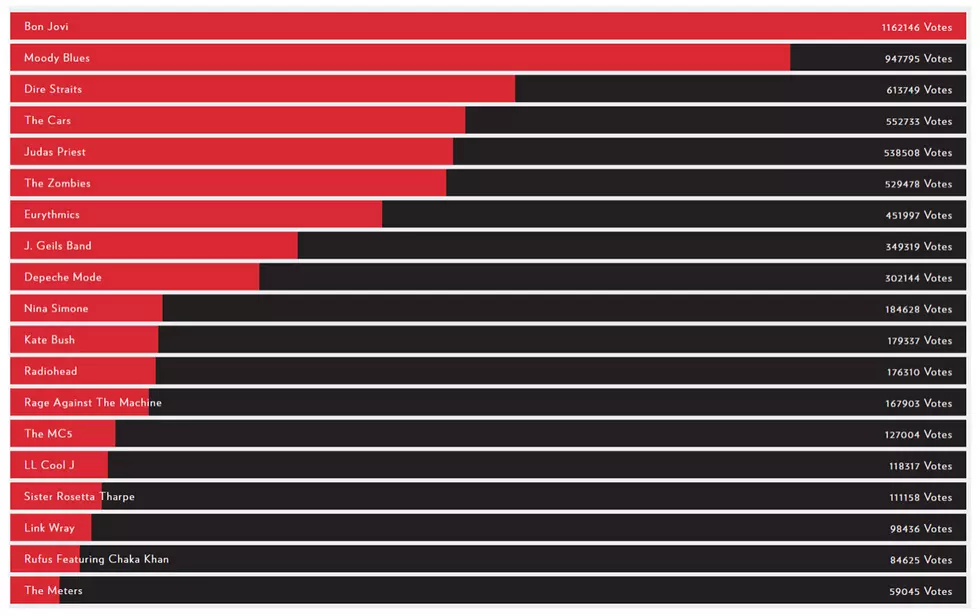 Rock Hall of Fame Fan Vote Ends: Classic Rock Rules Top Six Spots
Rock and Roll Hall of Fame
As previously reported, Bon Jovi jumped to an early commanding lead after the polls opened in October, followed by the Moody Blues and Dire Straits. As it turns out, those rankings held throughout the voting — ultimately, Bon Jovi racked up 1,162,146 votes, with the Moodies pulling in 947,795 and Dire Straits getting 613,749.
Per Rock Hall rules, the top five vote-getters will receive a single fan vote during the election to determine which of this year's nominees earn induction. The Cars, with 552,733 votes, came in fourth place; coming in fifth, with 538,508, were Judas Priest.
It's more than worth mentioning that the fan vote isn't necessarily an indicator of whether an act will ultimately get into the Rock Hall — although it's worked out pretty well for previous winners. Kiss topped the polls in 2013, and were inducted with that year's class; Stevie Ray Vaughan entered the next year after also winning the fan vote, while Chicago did the same in 2015, and Journey followed suit the following year.
Fans won't have to wait long to find out who makes it in. The Rock Hall is scheduled to announce its next round of inductees on Dec. 13 at 7AM ET, with the induction ceremony set to take place on April 14 at Public Hall in Cleveland.
Rock Hall of Fame's 2018 Snubs