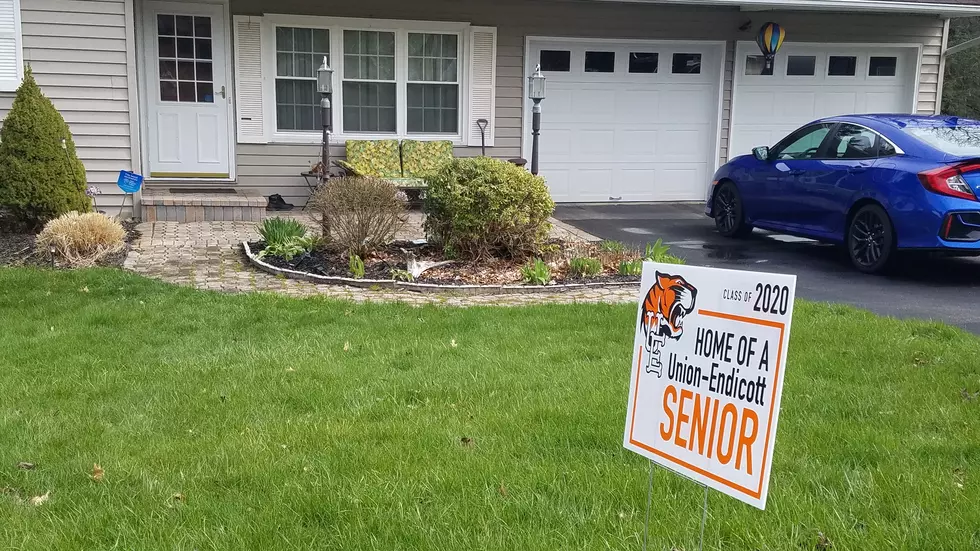 Rainy Graduation, What Else Would You Expect for the Class of 2020
Chris Free Photo
This Saturday, Union-Endicott High School was supposed to hold it's graduation in five or six different sessions at Ty Cobb Stadium behind the high school. When they saw the forecast for Saturday, they rescheduled graduation for Sunday.
Chris and I have friends Diane and Nick, and their son David was graduating from U.E. this year. Weeks ago, they scheduled his graduation party for Sunday. Being that they moved graduation to Sunday, Chris and I volunteered to help get the house ready while they went to the ceremony.
While they were at the school, Chris and I were at their house helping to cook some of the food and putting up some decorations. As we were doing so, we saw the dark clouds rolling in and could hear the thunder in the distance.
I believe David's group was the fourth or fifth group of the day. No sooner did they return home from graduation ceremony, and the skies opened up. The rain came
down in buckets and it was even hailing at their house for a good five minutes or so.
I was out on their back patio cooking spiedies on their grill with a tiny tent over the grill when the rains came. I ended up getting soaked because I had to keep pushing the tent up to get the water off the top of it. When I did so, the water splashed off the house and hit me.
Chris and Nick were in the driveway trying to hold down a tent that had chairs and tables underneath it. They went to push the puddled of water off the top of the tent to keep it from collapsing when they both got soaked as well.
Enter your number to get our free mobile app
Eventually, the rain past and the sun came out and it turned out to be a nice day for a party. Even though Nick, Chris, and I had wet clothes for the rest of the day.
After all these kids went through this year, it figures it would rain on their graduation day. NYSEG Stadium was supposed to host graduations for three schools on Friday, Saturday, and Sunday. Those schools were Chenango Forks, Maine-Endwell, and Binghamton, I'm not sure how they all made out, but I did see pictures on Facebook from one of the Binghamton graduations, and there were blue skies over the stadium.
I'm sure not all of the kids were that lucky. And the sad part is, any other year they would have had the ceremony inside so weather would not have been a factor. Par for the course for the 2020 seniors.
SV High School Grad Salutes 2020
Freezone Shaves off Covid-19 beard