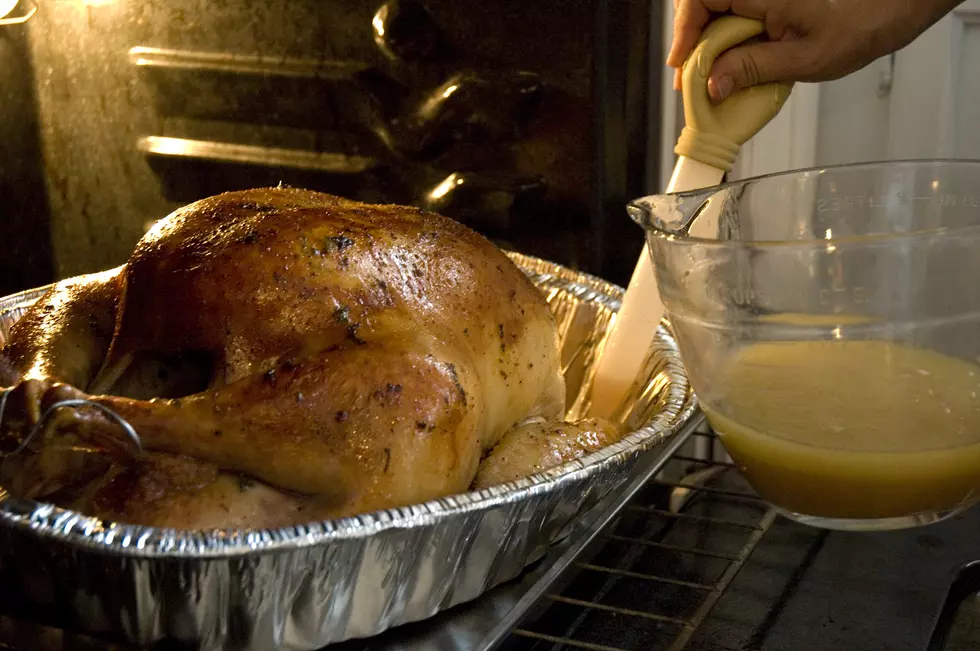 The Butterball Turkey Hotline Reveals Its Most Popular Question
ThinkStock
It all began in the fall of 1981 when six women answered phones for the first time ever to answer questions about anything and everything dealing with turkey which means that the Butterball Turkey Hotline has been bailing people out of potential turkey disasters for more than 35 years.
The first year that the Butterball Turkey Hotline opened, operators took 11,000 questions. That number now exceeds more than 100,000 a year however not all of those questions today come from phone calls, that number now includes email, social media, and text messages.
The people at Butterball sat down with Fox News and shared some of the most bizarre questions they've received over the years. Some of the funny questions include the time a woman called to say she cleaned out the turkey with dish soap and it wouldn't stop sudsing and she wanted to know how to stop it. Or the person who called and wanted to know how to cook the turkey he found in his dad's freezer which had been there since 1969!
I know what you're thinking and yes, a turkey professional actually answered each and every one of these questions and some that were even more bizarre. I don't know about you, but I wouldn't have been able to keep a straight face while answering!
So what is the most popular question that the Butterball Hotline fields year after year? It's not a very complicated one, actually.  "At what temperature is a turkey done?"  The answer is simple: Your meat thermometer should read 180˚F if you put it into the thigh or 165˚F if you put it into the center of the dressing.
Enter your number to get our mobile branded app
If you've got turkey anxiety, you can always do what I do and buy a pre-made turkey from Honey Baked Ham. No, seriously. The ham company actually makes a fantastic turkey. Just about every year, I buy our entire Thanksgiving meal from Honey Baked Ham and just transfer the sides to my own serving dishes and nobody ever knows. Genius!
If you'd like to call the Butterball Turkey Hotline, they're open and taking your calls at 800-288-8372. You can also reach out by text by sending your question to 844-877-3456, by email, and new this year, you can use the Butterball Alexa Skill.
By the way, if you're not sure when you need to take your turkey out of the freezer to thaw in time to cook on Thanksgiving, here's the answer:
If your turkey is 20-24 pounds, pop it in the fridge the Friday before Thanksgiving.
If your turkey is 16-20 pounds, put it in the fridge the Saturday before Thanksgiving.
If your turkey is 12-16 pounds, put it in the fridge the Sunday before Thanksgiving.
If your turkey is 4-12 pounds, pop it in the fridge the Monday before Thanksgiving.
15 Foods You Probably Refrigerate but Don't Really Need To
12 Non-Perishable Foods You Should Stock Up On Ahead of Winter
Natural disasters, shipping container issues, skyrocketing heating bills, astronomical gas prices - stocking up now on the right non-perishable food items will help you weather the storm this winter, whatever form that storm might take on.