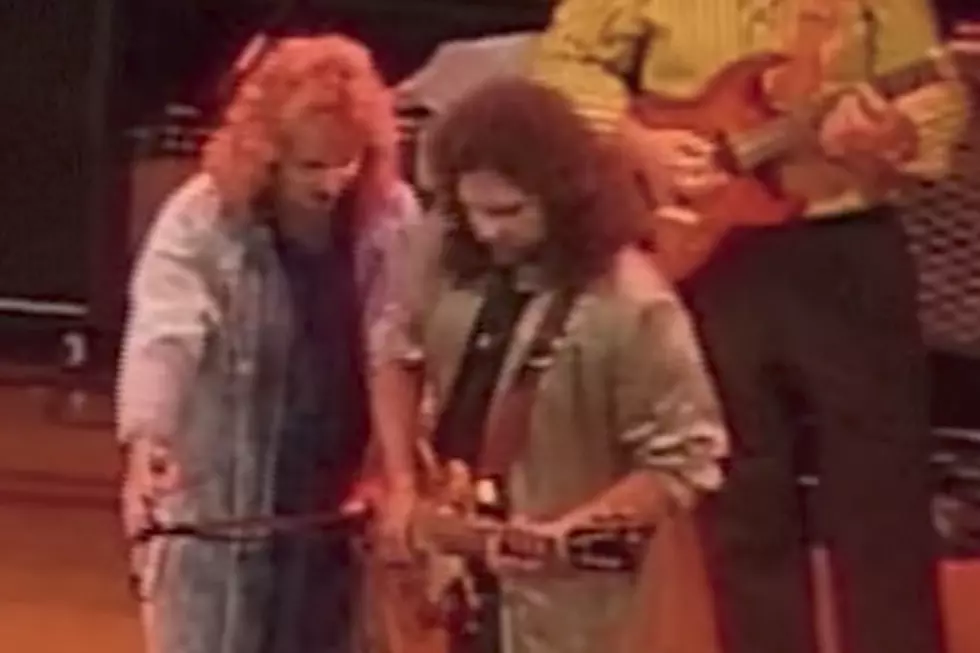 How Lynyrd Skynyrd's Tribute Tour Quickly Became a Lasting Reunion
YouTube
This wasn't supposed to be a permanent thing for Lynyrd Skynyrd. As a short six-week tour got underway at the Concord (Calif.) Pavilion on Sept. 23, 1987, the intention was simply to commemorate the 10-year anniversary of the tragic plane crash that killed three members of the band.
"We hate the terms 'anniversary' or 'reunion,'" guitarist Gary Rossington told the Los Angeles Times, "because those are like happy occasions – and this is not happy."
The remaining members of Lynyrd Skynyd had briefly reunited before, playing Charlie Daniels' Volunteer Jam in 1979. But this was the first tour they'd mounted since Skynyrd's Convair CV-240 crashed en route from Greenville, S.C., to Baton Rouge in October 1977, killing vocalist Ronnie Van Zant, guitarist Steve Gaines and background vocalist Cassie Gaines.
They found a unique way of dealing with Van Zant's absence. At Volunteer Jam, Tad Digregorio of the Charlie Daniels Band took over lead vocals for "Call Me the Breeze." These new shows would feature someone with a closer connection to the band, Ronnie's brother Johnny Van Zant. Their approach to his sibling's signature tune "Free Bird" was simply to play it as an instrumental.
"I'm not going to sing this song," Johnny Van Zant said from the Concord stage in 1987, "because there is only one man who can sing this song."
Rossington and the younger Van Zant were joined in the band's reformulated lineup by founding members Ed King, Billy Powell and Leon Wilkeson, along with Artimus Pyle – Lynyrd Skynyrd's drummer at the time of the plane crash. Original guitarist Allen Collins, who'd more recently been partially paralyzed in a 1986 car accident, traveled with the band but served instead as musical director and occasional emcee. He hand selected Randall Hall, a member of the offshoot Allen Collins Band, to appear in his place.
Listen to Lynyrd Skynyrd's Perform 'What's Your Name'

They were careful, back then, to remain aware of the legacy Lynyrd Skynyrd created in its original incarnation. In fact, at one point, they even discussed a name change.
"We thought about calling it LS2, but then we decided to make it a tribute tour – a tribute to the fans, a tribute to the band that died," Wilkeson told the Deseret News in 1988. "Whatever happens, we are glad we tried it and it worked. It's been like a dream come true."
The tour followed a lengthy period in which the remaining members had been pressed to reunite. At the same time, the rise of the classic-rock radio format kept Lynyrd Skynyrd's music front of mind for a new generation. Eventually, it seemed as if everybody but Gary Rossington was on board. The guitarist required more convincing.
"Actually, for years, people in the business and the record companies and some of the guys in the band have wanted to get back together," Rossington told the Orlando Sentinel in 1987. "I just didn't want to do it. I felt that after the crash, when Ronnie was gone, that there wasn't a Lynyrd Skynyrd anymore. But I finally realized that after 10 years, our music is still being played on the radio and the radio stations get requests for it all the time. So, I wanted to do it for the fans."
Of course, the void left by Van Zant – who was also the band's principal creative force – was obvious. His brother chose to face it head on.
"I know there's going to be some people who will ask, 'Why are you trying to be your brother?'" Johnny Van Zant told the Oklahoman in 1987. "My answer is, 'I'm not.' I'm Johnny Van Zant. I'm a different person, and I'll sing the songs differently than he did. I'm not Ronnie Van Zant, but he was my brother. I'm proud of what he did, and I loved him. I still love him."
They were greeted in Concord, and during successive shows, with a tidal wave of emotion. Rossington quickly warmed to the idea. "It just feels right," he told the Los Angeles Times, "and all the guys in the band wanted to do it. It's more than just the money. Of course, there'll be money involved – but there are a lot of things involved. Actually, it's just fun to play for the people."
Listen to the Lynyrd Skynyrd Perform 'Free Bird'
Still, Rossington was quick to caution that they had no plans to keep going. In an interview published just after they kicked off in Concord, the guitarist said he was still planning to close up shop again at the conclusion of Skynyrd's initially scheduled run.
"That's the end," Rossington told the Times. "But, you know, if you'd asked me two or three years ago if this [tour] would happen, I would've said no – so, I'm not going to say no now. But there are no plans. This is just a tribute to Skynyrd, the music and the fans 10 years later. ... The last thing that we did together as a group was have a plane crash. Now we're going to go out and do a good tour."
The reunion was so popular, however, that Lynyrd Skynyrd added another six weeks of shows – and then another six weeks. In fact, they continued touring for decades, despite losing several members along the way. After each departure, Rossington simply rebuilt.
Artimus Pyle left in 1991, followed by Ed King in 1996. Allen Collins, Leon Wilkeson and Billy Powell have since died. That left Rossington as the final co-founder, though he was joined in 1996 by Rickey Medlocke, who'd had an earlier stint in 1971-72. Besides Johnny Van Zant and Rossington, the most veteran member of Lynyrd Skynyrd now dates back to 1999.
It's ironic, considering Rossington's initial reluctance. The principal figure who kept a Lynyrd Skynyrd reunion tour from happening before that September night in 1987 eventually transformed into the keeper of Skynyrd's flame.
"Not a day goes by that I don't think of Ronnie and the others," Rossington told the Columbus Dispatch in 2012. "I'm just going to keep playing as long as I can play, partly to keep paying tribute to the other guys who aren't here anymore, and also because it's what I do – and all I ever really want to do."
Top 25 Southern Rock Albums
For all of its woolly, trapped-in-the-'70s imagery, the genre has proven surprisingly resilient.
When Lynyrd Skynyrd's Rickey Medlocke Met Kiss