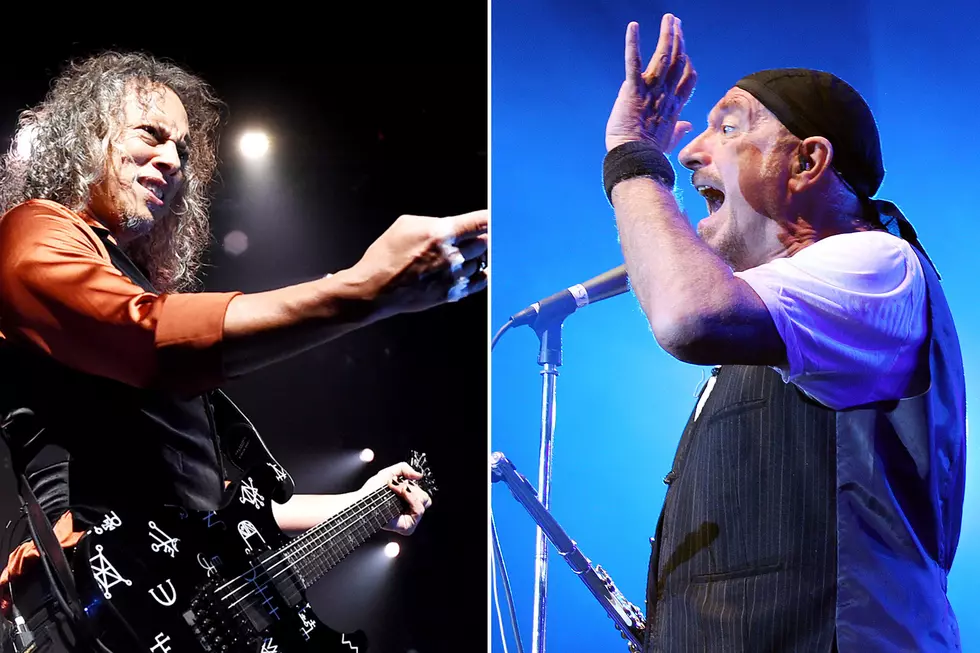 Kirk Hammett is 'Full-on Jethro Tull Fan' Despite Grammy Dispute
Kevin Winter / Mark Metcalfe, Getty Images
Metallica could be forgiven if they're not fans after losing out to Jethro Tull at 1989's Grammy awards.
Metallica were regarded as obvious winners in that year's Best Hard Rock / Heavy Metal Performance category for … And Justice For All, but the award was instead given to Jethro Tull for Crest of a Knave. The resulting backlash forced Grammy bosses to reorganize the categories, and Metallica won in 1990.
Despite all of that, Kirk Hammett says he now follows Ian Anderson's group – and stressed the controversy never affected his opinion of the music.
"I just really got into prog about five years ago," Hammett tells Goldmine. "I wasn't into prog. Just accidentally I heard Jethro Tull's Stand Up and I went, 'Wow!' I never ever had paid much attention to Jethro Tull. I just never did." He added with a laugh: "And it didn't help losing to them in 1989 for that Grammy!
"But that's really not the reason why I wasn't into Jethro Tull, believe me. I just never got around to it. Sometimes you just don't get around to certain things. So, I ended up checking out their entire catalog and now I'm a full-on Jethro Tull fan."
Hammett recently released his debut solo EP, Portals, which perhaps carries a hint of his conversion to prog.
"These solos have no limitations on them," he recently told UCR. "A lot of times when I'm coming up with solos for Metallica, I have to play for the song. I have to play within the context of the song. I have to make the solo somewhat accessible … and also, with Lars [Ulrich], because Lars likes to micromanage everything … he gives me input. That shapes the solos. It's not 100% me. I've always kind of alluded to that. On this LP, it's 100% me with no limitations and stream of consciousness."
Top 50 Classic Heavy Metal Albums
We take a look at some of the heaviest, loudest and most awesome records ever made.
The Rush / Metallica Team-Up That Slipped Away