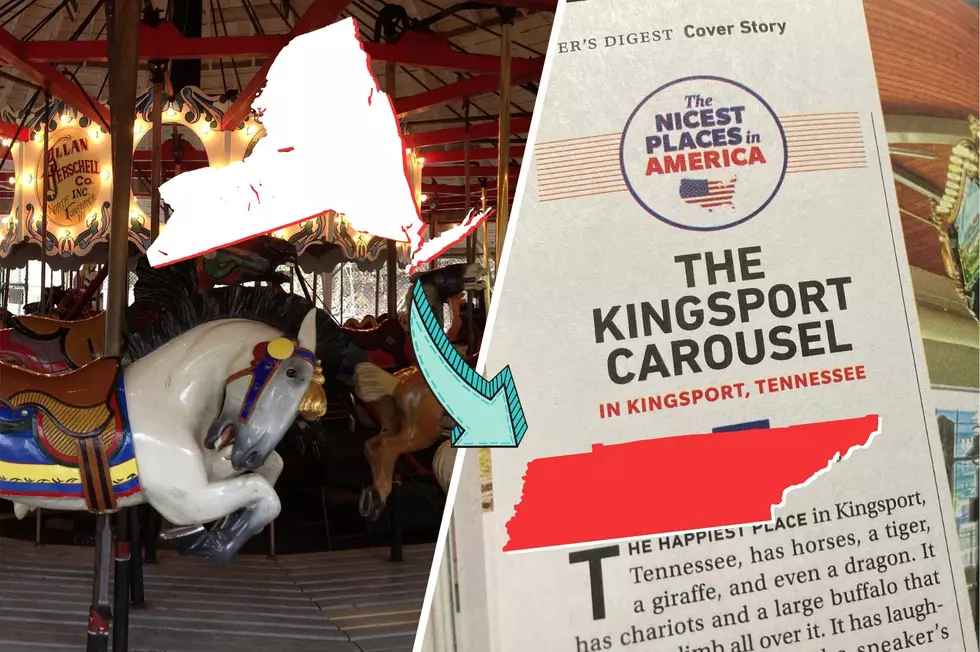 How Broome County Carousels Inspired One Of The 'Nicest Places In America'
Bob Joseph/WNBF News Radio, Townsquare Media, Canva
One of my pastimes, when I'm relaxing at camp on summer weekends and vacations, involves reading. No, I'm not someone who picks up a book to read. I have a hard time concentrating on reading a book. Too many distractions or my mind just starts to wander.
Rather, I read magazines. One that I used to read a long time ago, and over the past year or so, is Reader's Digest.
I just received the latest edition that features the nicest places in America. While Broome County isn't on the list, it has a strong link to once of the place that did.
Reader's Digest Nicest Places In America
It's an annual thing and lists three finalists. Readers send in nominations based on good neighbors, selfless deeds, and acts of community care, according to Reader's Digest.
Well, one of the three finalist communities was Kingsport, Tennessee, and the article revolves around (sorry for the pun) a carousel. I was about to skim past the article since we live in a community that is the Carousel Capitol of the World. And with six of them here for many decades, no one knows carousels more than we do.
Well, just as I was about to skip to the next article, the "Binghamton" name happened to catch my eye just before I turned the page. Now I just had to read the article.
The nomination of Kingsport was because of the story of how a carousel came to be built in this small town and interesting enough according to Reader's Digest, crafted by the residents of the community. But the most interesting part for me was the person who started the dream.
That person, was Gale Joh, a resident of Kingsport, Tennessee, who apparently was born and raised in the Johnson City and Binghamton area. According to Reader's Digest, Joh loved riding our six area carousels and that inspired him to try to get one built in Kingsport.
The article explains the long, hard process that Jon went through to make this a reality. He found the help he needed to make it happen through members of the community Unfortunately, Joh passed away in 2010, but many community members carried on his vision.
300 volunteers, 700 sponsors, and seven years later, the Kingsport carousel was completed according to the Reader's Digest article. And it became that reality due to the vision of a person who hailed from the "Carousel Capitol of the World". He knew what joy it would bring to that small community. Just as six of them do for the Triple Cities.
[via Reader's Digest]
The Spiedie Fest's Most Memorable Guests
The Spiedie Fest & Balloon Rally; arguably Binghamton's most cherished event. Every year, Binghamton locals, spiedie lovers, and hot-air balloon enthusiasts alike wait patiently for Binghamton, New York's annual festival to roll around.
The Spiedie Fest & Balloon Rally is an annual three-day festival in Binghamton, New York celebrating the local community and its immersive culture; including the infamous spiedie sandwich and an array of hot air balloons; a sight common to locals.
The Spiedie Fest & Balloon Rally attracts over 100,000 people, including some popular celebrity faces and performers.
Check it out! Here are 10 of the most memorable Spiedie Fest & Balloon Rally guests:
11 New York State Stereotypes
Each of the 50 states has it's good, it's bad, it's ugly, and it's stereotypes! Living in New York is far from an exception from this.
Whether you live bordering Canada or are all the way down in Manhattan yelling "I'm walking here!" at the tourists stopped in the middle of Times Square, you're tainted by outsiders with the classic New York State stereotypes.
Whether you can say you agree or not;
Here are 11 New York State stereotypes and misconceptions...
11 Things That Scream Upstate New York
If you need to know anything about Upstate New York, know that its culture and tradition is distinct from the rest of the state.
Some things just make you sit back and say "wow, this is SO Upstate New York..."