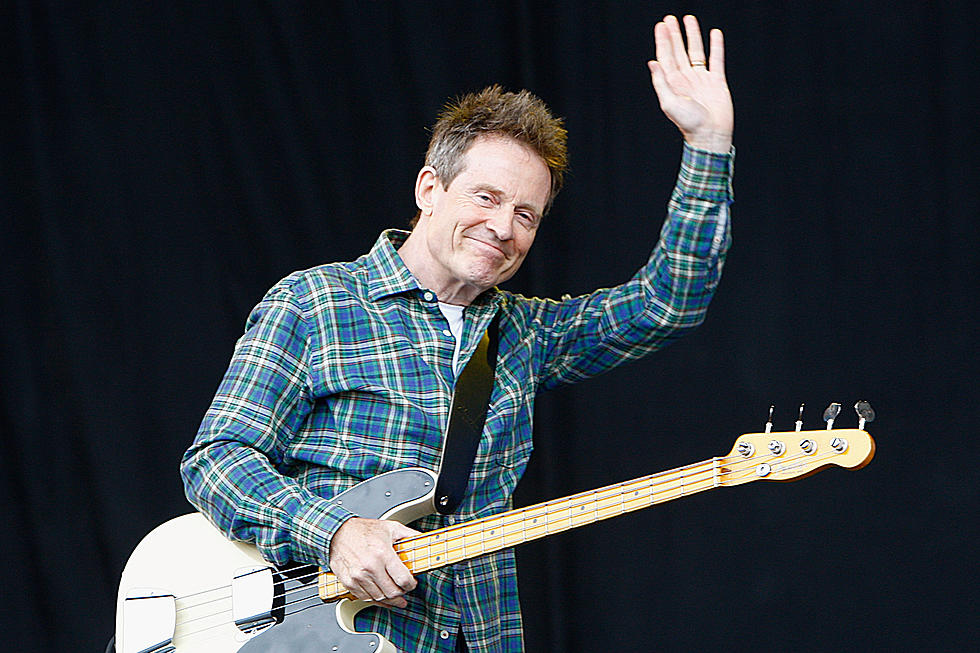 Why John Paul Jones Won't Do Any More Solo Albums
Simone Joyner, Getty Images
Released in 1999, the former Led Zeppelin member hoped his instrumental LP would lead to a return to major-league touring and also to further studio projects. And while it did, it wasn't a direct route, and he never got over the disappointment he encountered on the road.
"No, no, no, I can't be arsed," he said in 2018 after being asked about further solo projects. "We toured the world, sold out shows, then promoters started insisting I get a bloody singer. It was instrumental music, but I'm not Jeff Beck. I remember a promoter saying, 'We can't grow it.' Oh, well, fuck you all."
Until the drag effect began to show, Jones was enjoying life on the road with bassist Nick Beggs and drummer Terl Bryant. "It's nice for me," he'd told Expose. "With different tours in the past, you're not in control as to who is on the road with you to make it as pleasant as possible. It's a nice team now, and we're all pulling together."
He was even prepared for the inevitable focus of the press. "I do radio interviews, and Zeppelin gets a lot of radio airplay, which is still amazing to this day," he said. "After the interview is over, I do ask them to see if they would play a track from my album. You have to be realistic: Give them a few Zeppelin things and maybe they'll play a few Zooma things." Still, he added, "having decided to do this, I wanted to avoid doing any coat-tailing."
Listen to John Paul Jones' 'Zooma'
The momentum of that album led to 2001's follow-up The Thunderthief – complete with Jones on lead vocals. "What happened was, halfway through what was basically going to be an instrumental album, but was also a continuation from Zooma, I decided it'd be really nice to have voices," he told Ink19 in 2002. "I didn't want to get a guest vocalist in, for a couple of reasons actually. One is that I know that I'd forget what I was doing and work on producing them, whoever the vocalist was. I would immediately turn into a producer and it would go somewhere else."
Not for the first time, he lamented the fact that his work wasn't getting him onto the size of stages he wanted. "I'd like to headline again, because then I can do my long show with the keyboards and things," Jones explained. "But I may have to open for somebody else, again, because we really need to play to more people. It's just maddening. I mean, we can sell out Irving Plaza [in New York City], but there comes a point where that's the biggest one we can sell out, because nobody knows us. … We really just need to play to more people."
After The Thunderthief, though, Jones stopped pursuing solo work and went back to collaborations. It wasn't as if this was new for him – he started out as a session musician, sometimes recording several different styles of music in a single day. His post-Zeppelin catalog as arranger, composer and sometimes performer included credits with Brian Eno, the Rolling Stones, Peter Gabriel, R.E.M., Heart and many others (Allmusic lists a total of 907 credits throughout his career.)
Listen to John Paul Jones' 'Angry Angry'
Notably, in 2005 Jones appeared on Foo Fighters' album In Your Honor, playing mandolin on the song "Miracle," leading frontman Dave Grohl to admit, "I know I sound ridiculous, but some bands are like a religion to me. Led Zeppelin are just ... I ran around the room screaming, 'Guess who I just fucking got a call from?' If I say it's the greatest thing that happened to me in my life, my wife will get mad, so it's the second greatest."
A few years later – and after an attempt to continue working with Jimmy Page and Jason Bonham after Led Zeppelin's one-off reunion show proved to be just that – Jones co-founded Them Crooked Vultures with Grohl and Josh Homme. That interaction put him on the kind of stages he was missing from his Zeppelin days. Speaking just after the release of their self-titled album, Jones discussed another factor in the process of deciding how to continue his career.
"I couldn't get arrested in the '80s at all," he told the Telegraph. "After the Beatles broke up, would you have asked Paul McCartney if he'd be in your band? Nobody thought I would do anything, and I didn't really want to join another band after Zeppelin, because I knew nothing would ever be as good as that.
"I rehearsed with Jimmy and Jason quite a lot of last year. We'd put so much into [the reunion show] together, we thought, 'Let's just start another band.' We wrote new material, but we couldn't really agree on singers, and it didn't work out. But after that, I was in that mindset where I'd probably do some touring. My parents were in variety, so I've always felt at home onstage. When Dave came along and said, 'Do you fancy trying out with Josh?' I jumped at it."
Listen to Them Crooked Vultures' 'New Fang'
The supergroup toured through 2010 to positive reviews, and even though Them Crooked Vultures have done nothing since then, all three have expressed the desire to reactivate the band when their schedules are lighter. "It was one of the highlights of my life when John Paul Jones said, 'Now I've been in two great bands,'" Grohl recalled in 2012. "That was a huge deal for me!"
In 2011, Jones returned to the blues, starting a collaboration with British artist Seasick Steve that spawned two albums and more live shows. Since then, Jones has been involved in a number of other projects, including live appearances with improvisational band Supersilent, projects with former members of R.E.M. and others and work on an opera. This year has included a performance with an experimental trio featuring Thurston Moore of Sonic Youth, and the formation of a duo called Sons of Chipotle with Finnish cellist Anssi Karttunen.
But it seems Jones' favorite collaboration remains the ones he undertakes with concert crowds. "The audience is the main difference, the feedback," he said in 2003. "In the studio you can, to a certain extent, get feedback from other musicians, perhaps. … In the studio, you shouldn't be like that, but you're trying to get things right more often, because you know it's going to go down on tape. If you make a mistake and it's a really good take, they have to do the whole thing again, so you try not to make a mistake. Onstage, you don't care. You can take chances because you know once it's gone, unless it comes back on a DVD … it's gone. Onstage you can go further … plus the feedback from the audience, that can result in a really good concert."
The Best Song From Every Led Zeppelin Album