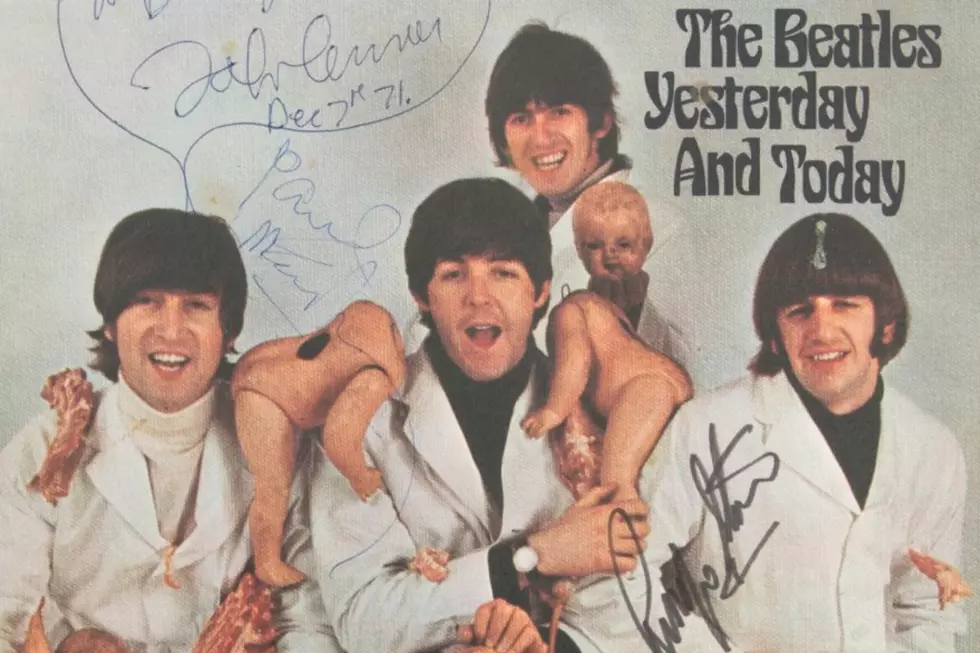 John Lennon's Copy of Beatles' 'Butcher Cover' Sells for $234K
Julien's Auctions
John Lennon's personal copy of of a Beatles LP that sparked outrage because of the cover image's graphic nature has sold for a whopping $233,511.
NME said it was the third-highest price ever paid for a vinyl recording.
The Beatles later replaced the artwork on Yesterday and Today, a patched-together 1966 compilation from Capitol Records – but not before a number of copies made their way onto store shelves with the group dressed in butcher smocks with raw meat and mangled dolls.
An anonymous American collector purchased Lennon's copy at the Beatles Story Museum in Liverpool during a general sale of its merchandise. He considered it "an investment, believing it will increase in value in the years to come," a spokesman for Julien's Auctions told NME.
The album hung on the wall of Lennon's New York apartment until he gave it to an avid Beatles fan and collection named Dave Morrell. It's believed to be the only copy that features three Beatles' signatures. Paul McCartney and Ringo Starr also signed it.
Australian photographer Robert Whitaker's original image was meant as a commentary on the U.S. label's treatment of the band's recordings. The reworked album, which featured a picture of the group gathered around a piece of luggage, was said to be the only Beatles album that lost money for Capitol.
"The market is still developing, so we anticipate in the next five years this same record could bring $500,000-plus," Julien's Auctions president Darren Juliennoted. "This was a world record for a Beatles butcher cover and the third-highest price paid for a vinyl."
Starr's copy of the White Album was auctioned for $790,000 in 2015, reportedly making it the most expensive vinyl recording ever.
Beatles Solo Albums Ranked
You Think You Know the Beatles?