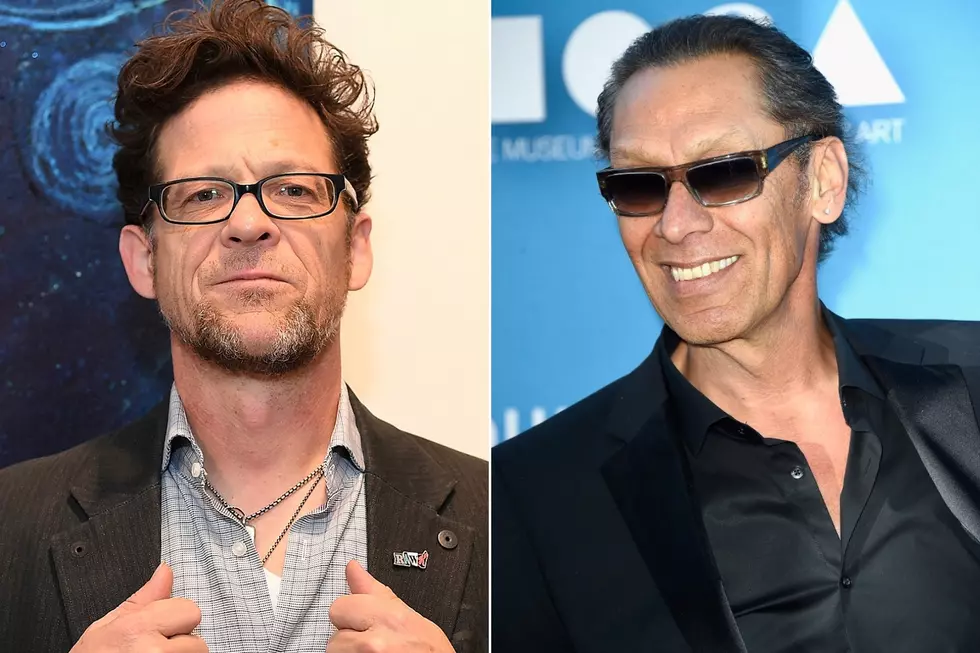 Jason Newsted Says Alex Van Halen Asked Him to Tour Last Year
Dylan Rives / Frazer Harrison, Getty Images
Former Metallica bassist Jason Newsted said Alex Van Halen recently approached him about participating in a possible Van Halen tour, with Joe Satriani taking the place of late guitar hero Eddie Van Halen.
In a new interview with The Palm Beach Post, Newsted said he received an invitation from the Van Halen drummer six months ago. He agreed to fly out to California to jam with Van Halen and Satriani but thought it didn't feel right and that he could never do justice to the band's legacy.
"How could you?" Newsted said. "There's nobody that can top it, so how do you show it honor? I didn't want it to be viewed as a money grab. And then it kind of just all fizzled."
Van Halen played their last concert at the Hollywood Bowl on Oct. 4, 2015. The band fell into a period of inactivity as Eddie Van Halen sought cancer treatment over the next several years and effectively ended when the guitarist died on Oct. 6, 2020.
Newsted did not say whether any singers had been considered for this purported Van Halen tour. David Lee Roth, who most recently fronted the band, announced his retirement in October 2021 and canceled his Las Vegas farewell shows in January.
Newsted is no stranger to filling big shoes, having joined Metallica in 1986 following the death of bassist Cliff Burton. He played with the band until 2001, participating in chart-topping albums such as 1991's Metallica (colloquially known as the Black Album), 1996's Load and 1997's Reload.
After leaving Metallica, Newsted embarked on a yearlong tour with Ozzy Osbourne, pulling double duty with Osbourne and his former band, Voivod, on Ozzfest. He said he's also received offers from Aerosmith and Alice Cooper that both fell through.
Newsted now plays with the Chophouse Band, which he described as "Johnny Cash with long, sharp teeth." The band donates 100 percent of its proceeds to arts and music charities for kids.
"I've already seen a whole bunch of really, really crazy stuff in a really hyper-exclusive club, and I'm not sure what's going to top it," Newsted said of his time in Metallica. "But as far as the notches in the belt and the shiny part of the crown, I think that's as shiny as they are going to get."
Van Halen Lineup Changes
Three different singers and two different bassists joined the Van Halen brothers over the years.