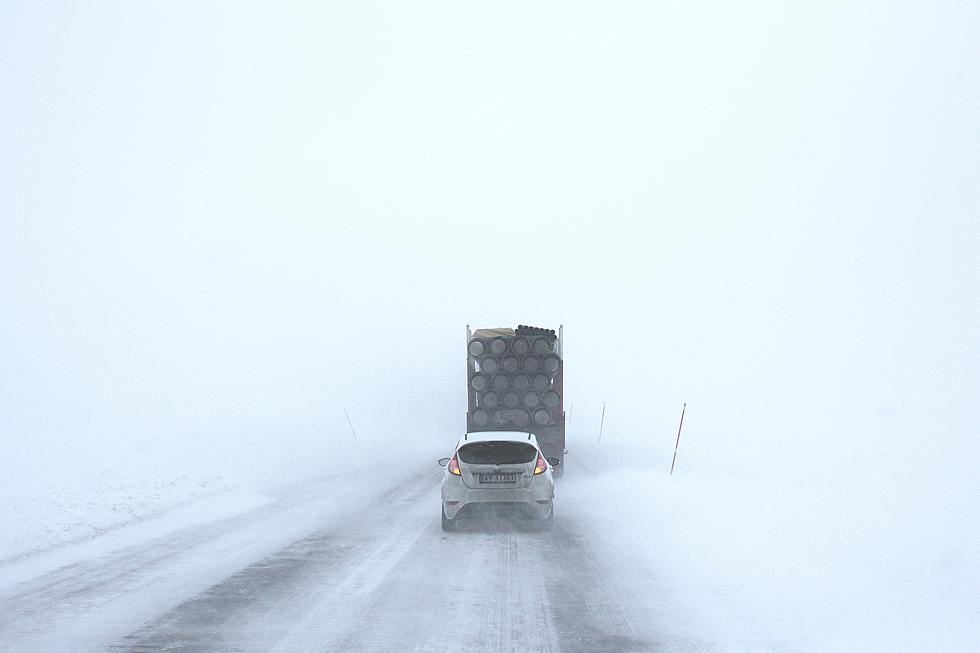 Twin Tiers & Central NY Under Winter Storm Warnings
Photo by Rémi Jacquaint on Unsplash
As a big winter storm makes its way eastward, the National Weather Service in Binghamton has upgraded previous storm watches to Winter Storm Warnings for the Twin Tiers and Central New York.
The National Weather Service office in Binghamton has a Winter Storm Warning in effect running from 7 a.m. Thursday, December 15 to 7 p.m. Friday, December 16 for  Broome, Tioga and Tompkins counties in New York as well as Bradford, Susquehanna and Wayne Counties in Pennsylvania with a Winter Storm Warning from 10 a.m. Thursday, December 15 to 1 a.m. Saturday, December 17 for Delaware, Cortland and Chenango Counties. That region was being told to anticipate possible snow accumulations of 9 to 15 inches.
As for snowfall totals, the Warning encompassing Binghamton, Owego, Towanda, Sayre, Montrose, Ithaca and Tunkhannock is calling for total accumulations of 6 to 13 inches. But the forecast issued by the weather service early Thursday was calling for new snow and sleet accumulation during the day Thursday of "around an inch possible", new snow accumulation Thursday night of around 2 inches and new snow accumulation Friday, December 16 of less than a half inch.
Greater snow accumulations are possible in areas of heavy snow and at higher elevations.
NOAA was anticipating ice accumulations of a tenth of an inch and winds gusting up to 35 mph.
Schools in the Northern Tier of Pennsylvania quickly closed as of Thursday morning. Check the school closing site on the trending bar for the complete listing of school announcements.
With the combination of heavy, west snow and wind, there is the possibility of tree branches coming down and power interruptions.
In anticipation of the storm, the Pennsylvania Department of Transportation on Wednesday advised motorists that vehicle restrictions would be going into place on the interstate roadways.
In the Northern Tier, PennDOT says it planned to put Tier 1 vehicle restrictions in place at noon December 15 for Interstate 81 from 1-380 to the New York border, The PA Turnpike Northeast Extension from I-78 to I-81 in Clarks Summit, the entire length of I-84 and the entire length of Interstate 380.
Tier 1 restrictions mean the following vehicles are not allowed:
Tractors without trailers, Tractors towing unloaded or lightly loaded enclosed trailers, open trailers or tank trailers, Tractors towing unloaded or lightly loaded tandem trailers, Enclosed unloaded or lightly loaded cargo delivery trucks/ box trucks that meet the definition of a CMV, Passenger cars/ SUVs/pickup trucks towing trailers, Recreational vehicles/motor homes, School buses/ commercial buses and motor coaches and Motorcycles.
If you must travel during the storm, besides making sure your vehicle mechanics and tires are ready for the weather, your cell phone should be charged and you should carry a flash light, blanket, bottled water and snacks in your vehicle.
Residents who are staying close to home should also bear in mind winter parking rules are in effect. That means alternate side of the street parking in Binghamton and Johnson City as well as the banning of vehicles from several Town and Village roads after a certain amount of snowfall.
If possible, people should just try to park entirely off the street so snow plows and emergency vehicles can get through.
15 Upstate NY Bakeries to Buy the Yummiest Christmas Cookies
Christmas cookies. Just saying those words brings back memories of mom or grandma baking up a storm in the kitchen during the holiday seasons of your youth. Well, these are probably not the Christmas cookies that dear old Mom made, but they are all wonderful, delicious, creative. and bring the spirit of the season to your home or party in a nostalgic way. Check out these gorgeous photos!
Read More! 17 Weird and Fun Trivia Facts About Upstate New York
There are so many fascinating trivia facts about Upstate New York that one could write a book about it. Here are 17 interesting factoids about our region that will leave you scratching your head!