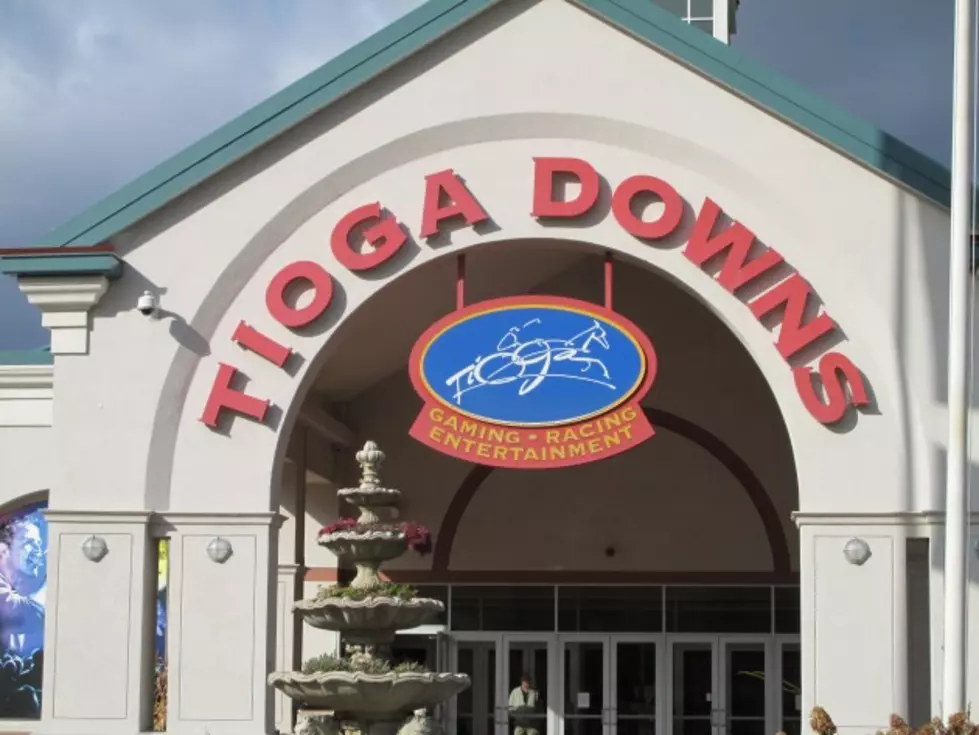 Tioga Downs Foundation Awards $1.1 Million to Twin Tiers Charities
WNBF News/Roger Neel Photo
A number of non-profit organizations in Broome, Tioga, Chemung and Bradford Counties are sharing $1.1-million in grant money from the Tioga Downs Regional Community Foundation.  In all, 54 organizations in the communities surrounding the casino-resort in Nichols are winners in this latest round of allocations.  
Among the recipients are the Stand With Me Assistance Dog Team Training, Roberson Museum and Bridge Community Center in Broome County, Empire State Special Needs Experience, Owego Emergency Squad ad the Berkshire Community Association in Tioga County and the Animal Care Fund, Guthrie Clinic and Sayre House of Hope in Bradford County, Pennsylvania. Applications are already being accepted on line for next year's round of grants from the Tioga Downs Regional Community Foundation. 
During ceremonies announcing this year's grant allocations on November 29, Tioga Downs owner Jeffrey Gural, whose mother's family was from Binghamton, said "This foundation allows us to support people who are changing lives in the cities, towns and villages our guests call home."
2022 Tioga Downs Regional Community Foundation Grant Recipients
Broome County
ACHIEVE Binghamton Philharmonic, Inc.
Bridge Community Center
Broome County Urban League, Inc.
Discovery Center of the Southern Tier
Family Planning of South Central New York, Inc.
Friends of Kirkwood Community Inc.
Get There (Rural Health Network of South Central NY)
Goodwill Theatre, Inc.
Hope Foundation of Binghamton, Inc.
Rescue Mission Alliance of Syracuse, NY
Roberson Museum and Science Center
StacheStrong, Inc.
Stand With Me Assistance Dog Team Training, Inc.
United Way of Broome County, Inc.
Tioga County
A New Hope Center
Berkshire Community Association
Camp Ahwaga Association
Candor Emergency Squad, Inc.
Catholic Charities of Tompkins/Tioga
Cornell Cooperative Extension of Tioga County
Empire State Special Needs Experience, Inc.
Kali's Klubhouse, Inc.
McKendree United Methodist Church Open Hearts Dinner
Owego EMS, Inc.
Southern Tier Music Teachers Association
Stray Haven Humane Society & SPCA
Tioga County Boys & Girls Club
Waterman Conservation Education Center
Chemung County
AIM Independent Living Center
Cornell Cooperative Extension of Chemung County
Economic Opportunity Program, Inc. of Chemung County
Family Service Society, Inc.
Golden Glow Volunteer Fire Company, Inc.
Horseheads Family Resource Center
Neighborhood Transformation Center
Southern Tier Pregnancy Resource Center
Tanglewood Community Nature Center, Inc.
United Way of the Southern Tier
Woody Wilson
Young Women's Christian Association of Elmira/Twin Tiers
Bradford County (PA)
Animal Care Fund
Big Brothers Big Sisters of the Twin Tiers
Bradford County Action, Inc.
Dale's Depot
Guthrie Clinic
Northern Tier Unified Arts Association
Sayre House of Hope
Secure Rehabilitation and Vocational Enterprises, Inc.
Spay Neuter Save Network
Special Olympics Pennsylvania
Supporting Area Families Everyday (S.A.F.E)
Troy Lions Club Foundation
United Way of Bradford County
Take a Look Around The Danielle House
Located at 160 Riverside Drive in Binghamton, The Danielle House is a charitable, non-profit organization as well as a member of the Healthcare Hospitality Network. This home is a place where the families of people undergoing serious medical treatments are able to find peace, rest, comfort, and above all else, love.
Big Money! Play 'Southern Tier Wheel Of Fortune!
We made a series of
Wheel of Fortune-style puzzles
that have to do with the Southern Tier. See if you can solve them! There's no money involved, but at least there's no chance of spinning Bankrupt!