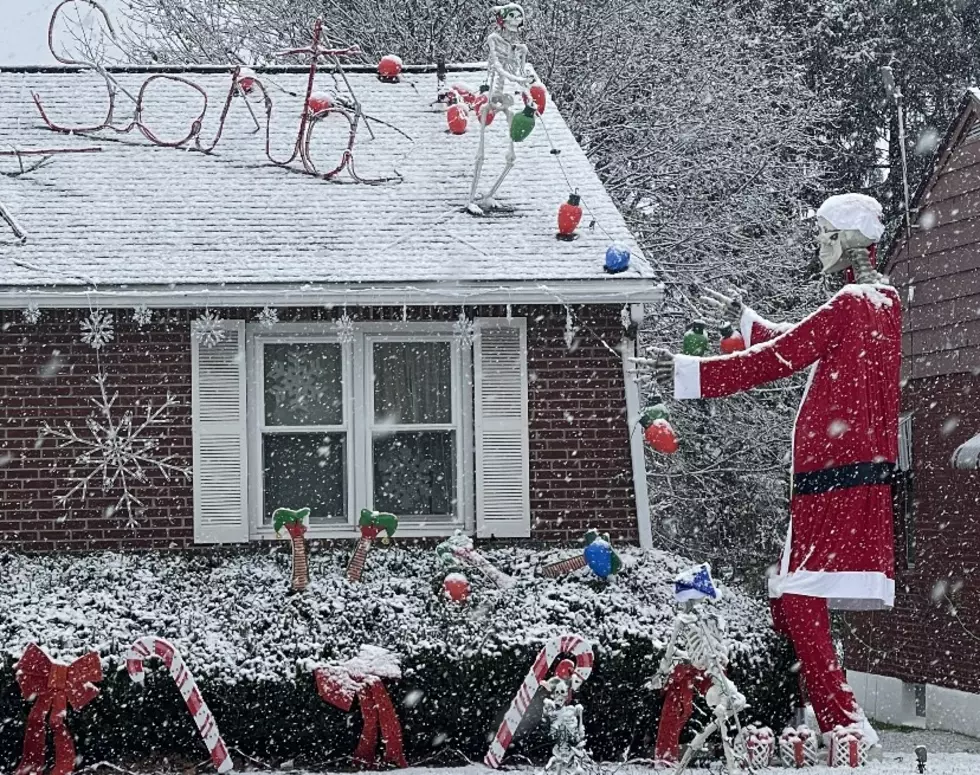 Endicott's Boris the Skeleton is Back with Holiday Causes
Scott Varcadipane
Boris, Endicott's resident 12-foot-tall skeleton, is back for the holiday season with a new outfit and new charitable causes for the season of giving.
You may remember Boris the Skeleton from back in October on WNBF. At the time, Boris and his 12-foot-tall skeleton partner Gladys and the people behind Boris and Gladys, Scott Varcadipane and Samantha Dalla-verde, were raising money for St. Jude Children's Research Hospital. When all was said and done, Boris the Skeleton had collected about $1,800 in donations for St. Jude.
Now Boris is back with new charitable causes for the holiday season. You may have noticed some Boris the Skeleton themed items popping up around the Binghamton area. North Brewery made a Boris Christmas beer. Kathy, David and Eric's Flavored Coffee Company made their own Boris flavor.
Or you may have seen 103 people in the Binghamton area walking around with Boris the Skeleton tattoos from Tattoos by Hawk. The Tattoos by Hawk crew in particular raised $1,350 for Boris' Christmas program, $320 of it coming off the Boris tattoos alone.
Working with a slew of community partners, Scott, Samantha and Boris the Skeleton have raised over $6,000 to help children in the Binghamton area, with the money going to Watch Us Change Us, The Joshua House, United Way Candor Bread of Life Food Pantry, and the Union-Endicott school district.
"Last year we teamed up with Terry Farrell, with Molina Health Care, and we helped get 425 kids sponsored last year and so we hope to get at least 400 sponsored this year," said Varcadipane. "So we teamed up with Joshua House and Watch Us Change Us and been collecting donations and getting kids sponsored. We also did a t-shirt drive, so we have another $844 to donate. And we hope to work with them more in the future as well."
On Monday, Robert Potochniak of Exit Realty Homeward Bound visited Boris the Skeleton and presented Scott and Deborah Smith from The Joshua House with a massive check for $1,000. And I do mean massive literally.
"Exit realty is growing in the community and we're run by a family and the company really is one big family," said Potochniak. "As part of that, we want to give back to the community, which is also a bigger part of our family. We do business here so we want to give back as well. So as time goes on we hope to do more and more in the community."
Boris the Skeleton also worked with Paula's Coffee House, Nitty Gritty Details, Batch Coffee, The Airport Inn, and Our Country Hearts to raise money for this year's Christmas program. And on Thursday, December 22, The Joshua House will be giving out presents to parents to deliver over 100 local children their wishlist gifts.
If you're interested in joining the Binghamton community in helping Boris the Skeleton's charitable holiday causes, you can check his Facebook page for information on what Boris is up to.
25 Businesses That Could Fill that Space in Downtown Binghamton
Since I moved here, Court Street in downtown Binghamton has had a huge chunk of unused real estate. Here's 25 businesses that could fill the space.
25 Worst Paying Jobs in New York State
Here's the 25 worst paying jobs in New York State. Is your job on the list?