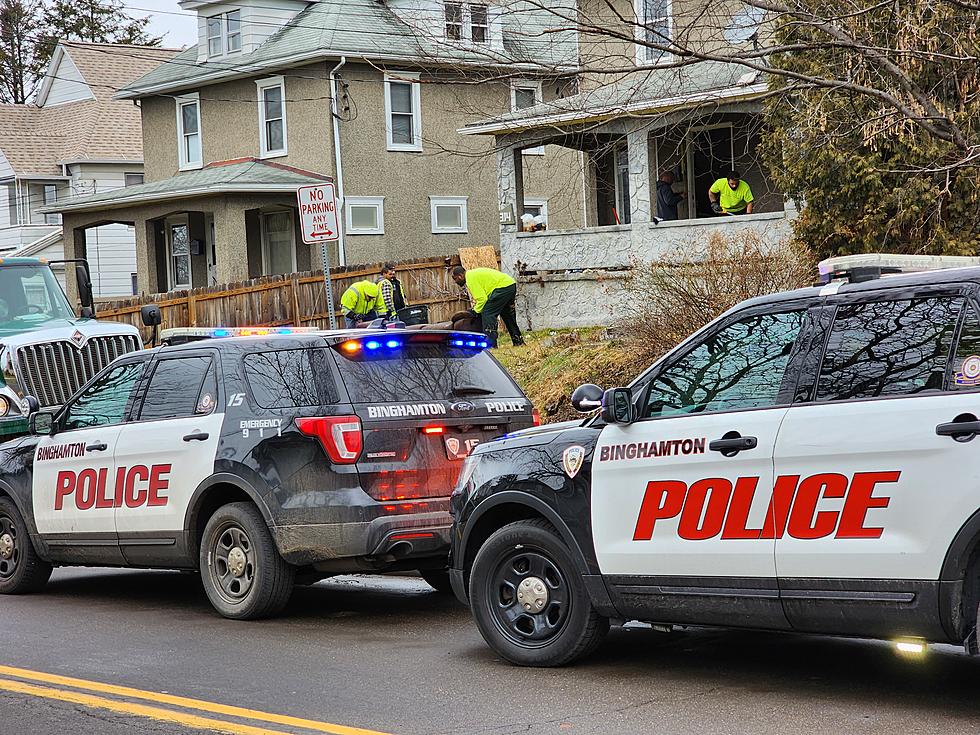 Cops, Lawyers, Trash Crews Raid Rat-Infested Binghamton House
Photo: Bob Joseph/WNBF News
Binghamton city attorneys showed up with police officers and garbage trucks to clean up a home that had become a neighborhood nuisance.
The house at 314 Prospect Street in the First Ward had been targeted under the city's lockdown law after a man was shot there.
Representatives of the Binghamton's corporation counsel's office were accompanied by police and trash crews when they visited the home around 12:45 p.m. Thursday.
Police called for more officers a short time later when they encountered some "resistance."
Neighbors applauded as public works employees loaded garbage and old furniture into a couple of waiting trucks. One man watching the spectacle from across the street said: "It's about f------ time."
Entrances to the building were being boarded up as some of the trash was removed.
Mayor Jared Kraham last September said a warning letter had been sent to the owner of the Prospect Street property because it had been deemed a "public nuisance."
At the time, the mayor said the owner had 30 days to submit a corrective action plan to the city to address the problems. If the issues weren't addressed, the city could go to court to seek a "temporary closing of the premises."
In an email to WNBF News Thursday, Kraham said the property owners were being served a preliminary injunction. A City Court hearing on the proposed lockdown is scheduled for March 6.
The mayor said "this is the latest step in the city prosecuting the property owners" following the lockdown warning. He said if the city is successful at next month's hearing, the property will be locked down.
The city has used the lockdown law sparingly over the last decade. It's generally been employed for nightclubs or after-hours establishments following ongoing criminal activity.
Police had said a 26-year-old man who lived at 314 Prospect Street was shot around 3:30 p.m. September 19. He was said to have been seriously injured.
Investigators said 48-year-old Franklin Smalls of Binghamton was charged with attempted murder and criminal possession of a weapon in connection with the shooting.
Enter your number to get our free mobile app
Contact WNBF News reporter Bob Joseph: bob@wnbf.com or (607) 545-2250. For breaking news and updates on developing stories, follow @BinghamtonNow on Twitter.
Historic cities: 10 metros with the oldest homes
New Jersey Real Estate Network
collected U.S. Census Bureau data to understand which metro regions have the most old homes, which include houses built in 1949 or earlier.
LOOK: This is where homes are selling the fastest right now
Stacker
compiled a list of the metros where houses are selling the fastest, according to data from Redfin.