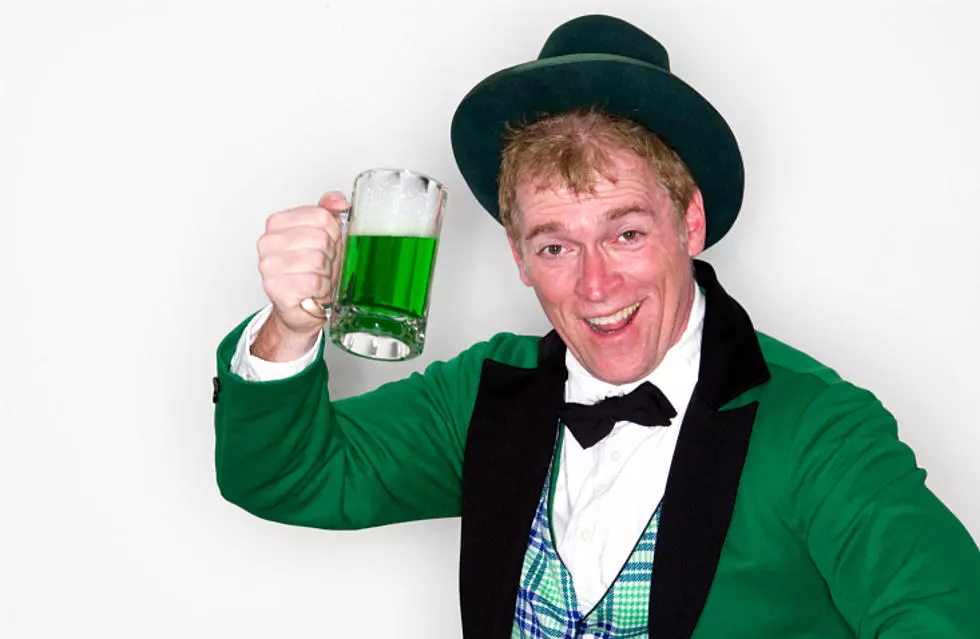 St. Patrick's Day Drinks That Will Save You Some Green
iStock
St. Patrick's Day falls on a Friday this year, so you'll have three days to celebrate this unique holiday. First of all, celebrate safely and arrange for a ride if you need one. If you don't pay attention before you get behind the wheel, there will be someone out there that will be. You'll get a ride alright...but it won't be back to your place, it'll be at theirs.
Maybe a better idea this St. Patrick's Day weekend is to celebrate at home. Here's a way to safely enjoy the spirits of the holiday and help keep the green going all weekend long. This will also save you some green by making them yourselves
St. Patrick's Day Drinks
Depth Charge: Mix 2 ounces of peppermint schnapps with 1 pint of beer. Pour the schnapps first and stir slightly.
Emerald Isle: Mix 2 ounces gin, 1 ½ teaspoon green crème de menthe, and three dashes bitters. Stir and then pour into a glass.
Green Machin Punch: 1 bottle vodka, one 12 ounce can of frozen limeade concentrate, ½ gallon lemon sherbet, and ½ gallon lime sherbet. Dissolve the concentrate into the vodka, and then add the sherbet. If you want to make this alcohol-free, just leave out the vodka.
Irish Coffee: Dissolve granulated sugar (enough to taste) into 2 ounces Irish whiskey. Add hot coffee, leaving a half-inch at the top of the glass. Top with whip cream.
Irish Dream: Take ½ ounce Irish cream liqueur, ½ ounce hazelnut liqueur, ½ ounce brown crème de cacao, and one scoop of vanilla ice cream. Combine these ingredients in a blender with ice.
Irish Rickey - Combine 1 ½ ounce blended whiskey with 1 ounce lime juice, and top off with club soda. Garnish with a lime twist.
Irish Shillelagh: 1 ½ ounce Irish whiskey, ½ ounce light rum, ½ ounce sloe gin, 1 teaspoon powdered sugar, 1 ounce lemon juice, ¼ cup of diced peaches, and ¼ cup raspberries. Combine the ingredients in a blender, and garnish with raspberries.
Shamrock: Mix together 1 ½ ounce Irish whiskey, ½ ounce dry vermouth, ½ ounce green crème de menthe, and 1 teaspoon green chartreuse.
Looking for more green drinks to create this weekend? Here are 10 fun St. Patrick's Day cocktail.
Speaking of drinks, the Binghamton on Tap Craft Beer Festival is next Saturday, March 25th at the Visions Veterans Memorial Arena, Get your tickets now before the price goes up.
Here's What You Missed At Last Year's Binghamton on Tap Craft Beer Festival.
CHEERS! The Best Snapshots From Binghamton On Tap 2022
Binghamton On Tap 2022 was one for the ages. Take a look at the best scenes from an AMAZING night!
FEEL THE EXCITEMENT: Binghamton On Tap 2021
Binghamton On Tap 2021 was a massive success. A new home for this year at the Broome County Fairgrounds, but the same level of fun and passion for good beer, food, and music as always. Take a look and see if you can spot yourself!