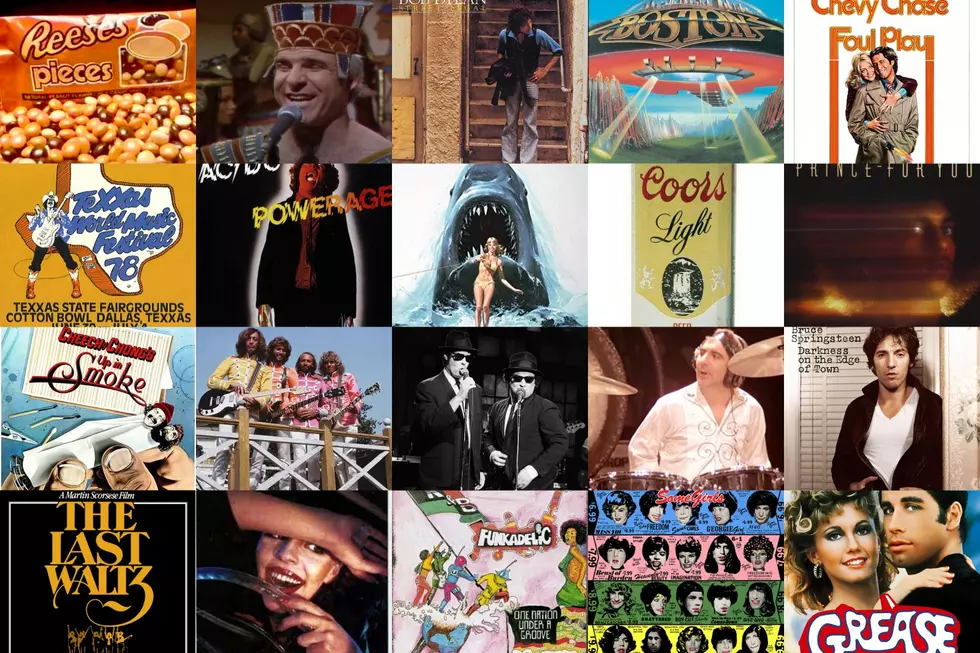 78 Things That Defined the Summer of '78
UCR
The summer of 1978 was one for the ages, including incredible album releases, several of the decade's greatest movies and brilliant live shows. But it was also a season of the weird and the wonderful, featuring the first solo expedition to the North Pole, the setting of one of the all-time greatest sports records, the theft of a famous coffin and more.
The list below includes 78 amazing occurrences from that summer, starting in April with events that set the tone for the hotter months, and ending in September, when the last shreds of sunny festivities were hanging on for dear life.
So put on a classic album, sit back and enjoy a trip to the fabled summer of '78 in all its glory.
'The Last Waltz' Hits Theaters
When the Band played a show billed as their "farewell concert" on Thanksgiving Day in 1976, filmmaker Martin Scorsese was there to document it. Often regarded as the greatest concert film of all time, The Last Waltz was released on April 26, 1978. It featured a myriad of high-profile guest performances and set the scene for the entire summer of music that followed.
Steve Martin Releases "King Tut"
Steve Martin was at the height of his fame in the late '70s. On April 28, 1978, he released "King Tut" as a single off his second comedy album, A Wild and Crazy Guy. The single went platinum and reached an impressive No. 17 on the Billboard Hot 100, and its accompanying album, released in October, peaked at No. 2 on the Billboard 200 and won a Grammy Award for Best Comedy Album in 1979.
Kiss Releases 'Double Platinum'
Released in April 1978, Double Platinum marked Kiss' first greatest-hits collection. Featuring four sides (two LPs) of rock 'n' roll anthems including "Strutter," "Detroit Rock City" and "Rock and Roll All Nite," the album cemented the band's legendary status in the '70s and was certified platinum after just one month. It remains one of the group's bestselling albums.
'Space Invaders' Is Born in Japan
The release of the standup arcade version of Space Invaders in Japan kicked off the so-called "Golden Age" of video games. Rumors of the new, massively popular game circulated among the American gaming community throughout the summer of '78, building anticipation for the moment when the first arcade versions of the game would appear in America in the fall.
The Blues Brothers Debut on 'Saturday Night Live'
John Belushi and Dan Aykroyd had been performing with guest musicians on Saturday Night Live since 1976, but it was the spring of '78 that saw them form their own band, the Blues Brothers, backed by a bevy of legendary American R&B musicians, and make their debut on the show. An immediate sensation, they were soon in the studio recording their first album, Briefcase Full of Blues.
'Dallas' Debuts, Then Makes People Wait
The soap opera and pop culture phenomenon Dallas debuted in the spring of 1978 as a five-part miniseries on Sunday nights. Although executives at CBS had low expectations, the show was so successful that it was renewed as a full-time series. Unfortunately, Dallas' legion of new fans had to wait all summer to get their fix, as the new episodes weren't released until the regular TV season in September.
The 'FM' Soundtrack Captures the Feel of the '70s
The 1978 movie FM tried to capture both the music of the decade and the freewheeling spirit of the radio stations that were playing it. The soundtrack was a knockout, featuring songs by Steely Dan, Bob Seger, Queen and more. It went platinum and won a Grammy for Best Engineered Album, Non-Classical in 1979.
'Big Wednesday' Brings SoCal Surfing to the Big Screen
John Milius' Big Wednesday is one of the best films about the surfing life ever made, tracking the experiences of a group of '60s California teens as they graduate from high school and transition into the adult world. Featuring early career performances by Jan-Michael Vincent, Gary Busey, William Katt and Robert Englund, it was one of the many American movies of the '70s that seemed to be an elegy to the momentous changes that had taken place over the past decade and a half.
Tom Petty Continues His Ascent with 'You're Gonna Get It!'
It's hard to remember now, but there was a time when Tom Petty and the Heartbreakers weren't household names. Such was the case when they released their second studio album, You're Gonna Get It!, on May 2, 1978. The rocked-out LP earned the group its first gold certification and set the stage for their commercial breakthrough on 1979's Damn the Torpedoes.
The Who Plays Their Last Live Show with Keith Moon
The Who's legendarily debauched drummer Keith Moon struggled with alcohol addiction for much of his adult life, and it had long since taken its toll by the beginning of 1978. During the recording of that year's Who Are You, rumors swirled that the band was considering replacing him, but when it came time to film a live set at Shepperton Sound Studios in May for their film The Kids Are Alright, Moon rallied and turned in a solid performance. It marked the last time he would play live with the band, and he was dead less than four months later.
Kraftwerk Bounces Into Record Stores With 'The Man-Machine'
Although they weren't well-known by the American public, German electronic band Kraftwerk was a sensation in Europe and darlings of the U.S. rock cognoscenti when they released their seventh album in May 1978. Often seen as their definitive LP, The Man-Machine didn't sell particularly well in the U.S., but it offered a glorious preview of the kind of European electro-pop that would flood America in the '80s.
Japanese Explorer Conducts First Solo Expedition to the North Pole
In the summer of '78, Japanese explorer Naomi Uemura – riding behind a team of sled dogs – became the first person to complete a solo expedition to the North Pole. The journey took two months and featured a number of hair-raising exploits, including a moment when Uemura and his dogs were stranded on a piece of ice that floated out to sea, and another adventure in which he had to kill a polar bear that was destroying his camp.
Barry Gibb Writes Four Consecutive No. 1 Singles
When "If I Can't Have You," recorded by Yvonne Elliman, reached the top spot on the Billboard Hot 100 in May 1978, it marked an incredible milestone. Barry Gibb, songwriter and member of the Bee Gees, had written four consecutive No. 1 hits on the Billboard Hot 100, the others being "Stayin' Alive," "Love Is Thicker Than Water" and "Night Fever." It's a feat that no one has matched to this day.
Buddy Holly's Life Story Gets Turned Into a Biopic
Gary Busey was having a moment in 1978. In addition to starring in Big Wednesday, he played Buddy Holly in Steve Rash's The Buddy Holly Story, for which he received an Academy Award nomination for Best Actor. The film took home an Oscar for its score and introduced a new generation to Holly, one of the leading lights of early rock 'n' roll, almost two decades after his death.
Bob Seger's 'Stranger in Town' Goes Platinum in Three Weeks

Bob Seger was a workhorse and had already released nine albums by 1978. His tenth, Stranger in Town, hit stores on May 5, and by May 30 it had already gone platinum. (It would go on to be certified six-times platinum.) Opening with "Hollywood Nights" and featuring "Still the Same," "Old Time Rock and Roll" and "We've Got Tonight," it ranks as one of the biggest and best efforts of his storied career.
Coleco Releases 'Electronic Quarterback' Game
Electronic Quarterback (or Electronic Touchdown when sold under the Sears brand) was a handheld football video game with four buttons: up, down, left/right and kick/pass. The goal was simple: to get the ball – a smaller dot than the rest – to the endzone. There were other similar football games on the market, but for a brief period, Electronic Quarterback was the coolest and most advanced one in existence.
Universal Rereleases 'American Graffiti' and Makes Another Killing
American Graffiti's story of a night in the life of graduating high school students in 1962 was a smash hit when it was released in 1973, kicking director George Lucas' career into overdrive. Sensing there was still money to be made, and with the More American Graffiti sequel on the way, Universal rereleased the film on May 26, 1978. This earned the studio an additional $60 million in profits ($5 million more than the initial release) and proved that nostalgia works in every generation.
Pete Rose Collects 3,000th Hit
Pete Rose became the 13th baseball player to amass 3,000 hits on May 5, 1978. Later that summer, Rose would make a run at Joe DiMaggio's record 56-game hitting streak but fall short, reaching only 44. Rose would retire as the all-time leader in hits, at-bats, singles and games played, but he was banned from the Baseball Hall of Fame for gambling on games while still an active player.
The Kinks Release 'Misfits'
From their founding in 1963, the Kinks were prolific studio artists, releasing over an album a year. In May 1978 they issued their 17th LP Misfits, which marked a return to straight-ahead rock 'n' roll after the theatrical fare that constituted much of their '70's output. The album reached No. 40 on the Billboard 200 and spawned a minor hit in "A Rock 'n' Roll Fantasy," which reached No. 30 on the Hot 100.
Someone Steals Charlie Chaplin's Coffin
After his death on Christmas Day 1977, Charlie Chaplin was buried in the Corsier-sur-Vevey cemetery in Switzerland. The following spring, his coffin disappeared, and his wife Oona received a $600,000 ransom demand for the return of the beloved actor's body. By May 1978, Swiss authorities had solved the crime, arresting two men and returning Chaplin to his rightful resting place.
Resorts Casino Opens in Atlantic City
Until May 26, 1978, Nevada was the only place in America where gambling was legal. That changed with the opening of Resorts Casino in Atlantic City, New Jersey, two years after the state passed a ballot measure legalizing gambling. A host of other hotels and casinos would soon open their doors in the area, making Atlantic City the east-coast destination for people who wanted to bet their money and eat cheap buffet food.
AC/DC Debuts New Bassist Cliff Richards on 'Powerage' 
AC/DC had endured a tumultuous 1977, touring with Black Sabbath and firing bassist Mark Evans. They replaced him with Cliff Williams in time to record Powerage, their fifth studio album. Although the album didn't sell well upon release, it has grown in estimation and had one particularly famous supporter: Eddie Van Halen noted several times over the years that it was his favorite AC/DC album.
The Unabomber Makes His First Attack
By the early '70s, former math professor Ted Kaczynski had quit his academic career and moved into a remote cabin in Montana in an attempt to repudiate modern life. In May 1978, Kaczynski sent out his first mail bomb to an engineering professor at Northwestern University, injuring him slightly. Kaczynski would continue these attacks for 17 years, killing three people and injuring another 23, earning the moniker the Unabomber. The FBI finally arrested him in 1996.
Prince Releases First Single on His 20th Birthday
Prince kicked off his illustrious solo career in April 1978 with the release of his self-produced and self-performed debut album For You. The musician celebrated his 20th birthday that summer with the release of his debut single, "Soft and Wet," on June 7. The song fizzled at No. 92 on the Billboard Hot 100 but fared much better on the Hot Soul Singles chart, where it peaked at No. 12.
The Home Brew Revolution Heats Up
The federal government had outlawed making alcohol at home since Prohibition, but as interest in home-brewed beer began to increase in the '70s, more and more people challenged this. One of the most important opponents was Charlie Papazian, who spent the summer of '78 teaching classes on home brewing in Boulder, Colorado, despite its illegality. Because of the efforts of people like Papazian – who would eventually launch the first home brewing magazine, Zymurgy – President Jimmy Carter signed a bill in October 1978 to lift the federal prohibition.
The Rolling Stones Release 'Some Girls' and Kick Off U.S. Tour
The Rolling Stones released Some Girls – which features smash hits like "Miss You," "Beast of Burden" and "Shattered" – on June 9, 1978, and immediately went on tour in the United States, with opening acts that ranged from Peter Tosh to Van Halen to Etta James. The tour launched on June 10 at the Lakeland Civic Center in Florida and concluded on July 26 at the Oakland–Alameda County Coliseum.
Damien Returns in 'Damien: Omen II'
One of the most highly anticipated movies of the summer of '78 was Damien: Omen II, the sequel to the 1976 tale about the emergence of the young antichrist on Earth. The film continues Damien's story, tracing his teenage years and ascension to power despite the best attempts of numerous puny humans to stop him. The film opened at No. 1 on June 9, 1978, and was a moderate hit, spawning another sequel, 1981's Omen III: The Final Conflict.
The Cramps Play a Mental Hospital
Never known for subtlety, psychobilly progenitors the Cramps took things to a strange new level when they played the California State Mental Hospital in Napa on June 13, 1978. After an opening set from the Mutants, they performed for a handful of punk fans and several hundred inmates and staff.
The First Lego Minifigures Appear
The earliest Lego minifigures, which began appearing in Lego sets in the summer of '78, didn't have moving arms or legs. They were simply small, vaguely body-shaped blocks with interchangeable legs, torsos, headpieces and yellow heads with eyes and smiling faces. They proved immensely popular and have remained a staple of the Lego universe ever since.
Grace Slick Gets Drunk and Splits from Jefferson Starship
In June, Jefferson Starship — a permutation of Jefferson Airplane — tried to play a concert in Germany in support of their Earth album when singer Grace Slick's alcohol problems caught up with her. After a long day of drinking, she began calling the crowd Nazis and throwing bottles at them, eventually causing the cancellation of the show. She was summarily booted from the band, although she would reunite with them three years later.
Dire Straits Launch Their Career With Self-Titled Debut
Dire Straits' self-titled debut album hit shelves in their native U.K. on June 9, introducing the world to the unique guitar stylings of Mark Knopfler. Filled with moody gems such as "Down to the Waterline," "Wild West End" and "Lions," the album peaked with its side two opener "Sultans of Swing," which became a Top 5 hit and one of the group's signature songs.
Peter Frampton Nearly Dies in The Bahamas
Peter Frampton was at the height of his fame and excess in June 1978 when he fell asleep at the wheel in the Bahamas on a rainy morning after traveling all night. His car crashed into a wall, and the British guitar hero suffered a broken arm, bruised ribs and a concussion. He might have died had he not been rescued by a 17-year-old tourist.
Peter Falk Goes Comedic in 'The Cheap Detective'
Long known for playing the TV detective Columbo, Peter Falk turned his sleuth persona satirical in The Cheap Detective, written by Neil Simon and directed by Robert Moore. His character, Lou Peckinpaugh, is a parody of Humphrey Bogart's hard-boiled private eye roles, and the film is a send-up of classics such as Casablanca and The Maltese Falcon.
Bruce Springsteen Travels to the 'Darkness On The Edge of Town'
Bruce Springsteen scored his big break with 1975's wall-of-sound masterpiece Born To Run. For its follow-up, Darkness on the Edge of Town, the Boss stripped his sound down to the studs and produced some of the rawest, heaviest songs of his career. The album didn't sell as well as Born to Run, but it still reached No. 5 on the Billboard 200 and has come to be regarded as one of Springsteen's finest works.
'Grease' Creates a Cult Following
When Grease, starting Olivia Newton-John and John Travolta, hit theaters on June 16, it was an instant sensation. It became the highest-grossing film of the year, making more money than any musical since The Sound of Music, and initiated an entire generation into the cult of '50s revivalism.
Peter Gabriel Releases 'Peter Gabriel 2: Scratch'
After leaving Genesis in 1975, Peter Gabriel embarked on a quest of musical self-discovery, which would result in the release of four albums that all had the same title: his name. The second – a transitional record that connected the messy creativity of the first with the fully achieved perfection of the third – was produced by King Crimson's Robert Fripp and has grown in estimation over the years despite initially lukewarm sales.
Garfield Makes His National Debut
The Jim Davis cartoons that would become so ubiquitous in the '80s – appearing on everything from coffee mugs to stuffed animals suction-cupped to the back of car windows – entered national syndication in 41 newspapers on June 19. Garfield would eventually become the most widely syndicated cartoon strip in the world and generate more than $1 billion in revenue.
'Jaws 2' Proves It's Not Safe To Go Back Into The Water

Three years after Steven Spielberg's Jaws invented the idea of the summer blockbuster, Universal smelled blood in the water and issued a sequel. Roy Scheider, Lorraine Gary and Murray Hamilton all reprised their roles from the original film, as did the shark, who got burned by flaming gasoline and chowed down on teenagers stuck on floating debris before finally being electrocuted by Scheider's police chief.
The Cars' Eponymous Debut Gets the New Wave Ball Rolling
Jam-packed with radio-friendly, perfectly crafted pop songs like "My Best Friend's Girl" and "Just What I Needed," the Cars' self-titled debut arrived in record stores on June 6 and helped define the direction that new wave and pop-rock would take in the approaching decade. Although previously associated with punk music, new wave would hew more closely to synth-heavy power-pop after the Cars raced onto the scene.
Hasbro Releases Hungry Hungry Hippos
Hungry Hungry Hippos is a tabletop game in which four players smash the backs of plastic hippopotami in order to make their heads snap forward and gobble up white marbles. It reached stores in the summer of '78, accompanied by a snappy ad campaign, and remained a pillar of family fun well into the '80s.
Director Sam Peckinpah Makes Cash With 'Convoy'
Sam Peckinpah made his name in the '60s with violent masterpieces like The Wild Bunch, Pat Garrett and Billy the Kid and Straw Dogs. His road action comedy Convoy, which premiered in June 1978, starring Kris Kristofferson and Ali MacGraw, was a clear step down from those, but it still became the most profitable film of Peckinpah's career.
Bob Dylan Changes Direction (Again) With 'Street Legal'
Bob Dylan always refused to stay in one place or style for long. His 18th studio album Street-Legal, released on June 15, was no exception, showing listeners a new side of Dylan. Backed by a large band with a horn section and female vocalists, the folk hero-turned-rock star added a glossy pop sheen to his typically thorny lyrical musings.
Coors Light Is Introduced
The Coors Brewing Company in Golden, Colorado, had been around since 1873. But it wasn't until 1978 that it introduced the product that would arguably become its most famous: Coors Light. Playing off the popularity of Miller Light, which appeared in 1973, the new light beer came in a silver can and was dubbed the "Silver Bullet" in its ad campaign.
'Heaven Can Wait' Revives the Screwball Comedy
In 1978, actor and director Warren Beatty parlayed his fame into Heaven Can Wait, a throwback comedic romp about a football player who's accidentally taken to heaven by a guardian angel who thinks he's about to be killed. Co-written by Beatty and Elaine May and based on a play by Harry Segall, the film earned nine Academy Award nominations, although it only won Best Art Direction.
Foreigner's 'Double Vision' Blows Up the Charts
The second album by arena-rock maestros Foreigner was a mainstay on record players for the entire summer of '78. Released in June, it was certified platinum before the end of the month and would eventually achieve seven-times platinum status. Singles "Hot Blooded" and "Double Vision" peaked at Nos. 3 and 2, respectively, and have remained classic rock staples for decades.
Argentina Hosts and Wins World Cup During Political Upheaval
In 1976, Argentina was overtaken by a military junta after a coup, which leant a strange air of totalitarian politics to the FIFA World Cup held there in the summer of '78. Regardless of the international opprobrium, the host team won the tournament, hoisting the trophy for the first time in their national history. Then-17-year-old phenom Diego Maradona was controversially left off the squad but would lead the team to victory again in 1986 in Mexico.
'A Swiftly Tilting Planet' Hits Bookstores
Featuring time travel, unicorns and telepathy and telling a cautionary tale about the perils of nuclear war, Madeleine L'Engle's A Swiftly Tilting Planet established L'Engle as one of the best sci-fi and young adult authors of her generation. After nearly giving up writing in 1958 on her 40th birthday because she didn't think she would be able to make it, she scored a string of hits in the '70s and would win a National Humanities Medal in 2004.
First Texxas Jam Festival Held
Texxas Jam – AKA the Texxas World Music Festival ­– hosted its inaugural gathering at the Cotton Bowl in Dallas over Fourth of July weekend 1978, with a lineup featuring Van Halen, Eddie Money, Journey, Heart, Aerosmith and more. The festival lasted for a decade, with the last event in 1988 featuring acts like Metallica, Scorpions and, once again, Van Halen.
The Term 'EMAIL' Is Coined
Although the idea of email as we understand it has been around since the early '70s (and marketer Gary Thuerk famously sent the first spam email in spring of '78), the term "email" was apparently first used by V. A. Shiva Ayyadurai. As a 14-year old volunteering at the University of Medicine and Dentistry of New Jersey, Ayyadurai set up a messaging system using FORTRAN and called it EMAIL.
Dead Kennedys Are Born
Seminal punk band Dead Kennedys were formed in June 1978 in San Francisco and played live for the first time on July 19 at Mabuhay Gardens, opening for the Offs. With Americans still feeling raw from the assassination of President John F. Kennedy, the band's name generated a good deal of controversy, but within a few years they found themselves at the heart of the early-'80s American punk moment.
Chevy Chase Breaks Out in 'Foul Play'
After cutting his comedic teeth for a few years on Saturday Night Live, Chevy Chase was ready to make a play for starring roles on the big screen. Foul Play, which premiered on July 14, was his first gambit, in which he plays a Fed who tries to help a librarian (Goldie Hawn) prevent the pope from being assassinated. The film was a hit and helped Chase land future starring roles like 1980's Caddyshack and 1983's Vacation.
First Test-Tube Baby Is Born
On July 25, science fiction seemed to be coming true with the birth of the world's first "test-tube" baby, Louise Brown, in Oldham, England. These days it's simply known as "in vitro fertilization," but in 1978, it was a radical new technology that received an appropriately sensational moniker, forever changing the options available for childbirth.
'The Swarm' Blots Out the '70s Disaster Movie Cycle
For a good deal of the decade, disaster flicks dominated movie theaters. Films like Airport (1970), The Poseidon Adventure (1972) and The Towering Inferno (1974) combined big stars with bigger disasters. But The Swarm – a horror flick about genetically-enhanced bees starring Michael Caine, Richard Chamberlain, Olivia de Havilland, Henry Fonda and Fred MacMurray – was so critically reviled upon its release in July 1978 that it put an end to this cycle almost singlehandedly.
AT&T Creates Cell Phone Division
Bell Laboratories began working on an analog mobile phone system in the late '60s. In the summer of '78, AT&T created a subsidiary of called Advanced Mobile Phone Service to begin the process of offering this technology to paying customers. It officially deployed its first system in the United States in 1983, becoming the first nationally available cell phone network.
Talking Heads Dance Their Way Toward a New Sound
Co-produced by Brian Eno, Talking Heads' sophomore album More Songs About Buildings and Food cemented their reputation as odd-pop masters while pushing their sound in a more danceable direction. Buoyed by a cover of Al Green's "Take Me to the River," the album was certified gold and recognized as a classic by critics and fans.
Peter Sellers Performs His 'Pink Panther' Swan Song
Released in July 1978, The Revenge of the Pink Panther found British comedian Peter Sellers embodying the legendary French detective Inspector Jacques Clouseau on set for the fifth and final time. (Another film, Trail of the Pink Panther, arrived after Sellers' death and used outtakes from previous films.) Involving an attempt by Clouseau to apprehend the notorious head of the French Connection, the film delighted audiences with its usual mix of broad gags, sly humor and Sellers' inimitable comedy.
'Sgt. Pepper's Lonely Hearts Club Band' Movie Crashes and Burns
On paper, a Beatles-inspired jukebox musical starring Peter Frampton, the Bee Gees, Steve Martin, Donald Pleasence, Alice Cooper, Aerosmith, Earth, Wind & Fire and George Burns seemed like a slam dunk. But when it hit theaters in July 1978, Sgt. Pepper's Lonely Hearts Club Band was decimated by critics and hastened the professional demise of some of its stars. Still, the accompanying soundtrack produced Earth, Wind & Fire's cover of "Got to Get You Into My Life" and Aerosmith's rendition of "Come Together," both of which were well received.
Martina Navratilova Wins Her First of 59 Major Tennis Titles
Before July 1978, Navratilova was just an up-and-coming tennis star. After defeating Chris Evert at Wimbledon, however, she became the top-ranked player in the world and was on her way to being a legend in the sport. Before retiring in 2006, Navratilova won 18 major singles titles, 31 major women's doubles titles and 10 major mixed doubles titles, becoming one of the most dominant athletes in history.
'Animal House' Becomes the Most Successful Comedy to Date
John Landis' Animal House hit theaters on July 28, and the world of comedy movies would never be the same. With its bawdy story centered on the inmates of a beleaguered frat house fighting against their archrivals and a crusty old dean, the film made a big-screen star out of John Belushi, introduced moviegoers to Kevin Bacon, Karen Allen and Thomas Hulce and grossed over $140 million against a budget of $3 million. It was the most profitable comedy in history until Ghostbusters broke its record in 1984.
'Piranha' Puts Some Bite Into 'Jaws' Knockoffs
Written by John Sayles, directed by Joe Dante and produced by Roger Corman, Piranha helped cap the run of films about underwater nasties preying on helpless humans that had been inspired by the phenomenal success of Jaws three years earlier. The plot is negligible but a lot of fun – there are genetically engineered piranhas in a river eating people – and Universal famously considered suing to prevent it from competing with Jaws 2, but the studio stood down when Steven Spielberg publicly noted that he had enjoyed an advance screening of the film.
Burger King Introduces Its Specialty Sandwiches
In the mid-'70s, Burger King was falling behind rival McDonald's and facing new competition from the upstart Wendy's. In response, the company came up with a line of specialty sandwiches introduced in the summer of '78. Several, including the Limo Burger and ham and cheese sandwich, have since disappeared, but one remains a menu staple to this day:  the Original Chicken Sandwich, served on an oblong bun.
Canada Jam Festival Breaks National Attendance Records
In August 1978, more than 110,000 fans gathered outside Bowmanville, Ontario, for a one-day festival featuring Kansas, the Doobie Brothers, the Village People and more. Tickets cost $30, and the event grossed over $2.5 million, becoming the largest rock concert in Canadian history until 2006, when 450,000 fans showed up for SARSStock, headlined by the Rolling Stones and AC/DC.
The Situation in Jonestown Goes From Bad To Worse
Jim Jones founded the Peoples Temple Agricultural Project — known colloquially as Jonestown — in Indianapolis in 1955, and in 1974 he moved the cult to Guyana in South America. Its population was reaching its highest level during the summer of '78, at the exact moment when everything went sideways. Family members in the United States were filing lawsuits, a California Congressman was preparing to visit and Jones' already precarious mental health was in freefall. The horror came to a head in November with the deaths of more than 900 people from cyanide poisoning, a debacle that turned "drinking the Kool-Aid" into a popular phrase.
Boston Scores Another Hit With 'Don't Look Back'
Released on Aug. 15, Boston's second album Don't Look Back reached No. 1 in both the U.S. and Canada, spawned a hit single with its title track and was eventually certified seven-times platinum. It also marked the beginning of a complicated and long-running series of lawsuits, which started between band founder Tom Scholz and manager Paul Ahern and ultimately pulled in corporate giant CBS.
'Who'll Stop the Rain' Drives a Stake Through the Memory of the '60s
Based on Robert Stone's National Book Award-winning novel Dog Soldiers, Who'll Stop The Rain tells the dark story of a Vietnam soldier who meets his ultimate downfall when he gets involved in a deal to smuggle heroin back into the United States. Starring Nick Nolte and Tuesday Weld, the film dismantled any lingering nostalgia for the previous decade and epitomized '70s cynicism.
The Who Flirts With Prog Rock on 'Who Are You'
For their eighth studio album – and last with drummer Keith Moon – the Who embraced an increasingly complex sound, incorporating synthesizers and multi-layered tracks. The Who Are You recording sessions were a rollercoaster ride, as Moon had begun to deteriorate and struggled with some of the songs, but the album reached No. 2 on the U.S. charts and No. 6 in the U.K., spawning a major hit with its title track.
Devo!
Devo exploded into national consciousness on Aug. 28 with the release of their debut album, Q: Are We Not Men? A: We Are Devo! Produced by Brian Eno and mostly recorded in West Germany, the album didn't make a huge stir – it only reached No. 78 on the U.S. charts – but it presaged the arty, twitchy post-punk that would become more prominent in the '80s.
First Balloon Crosses the Atlantic Ocean
The Double Eagle II was a balloon filled with 160,000 cubic feet of helium, holding a gondola that was 15 feet long and 7 feet wide. Piloted by Ben Abruzzo, Maxie Anderson and Larry Newman, it became the first balloon to successfully fly across the Atlantic Ocean when it journeyed from Maine to France over the course of seven days in August.
Hall & Oates Keep Grinding with 'Along the Red Ledge'
Hall & Oates scored several hits across their first six albums, but the Philadelphia duo was still struggling to break through on the national scene. Along the Red Ledge saw them moving in a more rock-oriented direction than some of their previous work. It produced two minor hits, "It's a Laugh" and "I Don't Wanna Lose You," but didn't send them to the stratosphere – that distinction went to 1981's Private Eyes.
Cheech & Chong Smoke Up a Feature
Notorious stoner duo Cheech & Chong had been around for almost a decade by 1978, but it wasn't until September that America got to see them on the big screen. Up In Smoke has a plot, of sorts, that revolves around trying to find weed, smuggling drugs and winning a battle of the bands, but mostly it's just an excuse for making drug jokes — and audiences loved it. It earned $44 million against a budget of $2 million and is usually credited with founding the stoner film genre.
Hershey Releases Reese's Pieces, and Candy Lovers Rejoice
Hershey's orange, yellow and brown peanut butter candies first appeared in stores in September 1978, and the snacking world was never the same.
Keith Moon Dies
After a life of self-destructive behavior and substance abuse, Keith Moon was found dead on the Sept. 7, 1978 at age 32. The official cause of death was listed as "Clomethiazole (Heminevrin) overdose, self-administered but no evidence of intention."
Terrence Malick Proves Auteur Credentials With 'Days of Heaven'
Terrence Malick proved his directorial potential with his feature, 1973's Badlands. His second, Days of Heaven, proved he was one of the most talented auteurs of his generation. Richard Gere and Brooke Adams star in a tale of love and death in Texas during the first World War, but the real star is Malick's hypnotic visual storytelling ability. It's easily one of the most beautiful American films of the decade.
The Grateful Dead Plays Giza
In the middle of September, the Grateful Dead took their seemingly eternal tour to Egypt, playing three shows at the Giza pyramid complex, with the third taking place during a total lunar eclipse. Tracks from the second and third night of the show were released on the Rocking the Cradle album in 2008.
'Death on the Nile' Brings Agatha Christie Back to the Big Screen
Director John Guillermin's film Death on the Nile, based on the 1937 Agatha Christie novel, featured Peter Ustinov playing detective Hercule Poirot and trying to solve a mystery aboard a paddle steamer. Although it was jammed with other stars, including Maggie Smith, Angela Lansbury, Bette Davis, Mia Farrow, David Niven and George Kennedy, the film was a disappointment at the box office. Still, it maintained a good enough reputation to spawn a remake by Kenneth Branagh in 2022.
All Four Kiss Members Release Solo Albums on the Same Day
Constantly trying to push the envelope, Kiss broke new ground on Sept. 18 when all four members released self-titled solo albums on the same day. Ace Frehley sold the best of the four, going platinum that October, and maintains the best reputation today, although all four have been treasured by fans.
Muhammad Ali Beats Leon Spinks in Rematch
In February 1978, 10-to-1 underdog Leon Spinks defeated world heavyweight boxing champion Muhammad Ali in a split decision in Las Vegas. On Sept. 15, the two clashed again at the Louisiana Superdome in New Orleans. More than 63,000 fans watched in person, and an estimated 90 million more watched on ABC, as Ali won his title back in a unanimous decision.
Funkadelic Scores a Hit with 'One Nation Under a Groove'
One Nation Under a Groove, the 10th studio album from funk masters Funkadelic, was maybe their greatest and certainly their most commercially successful. It boasts all the band's hallmarks: danceable beats, political consciousness and blazing musicianship. The album reached No. 16 on the Billboard 200 and went platinum, and its title track became a stone-cold classic and dance-funk touchstone.
Top 100 '70s Rock Albums
From AC/DC to ZZ Top, from 'Bridge Over Troubled Water' to 'London Calling,' they're all here.