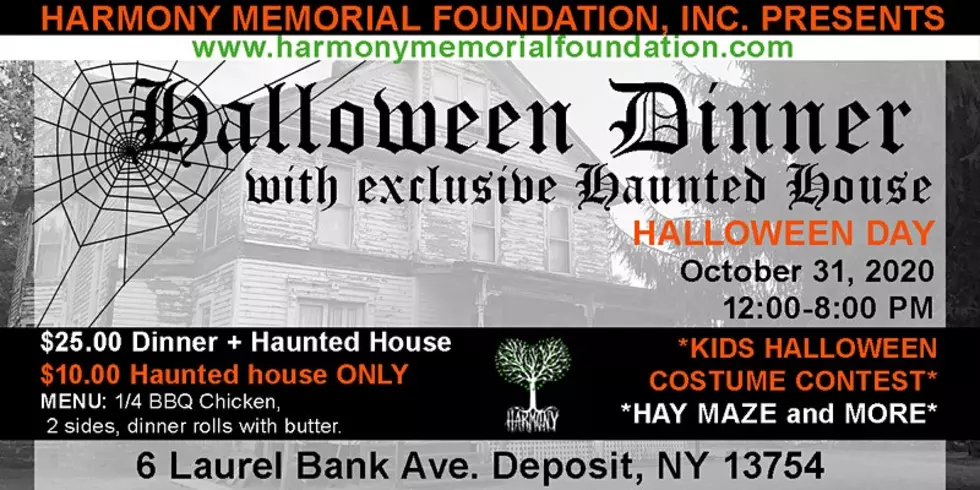 Halloween Party in Deposit With Haunted House, Dinner, and Bands for a Great Cause.
Photo Credit Harmony Memorial Foundation
If you don't have plans yet for Halloween night, and you're looking for something fun to do, you should check out the Halloween dinner with exclusive haunted house to benefit the Harmony Memorial Foundation.
Enter your number to get our free mobile app
It's taking place on Halloween day at 6 Laurel Bank Avenue in Deposit. You can enjoy dinner and the haunted house for 25 bucks, or the haunted house only for $10. Besides the food and the haunted house, five local bands will be donating their time.
Starting at noon, the band Heisenberg takes the stage, they will be followed by Voodoo Highway at 1. From 2 to 4 music will be supplied by a DJ, then from 4 to 5 it's the local band Hot Dogs and Gin. At 6 p.m. the music resumes with Hollow Bodies performing and then from 7 to 8, Kreature will be on stage.
Bring the kids in costume because It will be a family-friendly event with a kids Halloween costume contest, a Hay Maze, and more .
The Harmony Memorial Foundation is the local nonprofit  organization that helps children in Broome County who have suffered due to direct impacts of substance abuse disorder. Whether they have been abused, neglected, or have lost a parent, Harmony Memorial Foundation works with them to reach there full potential to fulfill their dreams and ambitions.
Advance sale tickets are on sale now. For more information on the event, or for more information on the Harmony Memorial Foundation, click here.
BOO! Take A Look At The Top 2020 Halloween Decorations