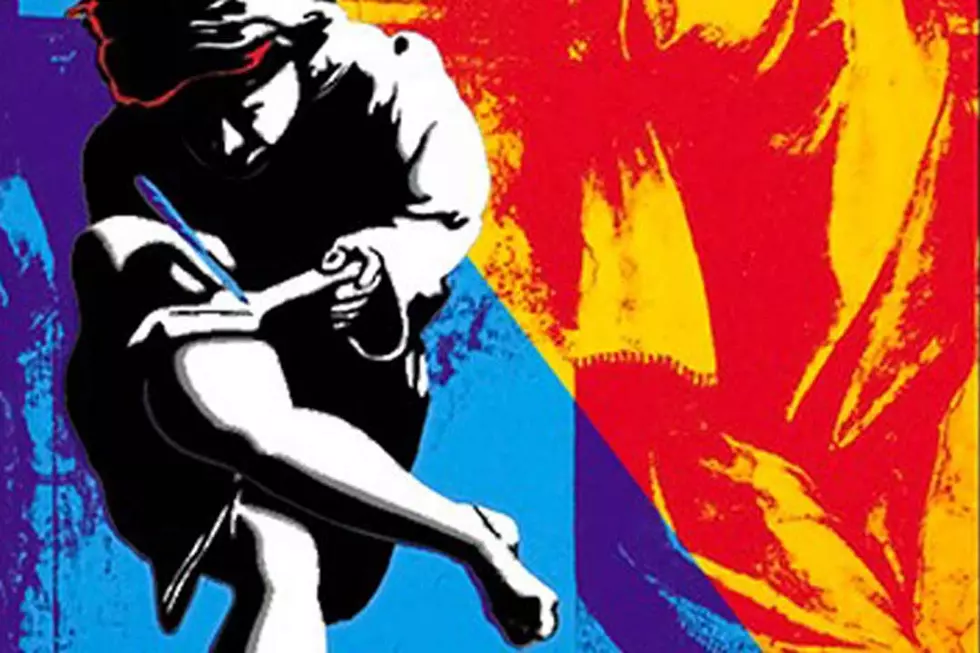 Why Guns N' Roses Cut 'Use Your Illusion' in Half
Geffen
When Guns N' Roses released their Use Your Illusion I and Use Your Illusion II albums in the fall of 1991, large retail chains such as Wal-Mart and K-Mart refused to stock the titles because of the explicit lyrical content featured on tracks such as "Back Off Bitch" and "Pretty Tied Up."
As company executive Robert J. Cope explained to the Los Angeles Times, "Wal-Mart feels that revenue realized from the sales of a record with objectionable lyrics would be more than offset by the discontent it might cause customers for making such product available to children."
Despite the massive loss in sales they faced, the band refused to alter their work by releasing censored versions of the records. In fact, they added their own warning sticker to the albums, suggesting that anyone who doesn't like their words could "fuck off and go buy something from the new age section." (Reportedly, and hysterically, the sticker was also later banned from use.)
Although they seemed to have survived the boycott pretty well, with each of the records selling over 7,000,000 copies, seven years later the group (or possibly someone at their record label) decided it would be good to have at least some of the Illusion songs on the shelves of those increasingly omnipresent stores. A single-disc edition of Use Your Illusion was released on Aug. 25, 1998, featuring 12 of the most popular – and least objectionable – tracks from the 30 included on the original albums.
The cover art for the original albums featured the same image in two different color schemes. These were each cut in half diagonally and pasted together for this new compilation. The track listing for Use Your Illusion – which you can buy on Amazon, if you're so inclined – is listed below.
Watch Guns N' Roses Perform 'Don't Cry'
Guns N' Roses 'Use Your Illusion' Track Listing
1. "Live and Let Die"
2. "Don't Cry"
3. "You Ain't the First"
4. "November Rain"
5. "The Garden"
6. "Dead Horse"
7. "Civil War"
8. "14 Years"
9. "Yesterdays"
10. "Knockin' on Heaven's Door"
11. "Estranged"
12. "Don't Cry" (Alternate Lyrics)
 
 
Ranking Every Guns N' Roses Song
Slash Explains How Guns N' Roses Got Together