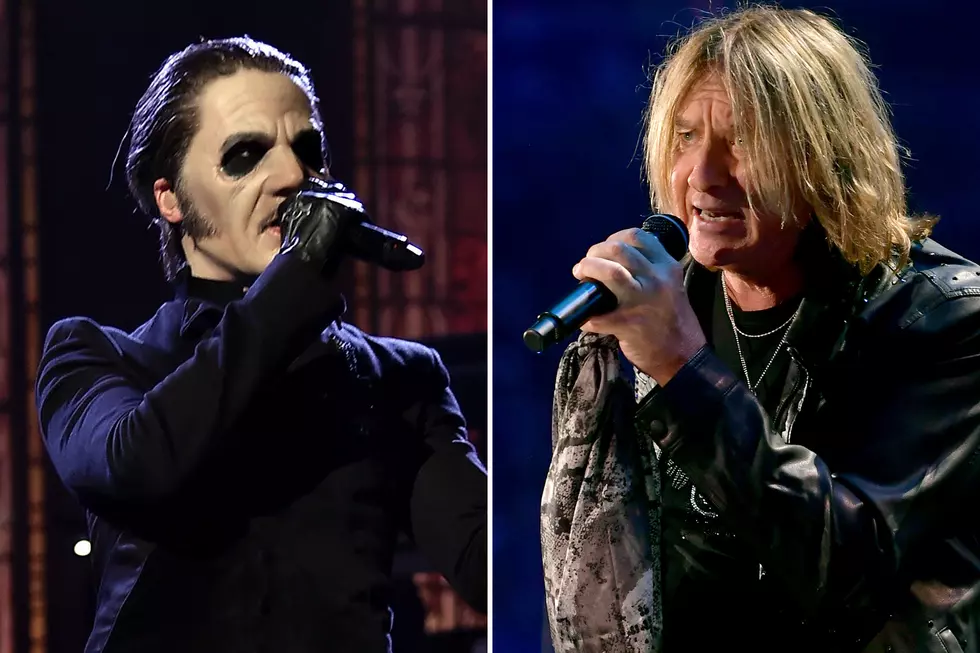 Ghost Tried to Write Like Def Leppard on New Album 'Impera'
Theo Wargo / Matt Winkelmeyer, Getty Images
Ghost frontman Tobias Forge said he tried to mimic the songwriting approach of Def Leppard as he worked on his band's latest album Impera.
"Going into this record, I thought I would see if I could do it a little more like Def Leppard did it, where every song — especially on Pyromania or Hysteria — starts with one thing, and then there's a verse, then there's a pre-chorus that feels like a chorus, and then there's another pre-chorus and another thing and finally, after like five different sections, comes the chorus, in a completely different key," Forge recently told Metal Hammer.
He also praised the catchiness and intelligence of the British band's output. "It's such a riot! Every song!" he enthused. "Even 'Pour Some Sugar on Me' is quite intelligently written. I'm not saying that as a surprise – I think they were great."
Unlike the majority of Def Leppard's songs, though, Ghost lyrics tend to address downbeat concepts. "I tend to culturally prefer a lot of dystopian music and things," Forge said. "[S]o it sounds like I'm just being a Negative Nelly. I actually do believe that our will to love and build and progress is actually stronger than our will to destroy and hate and vanish. It's just that we have a hard time understanding how to do it in tandem with others."
Forge said he's never begun a new album "with just an empty white paper" and revealed that he's already thinking about Ghost's next LP. "There are always bits and pieces of paper that I've left behind. Little scraps," he said. "On my phone there are little ideas and stuff that I collect all the time. Everything I'm doing now is for the next record; I have a vague idea what that will be like, and a vague idea of the title and the color scheme."
Despite being "just on the brink of the album cycle" with Impera, Forge said it's time for him "to go back into work mode… this album cycle is going to connect back-to-back on the next one, because now I know that I already have another record in me that I want to make. What happens after that, I can't say."
Ghost recently completed a North American tour and kick off a run of U.K. and European shows tonight.
Ghost Albums Ranked
Swedish band gives pop metal a fresh spin and a new measure of respect.