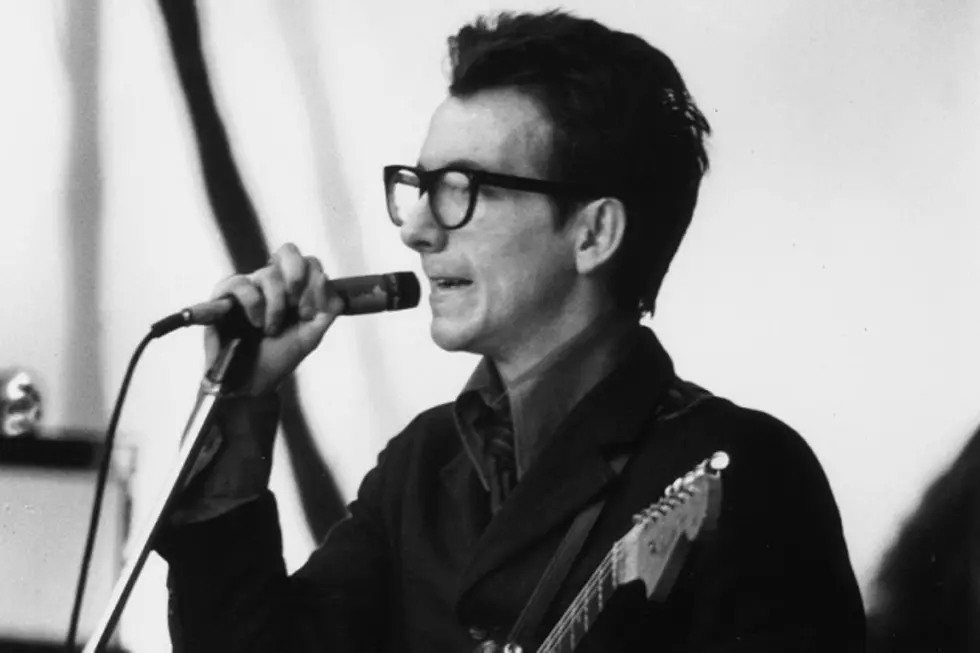 That Time Elvis Costello Incited a Brawl With Racist Remarks
Garry Merrin, Keystone/Getty Images
It started out with slight insults between bands. Members of the old rock guard (the Stephen Stills Band) and the new wave (Elvis Costello and the Attractions) converged in the Holiday Inn bar in Columbus, Ohio, after playing separate gigs on March 15, 1979.
Costello was already drunk when Stills and friends walked in. As he got drunker, his words got nastier in a desperate attempt to inflame the sensibilities of his elders. Stills soon left to go to his room. Backing singer Bonnie Bramlett (of Delaney & Bonnie fame) continued to engage Costello, who kept disparaging America and its most hallowed rock stars. After 2AM he described James Brown as a "jive-arsed n------" and Ray Charles as a "blind, ignorant n------." In response, Bramlett backhanded the 24-year-old up-and-comer. It all ended in a brawl, quickly broken up by the bartender.
Except that it didn't really end there. Bramlett went to the press with her version of events (which some would suggest was an attempt to get her name back out there). Elvis was branded a racist and his steadily rising American popularity was truncated. Death threats came in by the hundreds. A New York press conference was slapped together to hasten the bleeding and allow Costello to explain himself.
He told his version to the room of journalists. He had been drunk. He was weary from touring. He is not racist. And, he said, "it became necessary for me to outrage these people with the most offensive and obnoxious remarks I could muster to bring the argument to a swift conclusion and rid myself of their presence." Excuses were offered. An apology was not.
When asked about the controversy, Ray Charles said, "Drunken talk isn't meant to be printed in the paper." In the meantime, members of the American chapters of Rock Against Racism picketed Costello's remaining concerts. The irony was that some of the pictures of Costello on the picket signs were from a Rock Against Racism gig Costello had played in Europe in 1978.
Elvis soon returned to Britain and over the next few years, this ugly moment seemed to fade from the forefront, although not completely. In the past 35 years, Costello has continued to answer questions about that night in interviews. As he's grown older, he's been able to provide a bit more clarity. He's said that the venom of his public persona was infecting his off-stage interactions and he was looking to needle whomever he saw as "the enemy" (such as Stills and Bramlett). As recently as the fall of 2013, Costello continued to shed light on the incident in an interview with Roots drummer (and Costello collaborator) ?uestlove. "It's upsetting because I can't explain how I even got to think you could be funny about something like that," Costello said. "I'm sorry. You know? It's about time I said it out loud."
As a musician, Costello dealt with the fallout in a more immediate way – by writing and recording the slow-burning R&B ballad "Riot Act." Some perceived that his entire 1980 album Get Happy! (heavily indebted to soul music) was a mea culpa, but the album-closing song was obviously a reaction to what he had said and how he had been treated in the press. "Riot act / You can read me the riot act," Costello howls. "You can make me a matter of fact / Or a villain in a million / A slip of the tongue is gonna keep me civilian."
The Top 100 Rock Albums of the '80s