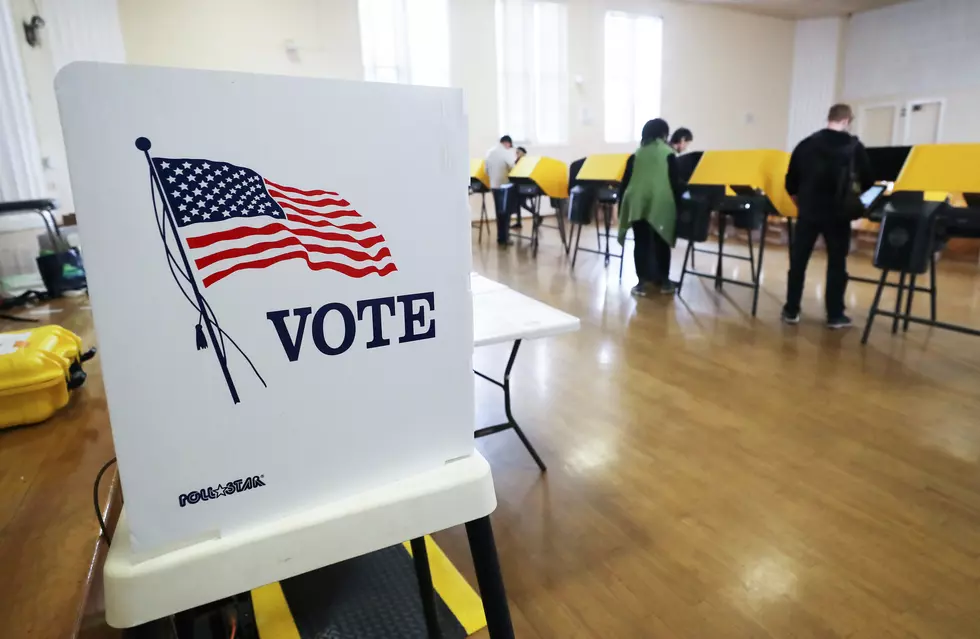 Early Voting Underway in New York & Includes Some Broome Offices
(Photo by Mario Tama/Getty Images)
Early voting is underway in New York primary contests for Governor, Lieutenant Governor, Attorney General, Comptroller, New York State Assembly, Broome Legislature 2nd District and some municipal races.
In Broome County, polls are open at the Broome County Public Library, Oakdale Mall between the former Macy's and Ruby Tuesday's and GeorgeF. Johnson Memorial Library in Endicott June 20 & 21 from noon to 8 p.m., June 22, 23,24,25 and June 26 9 a.m. to 5 p.m.
Early voting continues through the 26th with the State and local primaries set for June 28.  People who participate in early voting cannot vote again on on the actual Primary Election Day on June 28.  The results of early voting will be reported at the same time the general vote count is done at the close of the polls at 9 p.m. on June 28.
Residents can still vote by absentee ballot if they will be away from Broome County, in the military or overseas or if ill, temporarily disabled, permanently disabled or to avoid possible exposure to COVID-19.
Go to broomevotes.com/earlyvoting for more information.
The candidates for Governor in New York are Democrats: Kathy Hochul, the incumbent Governor, New York City Public Advocate Jumaane Williams and Rep. Tom Suozzi.
Candidates looking for the Republican nomination are Rep. Lee Zeldin, Andrew Giuliani, Harry Wilson and Rob Astorino.
Democrats running for Lieutenant Governor are: Antonio Delgado, Ana Maria Archila and Diana Reyna.
Alison Esposito is running on the Republican ticket.
In local races in Broome, Sophia Resciiti and Robin Alpaugh are looking for the Republican nod to face incumbent Democrat Donna Lupardo in the 123 Assembly district.
For the 2nd District, Broome County Legislature, Scott Baker and Carolyn Price are both seeking the Republican and Conservative nominations.
The Republican candidates for Sanford Highway Superintendent are Gerald Seymore, Jr. and Jay Vandermark, Jr.
In Nanticoke, Daniel Bertoni, Scott Whittaker and Anthony Slack are Republicans funning for Town Council while Robert Hoag and James Shear are Republicans seeking to fill out the unexpired Nanticoke Highway Superintendent term.
In Windsor, Gary Hupman, Eric Beavers and Daniel Price are Republicans running for Town Council.
Due to the redrawing of the congressional maps, then those maps being ruled unconstitutional and redrawn by a party assigned by a New York Judge, the congressional primary won't be until August 23.
In addition to looking for more information on local races, registration and results at broomevotes.com, residents can contact the Broome County Board of Elections at 607-778-2172 or email at BCBOE@broomecounty.us.
Small Towns In the Southern Tier and Central NY
Troupes, Groups and Stages: Performing Arts Gems of the Twin Tiers
Twenty-five of our favorite performing arts groups and venues in the Twin Tiers.