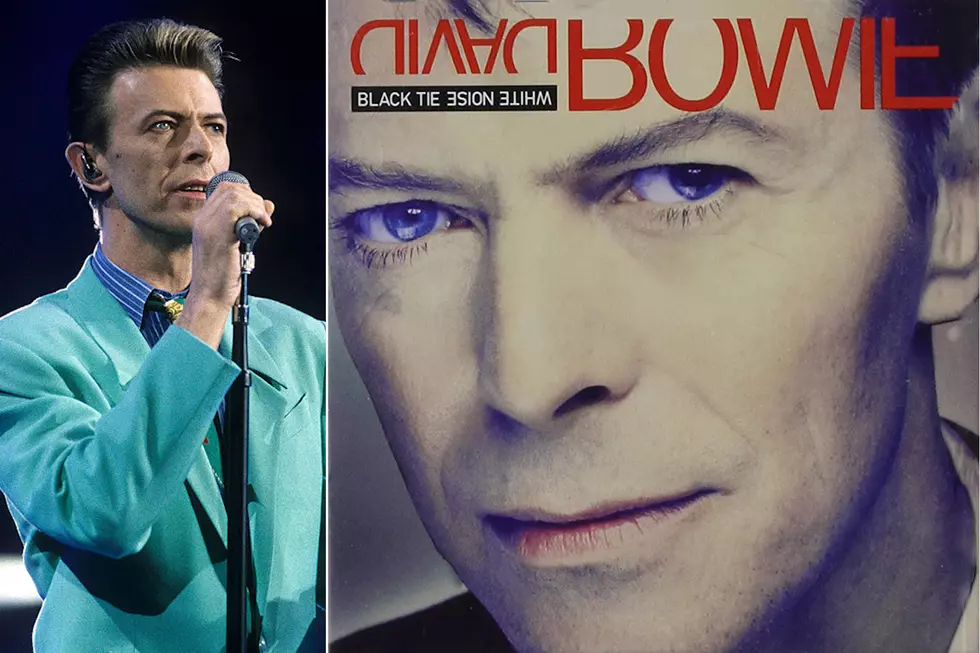 30 Years Ago: David Bowie Opens Up on 'Black Tie White Noise'
Kevin Mazur, Getty Images / EMI
Just a year before, David Bowie proposed. The scene – you had Bowie on one knee, singing the old standard "April in Paris" to supermodel Iman Abdulmajid aboard a cruise ship on the River Seine – would have been condemned as a cliche had it been part of a rom-com movie script. He was, however, in love.
"I plucked a rose from the table's flower arrangement and said, 'Iman, will you marry me?' She said yes, then nearly fell into the water from shock!" Bowie later told The Mirror. "I was naming the children the night we met. I knew that she was for me; it was absolutely immediate. I just fell under her spell."
This turning point in a famously turbulent life informed every element of Black Tie White Noise, which arrived on April 5, 1993. Professionally, he'd been at loose ends following the dissolution of Tin Machine. Bowie quickly reestablished himself as a solo artist with an April 20, 1992, performance at the Freddie Mercury Tribute Concert.
He married Iman four days later, then began work on his next studio project – which, at one point, was actually supposed to be called The Wedding Album. Bowie's approach to his first solo album since 1987's disappointing Never Let Me Down reflected a surprisingly unguarded era. At the same time, he might never have been in Los Angeles had he not married Iman. So, happenstance played a role too.
"I think this album comes from a very different emotional place," Bowie told Rolling Stone back then. "That's the passing of time, which has brought maturity and a willingness to relinquish full control over my emotions."
This essential openness created by this moment of marital bliss – combined with his newfound appreciation for the struggles of black people after marrying a Somali-American – made Bowie particularly sensitive when turbulence unexpectedly surrounded them: He and Iman were actually house hunting in L.A. when the Rodney King riots began. Suddenly, the city was aflame around them.
Watch David Bowie's Video for 'Black Tie White Noise'
"It felt like a prison riot more than anything else," Bowie told Record Collection in 1993. "It felt as if innocent inmates of some vast prison were trying to break out — break free from their bonds."
The title track to his next album was writing itself. "I'm lookin' through African eyes," Bowie sang, "lit by the glare of an L.A. fire." He ultimately emerged with a tale of hope among the ruins but in the meantime "Black Tie White Noise" is utterly unflinching.
"There'll be some blood, no doubt about it," Bowie sang, though "we'll come through, don't doubt it." As he continued to wrestle with the systemic problems that led to this social unrest, Bowie found himself face to face with a protesting African-American: "I look into your eyes, and I know you won't kill me," Bowie sang, before repeating "you won't kill me" once more. Then, Bowie adds a brutally honest coda: "I wonder why sometimes."
Bowie ended up working on Black Tie White Noise for almost a year, as sessions with Let's Dance-era collaborator Nile Rodgers continued in New York City and Switzerland. To some degree, Bowie was trying to quantify his shift in personal views. But he was also struggling to find common ground with Rodgers, who wanted to replicate the pair's past successes.
"I was trying to turn it into a very commercial piece of work," Rodgers told Rolling Stone. "He was trying to make this artistic statement about this period in his life." That's likely how a knifing piece of social commentary like "Black Tie White Noise" ended up as a duet with R&B singer Al B. Sure! To some degree, it seems this oddball pairing worked within Bowie's larger vision for the album. "It's very important to promote the coming together of disparate elements of any nation, specifically America," he said.
Listen to David Bowie's 'The Wedding Song'
Elsewhere, the endlessly eclectic Black Tie White Noise featured guest turns by Mick Ronson and Mike Garson – Bowie hadn't worked with these former Spiders of Mars bandmates in almost two decades – as well as free-jazz trumpeter Lester Bowie. Smart, and often touching, originals like "Miracle Goodnight," "Jump They Say" (a Top 10 hit on the U.S. dance chart) and "The Wedding Song" were paired with covers of songs by Morrissey (the decidedly Bowie-esque "I Know It's Gonna Happen Someday") and Cream (a funky redo of "I Feel Free").
"Jump They Say" dealt with the 1985 suicide of Bowie's schizophrenic stepbrother, who'd earlier been referenced in "All the Madmen" from 1970's The Man Who Sold the World. "You've Been Around" was a polished up leftover from the Tin Machine days. Lester Bowie amps up "Pallas Athena," a principally instrumental track written for David Bowie's wedding that he completed with a truly menacing chant: "God is on top of it all / That's all." "The Wedding Song," with its reference to "heaven's girl in a wedding gown," is just as remarkable for its emotional candor.
"I feel a lot freer these days to be able to talk about myself and about what's happened to me," Bowie told Rolling Stone. "For many years, everything was always blocked out."
Black Tie White Noise was more than a welcome return to Bowie's essential eclecticism; it felt like the beginning of a long-hoped-for career renaissance – and it was. The album rose at No. 1 in the U.K., a feat Bowie wouldn't replicate until 2013's The Next Day. Still, every LP he released in the interim became a Top 10 hit in his home country. Meanwhile, Outside almost cracked the Billboard Top 20 in 1995; 2002's Heathen soared to No. 14 in the U.S.
No small amount of credit goes to where Bowie suddenly found himself personally back on that April day in Paris. Finally finding love had forced him to examine "what I really wanted from my life from now on," Bowie told the Boston Globe. "I guess it acted as a watershed to write a lot of quite personal things, putting together a collection of songs that illustrated what I'd been going through over the past three or four years."
David Bowie Albums Ranked
David Bowie is not just rock's greatest chameleon; he's also one of music's most imaginative conceptual artists.