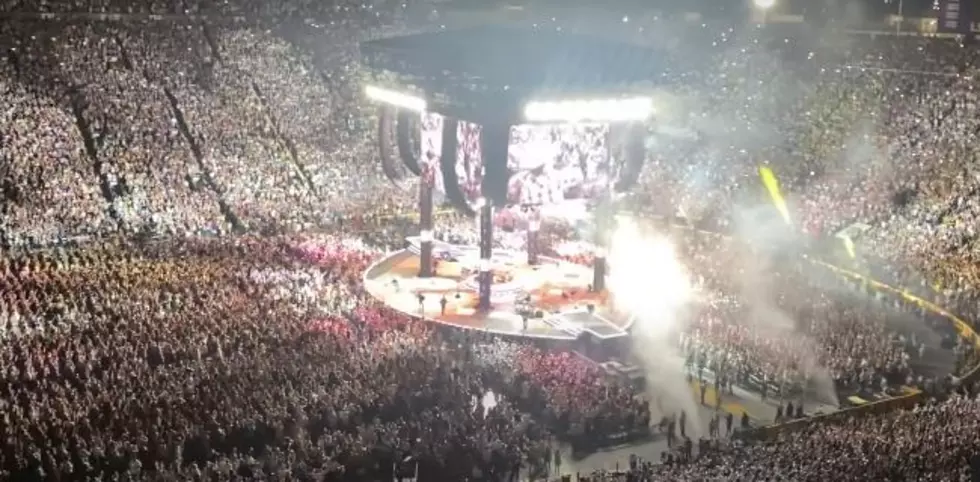 [VIDEO] Concert So Loud, It Registered On The Richter Scale
Matt Moscona via YouTube
Almost every parent has yelled at least once to their kids - "Turn that music down!" Well, it just sounds better when it's loud, so what the big deal? That response never goes over well.
I'm sure almost everyone has been sternly told by their parents to turn down the music. I did. And when I entered the world of radio broadcasting, I would crank the speakers in the studio along with blasting my headphones as well.
What could possibly go wrong? Well, after all these years of being around music, playing it loud at home, in the car at work, and attending concerts near the speakers, my hearing is acceptable. Sure, I don't hear as well as I did 30 years ago, but I'm not ready for earplugs just yet. The Centers for Disease Control and Prevention states that loud noise is harmful to the inner ear.
A one-time exposure to extreme loud sound or listening to loud sounds for a long time can cause hearing loss. Loud noise can damage cells and membranes in the cochlea. Listening to loud noise for a long time can overwork hair cells in the ear, which can cause these cells to die. - CDC
And speaking of loud concerts, Saturday, April 30th, Country artist, Garth Brooks played a concert at Louisiana State University's Tiger Stadium in Baton Rouge, Louisiana, and according to ABC 7 New York, the concert was loud enough to register on the Richter Scale.
Wow, that's got to be a loud show. But it wasn't the music alone that moved the needle. It had help from an audience of over 100,000. That's a lot of people. The ABC 7 article notes that a seismograph at LSU registered the concert as a small earthquake.
And apparently, this wasn't the first time this has happened. The first time was in 1988 during an LSU -Auburn football game at Tiger Stadium. Check out the Tweet from Garth Brooks and a YouTube video of the song, 'Callin' Baton Rouge.'
via Centers for Disease Control and Prevention, ABC 7 New York
The Spiedie Fest's Most Memorable Guests
The Spiedie Fest & Balloon Rally; arguably Binghamton's most cherished event. Every year, Binghamton locals, spiedie lovers, and hot-air balloon enthusiasts alike wait patiently for Binghamton, New York's annual festival to roll around.
The Spiedie Fest & Balloon Rally is an annual three-day festival in Binghamton, New York celebrating the local community and its immersive culture; including the infamous spiedie sandwich and an array of hot air balloons; a sight common to locals.
The Spiedie Fest & Balloon Rally attracts over 100,000 people, including some popular celebrity faces and performers.
Check it out! Here are 10 of the most memorable Spiedie Fest & Balloon Rally guests:
Discover 17 Famous Musicians Who Have Ties to the Binghamton Area