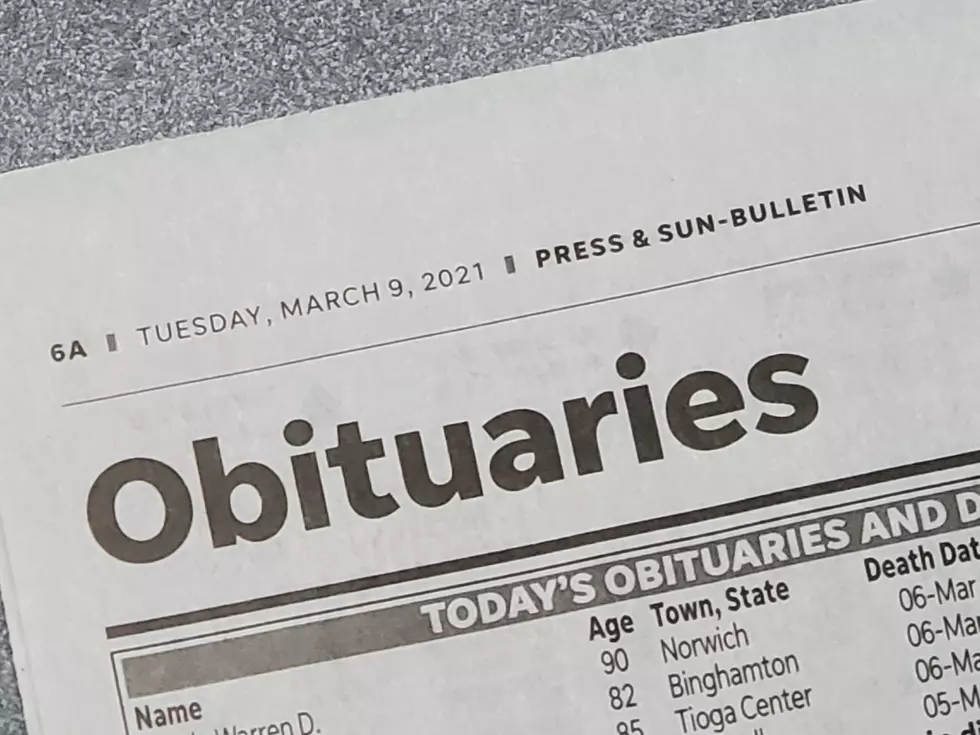 Color Obituary Photos Vanish from Binghamton Press & Sun-Bulletin
Photo: Bob Joseph/WNBF News
Gannett newspapers in Binghamton, Elmira and Ithaca no longer are printing color obituary photos.
The policy change for the Binghamton Press & Sun-Bulletin, the Elmira Star-Gazette and the Ithaca Journal took effect last week.
CLICK HERE To Share Your Loved One's Life Story
Funeral homes in the region were informed late last month that the newspapers were putting an end to providing an option to have color pictures accompany paid obituaries.
Gannett representatives did not respond to messages seeking comment about the change.
A single color photo appeared among dozens of black-and-white obituary pictures in Sunday's Press & Sun-Bulletin.
An email to funeral directors advised that there would be "upcoming changes with a press reconfiguration." It said due to the changes "we are no longer able to offer color obituary photos or guarantee that obituaries will print in color."
Broome County funeral home representatives say although photos now are printed in black-and-white, there has been no reduction in the cost of obituaries in the newspapers.
One Binghamton funeral home warned people of the change on its Facebook page. The note said "we suspect this is a cost saving move."
A funeral director said the cost of an obituary in the Press & Sun-Bulletin often amounts to several hundred dollars. He said families have been commenting on the move to end color photos.
The 12-year-old Gannett printing plant in Johnson City was closed in June 2018 as the company looked to reduce expenses.
The Binghamton, Elmira and Ithaca newspapers now are printed in the town of Greece, near Rochester.
Enter your number to get our free mobile app
Contact WNBF News reporter Bob Joseph: bob@wnbf.com or (607) 772-8400 extension 233.
For breaking news and updates on developing stories, follow @BinghamtonNow on Twitter.
LOOK: Just some of the photos that capture the historic year that was 2020