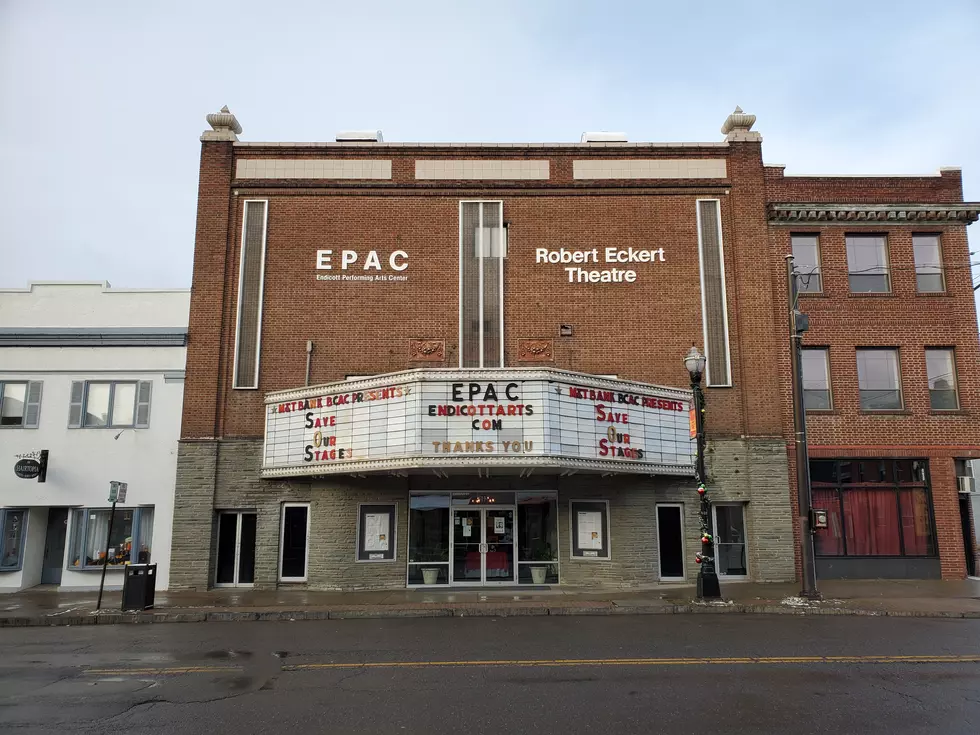 BINGHAMTON FLASHBACK: What Was EPAC Before It Was 'EPAC'?
Photo: Bob Joseph/WNBF News
Long before the Endicott Performing Arts Center (EPAC) begin their performances at 102 Washington Ave in Endicott, the building was a regular for cinema blockbusters and matinees.
You have to go back to the turn of the century in 1917 when the building was originally called the Lyric theater and there is no one alive that remembers when that building opened.
My earliest memories of the now Robert Ecker Theater was when it was the Towne Movie Theater in the 1960's.
Movie Theaters were the only way you could see the latest movies with the biggest stars, there were no videos or streaming services, and most of the new movies didn't transfer to television for over a year, if at all.
The Towne Theater with its marque out front promoting the latest movie blockbusters, I remember seeing Herbie The Love Bug, and the goofy Don Knotts movies when I was a kid.
The theater was magical and full of anticipation of the feature presentation, and of course the coming attractions.
The world was a different place and families felt safe dropping off their kids in front of the theater, and picking them up after the movie was over.
I can't even imaging how many laughs, screams and cries were let out in that theater throughout the years.
I really miss the classic movie experience, watching movies on a big screen in the dark in a building packed with people is so different than the theater experiences of today.
I may have mentioned before that at one time I was the guy who cleaned the movies theaters in the triple cities.
One of my first stops of the night was the Towne Theater, usually after 11pm when the last movie was over, the theater was dark, quiet and kind of creepy.
I would bring in my big boombox, plug it in and set it in the back on one to the empty movie seats and crank up the volume as I cleaned.
Its amazing how a building that was full of life just an hour before, could be so spooky and dark.
The Towne Theater went out in 1993 as many movie theaters started de-regulating to mega plex's.
EPAC came in the late 1990's and has become a wonderful venue for the arts in our community.
When ever I drive down Washington Ave and see the old building, I'll always remember the Towne Theater and the great movie memories of my youth.
Businesses That Would Bring People To The Oakdale Mall
THEN AND NOW: See the Evolution of the Southern Tier
Six Strange New York State Laws