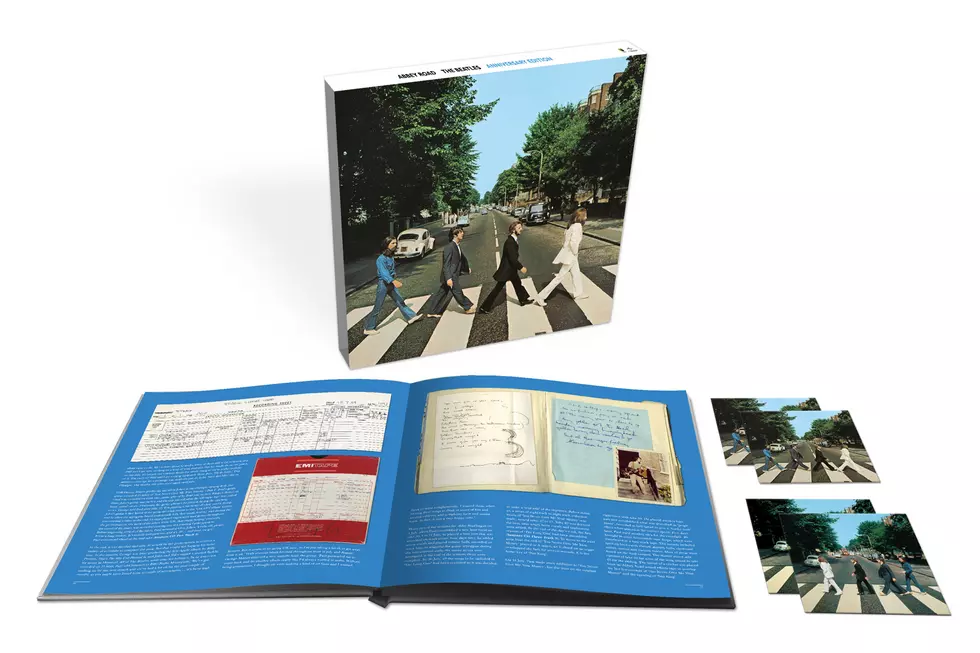 Beatles Announce Expanded 40-Song 'Abbey Road' Reissue Box Set
Apple Corps Ltd./Capitol/UMe
The Beatles' next expanded box-set reissue will focus on 1969's Abbey Road, their 12-times platinum penultimate album.
Producer Giles Martin and mix engineer Sam Okell sourced the original eight-track session tapes for a new remix of the album's original 17 tracks, which will be offered in stereo, high-res stereo, 5.1 surround and Dolby Atmos.
The set, due on Sept. 27, also includes 23 session recordings and demos, most of which are previously unreleased. This official announcement arrived 50 years to the day after the Beatles walked across Abbey Road outside of EMI Studios for the album's cover image. The box available for pre-order now.
"The magic comes from the hands playing the instruments, the blend of the Beatles' voices, the beauty of the arrangements," Martin says in his written introduction for the new edition. "Our quest is simply to ensure everything sounds as fresh and hits you as hard as it would have on the day it was recorded."
The super-deluxe box set features 40 songs on three CDs and one Blu-ray disc, coupled with a 100-page hardbound book with a forward by Paul McCartney and other archival material. The limited-edition deluxe vinyl box set includes all 40 tunes on three 180-gram vinyl LPs. The deluxe two-CD set pairs the new stereo mix with sessions and demo recordings of its 17 songs, sequenced to match the album's running order.
Notable bonus tracks include "The Long One," which features the album's Side Two medley in its original sequence; an early take on "I Want You (She's So Heavy)" recorded after neighbors complained about the noise; and McCartney's demo for "Goodbye," which he recorded for Mary Hopkin. The box set's 23 session and demos are presented in chronological order, based on recording dates.
A complete track listing focusing on the extras is below.
Ringo Starr confirmed the reissue in early August, noting the improved drum sounds. The Beatles then posted a teaser video showing an empty Abbey Road.
Songs from Abbey Road emerged from January 1969 sessions that also produced 1970's Let It Be, but the bulk of the album was completed over a series of late-summer dates. "Come Together" and "Something" became a chart-topping double-A side. They also recorded "The Ballad of John and Yoko" and "Old Brown Shoe" as a stand-alone single during these sessions.
The Beatles, 'Abbey Road' Anniversary Edition Bonus Songs 
DISC TWO
"I Want You (She's So Heavy)" (Trident Recording Session and Reduction Mix)
"Goodbye" (Home Demo)
"Something" (Studio Demo)
"The Ballad of John and Yoko" (Take 7)
"Old Brown Shoe" (Take 2)
"Oh! Darling" (Take 4)
"Octopus's Garden" (Take 9)
"You Never Give Me Your Money" (Take 36)
"Her Majesty" (Takes 1–3)
"Golden Slumbers/Carry That Weight" (Takes 1–3 / Medley)
"Here Comes the Sun" (Take 9)
"Maxwell's Silver Hammer" (Take 12)
DISC THREE
"Come Together" (Take 5)
"The End" (Take 3)
"Come and Get It" (Studio Demo)
"Sun King" (Take 20)
"Mean Mr. Mustard (Take 20)
"Polythene Pam" (Take 27)
"She Came In Through the Bathroom Window" (Take 27)
"Because" (Take 1: Instrumental)
"The Long One" (Trial Edit & Mix – 30 July 1969)
"Something" (Take 39: Instrumental, Strings Only)
"Golden Slumbers/Carry That Weight" (Take 17: Instrumental, Strings & Brass Only)