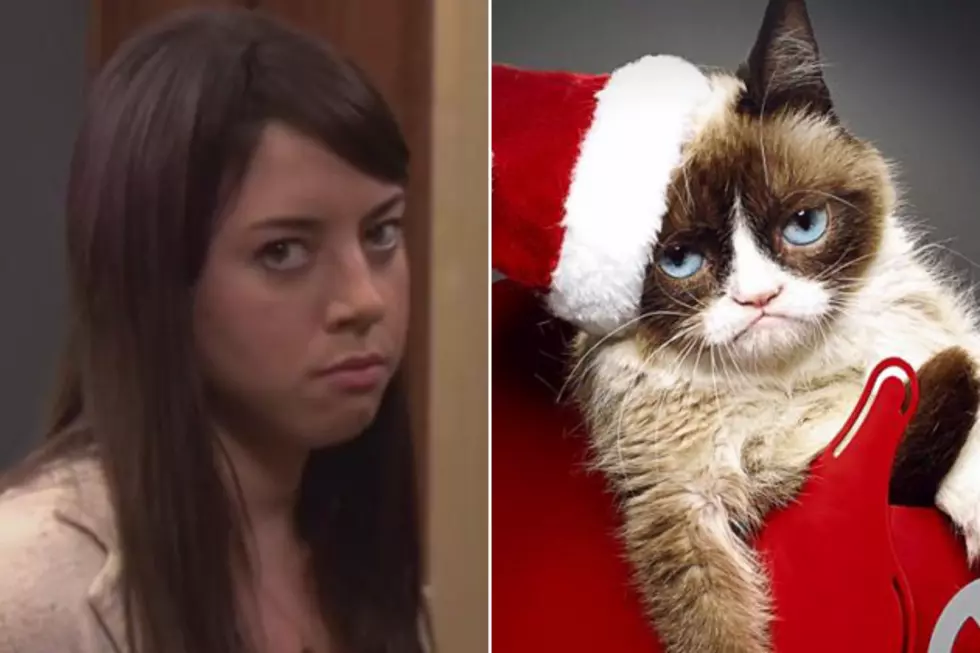 Aubrey Plaza to Voice Grumpy Cat in Lifetime Movie 'Worst Christmas Ever'
NBC/Lifetime
In what could be the most perfect and appropriate casting of all time, Aubrey Plaza, known for playing constantly "over it" April Ludgate on 'Parks and Recreation,' is set to voice Grumpy Cat in Lifetime's Grumpy Cat movie! That's why we're so lively and colorful right now.
Plaza was Grumpy Cat before Grumpy Cat was even a thing. Before she went on to star in films like 'Life After Beth' and 'Safety Not Guaranteed,' she made a career of playing a character so over everything, specifically people, that viewers couldn't help but fall in love with her, especially when she played opposite Amy Poehler's overly optimistic Leslie Knope. Lifetime's announcement of her voicing Grumpy Cat, who's making her film debut, seems only fitting.
From Lifetime, here's the official description of the movie:
In 'Grumpy Cat's Worst Christmas Ever,' Grumpy Cat is a lonely cat living in a mall pet shop. Because she always gets passed over and never gets chosen by customers, this kitty develops a sour outlook on life until…one day during the holidays, a very special 12-year-old girl named Chyrstal enters the pet store and falls in love with Grumpy Cat. A unique friendship is formed between the two when Chyrstal finds she is the only person who can hear this unique feline talk. In the middle of the holiday rush, Grumpy reluctantly thwarts the kidnapping of an expensive exotic dog she can't stand and rescues Chyrstal after the mall closes on Christmas Eve. Will Grumpy Cat learn the true meaning of Christmas, or will it be in Grumpy's words, "Worst. Christmas. Ever?"
According to The Hollywood Reporter, 'Glee' star Jane Lynch was originally set to voice the title character in 'Grumpy Cat's Worst Christmas Ever' but reportedly bailed after winning an Emmy for hosting 'Hollywood Game Night.' It all worked out in the end, though, since Plaza was pretty much born to bring this internet sensation to life.
The movie will debut on Saturday, November 29, at 8 p.m.