Wolfgang Van Halen Has a Run-In with British Boy Band One Direction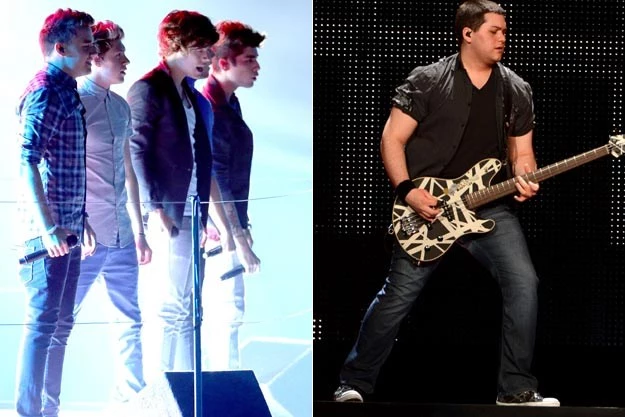 He's currently touring with Tremonti rather than Van Halen, but that doesn't mean life on the road has gotten any less interesting for Wolfgang Van Halen.
On Tuesday (Oct. 16), Wolfgang journeyed into the lobby of the Birmingham, England hotel where he and Tremonti members Eric Friedman and Garrett Whitlock were staying after their Monday show in Newcastle, and the three of them ran into the boy band One Direction. The encounter did not go well.
"Fun fact: Was just insulted by that s—-y boy band #OneDirection in the lobby of our hotel this morning! Greetings Birmingham!" Wolfgang tweeted to his followers.
"No joke. That ACTUALLY happened," he continued, adding that "That group of kids in #OneDirection were dickheads" to him, Friedman, and Whitlock.
No one's saying what happened yet, but Whitlock blew off the incident, tweeting that he "had a run in with some boy band in the hotel lobby" and adding, "No worries. I can't take a insult from someone who doesn't even write there [sic] own tunes."
Concluded Van Halen, "They must call themselves that because all of their hair points in #OneDirection."
Source:
Wolfgang Van Halen Has a Run-In with British Boy Band One Direction