Richie Havens, Legendary Folk Singer, Dead at 72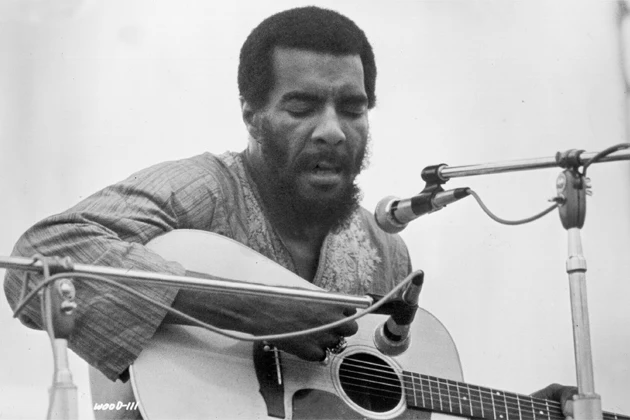 Richie Havens, the folk singer who famously opened the Woodstock Music and Arts Festival, has died at the age of 72.
Jambase is reporting that he passed away today (April 22) from an undisclosed illness. However, he had retired from touring in 2012 after complications from kidney surgery. Up to that point, Havens had been a tireless performer and activist for the previous 45 years.
Born in 1941, Havens learned to sing doo-wop on the streets of Brooklyn, and became a mainstay of the Greenwich Village folk scene in the early-1960s. He became known for soulful singing and his singular style of guitar playing, which involved fretting the notes on an open-tuned acoustic guitar with his thumb slung over the neck, and strumming with furious intensity.
He was known primarily as an interpreter of songs, most famously Bob Dylan's 'Just Like a Woman' and George Harrison's 'Here Comes the Sun,' the latter of which reached No. 16 on the Billboard Hot 100. Of his original songs, his best known are the anti-war song 'Handsome Johnny' from his 'Verve' debut, and 'Freedom,' which was improvised at Woodstock.
According to the story, he was originally supposed to have only a 20-minute slot, but because of the problems in getting other acts to the location due to the traffic, organizers told him to keep playing. When he ran out of songs, he wrote it on the spot, incorporating elements of the Negro spiritual, 'Motherless Child.'
He was also known for his environmental activism. He co-founded the Northwind Undersea Institute in the mid-1970s, as well as an organization called the Natural Guard, both of which were committed to teaching children about the roles they can play in saving the environment.
"From Woodstock to The Isle of Wight to Glastonbury to the Fillmore Auditorium to Royal Albert Hall to Carnegie Hall," read a statement from his booking agency. "Richie played the most legendary music festivals that ever were, and most of the world's greatest concert venues. But even when performing in a Greenwich Village coffeehouse or a small club or regional theater, he was eternally grateful that people in any number turned up each time to hear him sing. More than anything, he feels incredibly blessed to have met so many of you along the way."
Watch Richie Havens Perform 'Freedom' at Woodstock
Source:
Richie Havens, Legendary Folk Singer, Dead at 72