Previously Unreleased Queen and David Bowie Collaborations Could Be Coming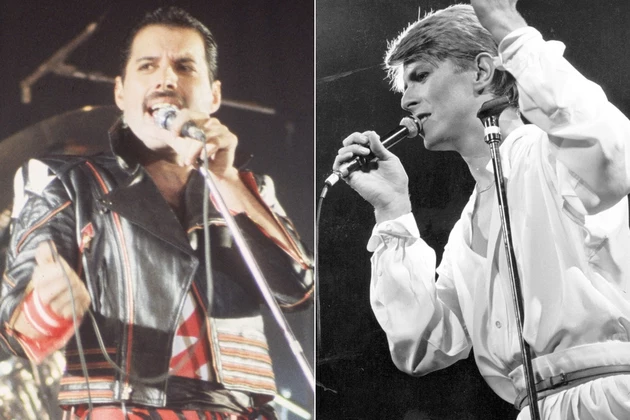 After all these years — and all these compilations — it'd be easy to assume the Queen vault has long since been purged of interesting artifacts. But according to guitarist Brian May, some particularly interesting previously unreleased recordings could be on the way.
May, making the rounds to promote his new Queen in 3-D book, recently told Mojo (via Radio X) that the sessions for the band's hit 1981 collaboration with David Bowie, "Under Pressure," didn't stop with that one song.
"It wasn't easy," May admitted of their time together in the studio. Describing Bowie and the members of Queen as "all precocious boys" and Bowie as particularly "forceful," he recalled that Bowie and Queen singer Freddie Mercury "locked horns, without a doubt." All that being said, May not only remembers the sessions as fruitful, but enjoyable.
"Those are the things that happen in a studio," said May. That's when the sparks fly and that's why it turned out so great. "[They locked horns] in subtle ways, like who would arrive last at the studio. So it was sort of wonderful and terrible. But in my mind, I remember the wonderful now, more than the terrible."
At some point, fans may get to hear more of that work. Much the same way the band released long-vaulted tapes of Mercury singing with Michael Jackson, May seemed to entertain the idea of putting out more from their Bowie collaboration. "Not all of what we did in those sessions has ever come to light," he added. "So there's a thought … "
Queen Albums Ranked Worst to Best
Source:
Previously Unreleased Queen and David Bowie Collaborations Could Be Coming