Metallica in 'Fourth Inning' of Prep Work for New Album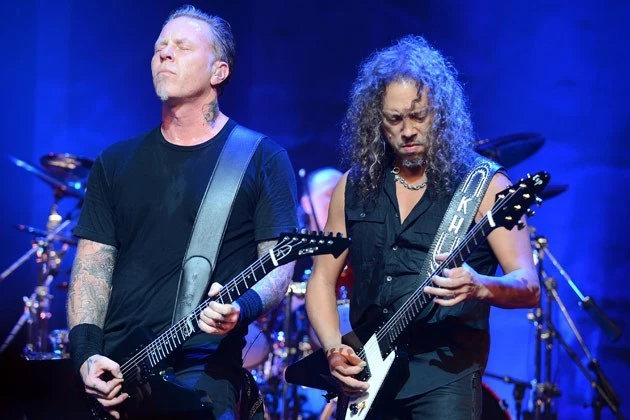 You probably don't want to hold your breath for the follow-up to 2008's 'Death Magnetic,' Metallica fans — but feel safe to break out the peanuts and Cracker Jacks.
Drummer Lars Ulrich recently used a baseball analogy to describe the ongoing work behind the scenes for the band's next album, telling Rolling Stone, "We're going through the grind. We're in there doing riffs and putting them into songs. We don't really write one song and then show up the next day and do another one. We just work on riffs and sections, connecting riffs and tempos and moods. We've been doing this, off and on, for the better part of a year … I'd say that right now, we're in the fourth inning."
That leaves a lot of work to do over the next five innings, including figuring out who's going to shepherd the sessions. "We're going to start talking about who is going to produce the album," continued Ulrich. "We haven't started recording yet. But we are deep into the songwriting part of it."
In the meantime, there's the ongoing 'Metallica by Request' tour, which has found the band performing their new song 'The Lords of Summer' while yielding much of the set list to songs selected by ticket holders via an online voting system. Although Ulrich lamented that the fans haven't been picking enough of the "really obscure songs" from the catalog, he's excited about some of the more intriguing detours the performances have taken — and the prospect of playing the '…And Justice for All' track 'The Frayed Ends of Sanity' for the first time when Metallica visits Finland in May.
"We've never played 'The Frayed Ends of Sanity' before," he explained. "We're going to have sit down and spin that one around for an hour or two. We carry a rehearsal room with us wherever we go. Give us an hour and we can learn any song in our catalog. We like to make the setlist real wacky and change it up as much as possible, but in 2014 the fans are picking the songs."
Source:
Metallica in 'Fourth Inning' of Prep Work for New Album