Flashback: Rush at 2013 HOF Ceremony Alex Lifeson's Blah Blah Speech [VIDEO]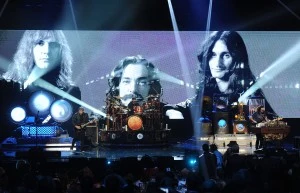 I was just thinking about last years Rock Hall Of Fame Induction Ceremony and how much I enjoyed seeing Heart perform along with one of my favorite groups of all time Rush I was blessed to see these guys in their beginnings here in Binghamton when they were an opening act… Yes I said an Opening Freekin act! Could that have been possible, yes, but not for long.
Neil and Geddy had some nice things to say, and when it came time for Alex Lifeson to have his minutes in front of several rock legends and celebrities, he made use of one word over and over to describe his musical journey with Rush.
Check it out below